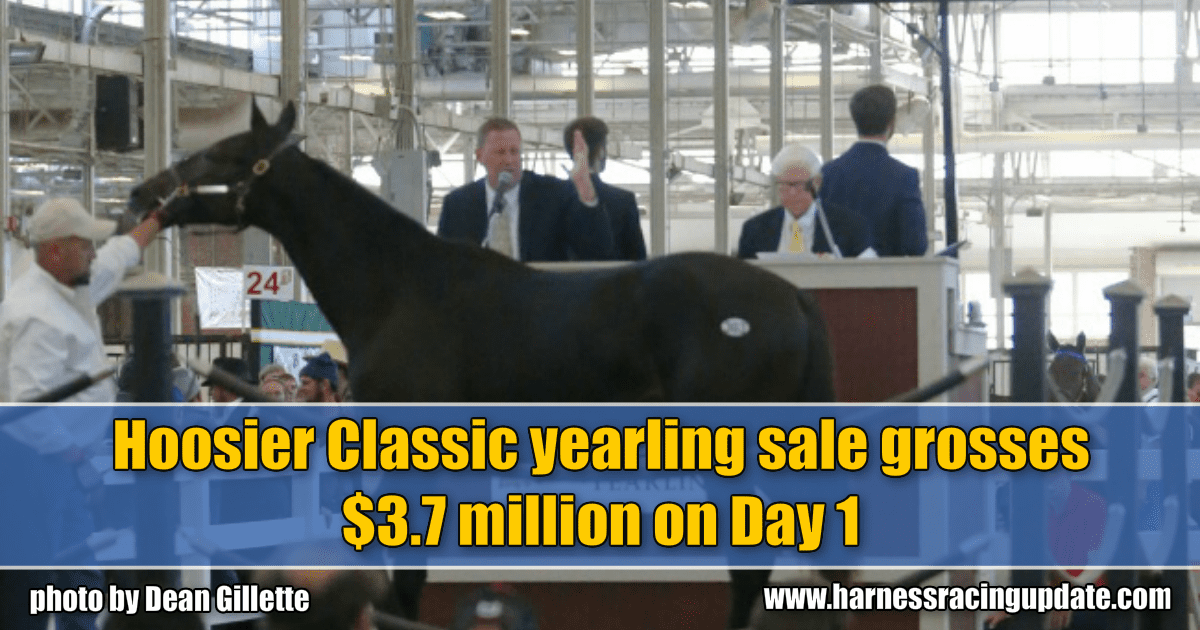 Hoosier Classic Yearling Sale on par with 2017, grosses more than $6.8 million
Swan For All filly tops the sale with a bid of $125,000.
by James Platz
After a solid first session, the 2018 edition of the Hoosier Classic Yearling Sale concluded Saturday (Oct. 20) with more strong numbers. Over the course of the day, 170 babies were auctioned off at the Indiana State Fairgrounds, grossing $3.15 million and averaging $18,529. Bolstered by a pair of six-digit yearlings, the session produced the slightest of average increases over the second day from one year ago.
While sale averages have been trending down this season, the Hoosier Classic sale posted numbers very close to 2017 business levels. All told over the two days, 354 babies were hammered down, grossing $6,885,000 and leading to an average of $19,449. By comparison, Hoosier Classic Sale Company LLC sold 355 yearlings for sales of $6,932,000 and an average of $19,527 in 2017. The decrease resulted in a difference of less than one percent.
"After setting the bar last year and having a record-breaking year, I'm pleased that we were able to match that again," said Steve Cross, Hoosier Classic's sale manager. "With the trend that we've seen, status quo is a win. I was very pleased. I think we had a lot of new interest, many new buyers, and a lot of new faces. That certainly was encouraging."
Of the 374 yearlings cataloged for this year's sale, 93 trotters and pacers were first foals. Another 63 babies were second foals. Breeders have worked hard to improve the quality of mares in Indiana, and Cross noted the industry trend of buyers gravitating toward younger mares from good families.
Swan For All progeny were once again in demand, so it came as no surprise that a filly from the sire topped the second session, and the sale overall with a bid of $125,000. Cataloged as Hip 302, Bluebird Keepsake is the first foal from Yankee Glide mare Changed It All, a $150,000 winner as a racehorse. Consigned by Bluebird Meadows, the filly's third dam is Breeders Crown champion and two-time O'Brien Award winner Armbro Keepsake 2, 1:57.4, 3, 1:54.3 ($1,152,269). Dan Shetler signed the ticket, acting as agent.
Yearlings sired by Swan For All led the sale by average. In the second session, 21 of his babies brought $622,000 and averaged $29,619. Over the two-day sale, 46 trotters from the sire passed through the ring, bringing gross sales of $1.37 million and averaging $29,848.
Immediately following the excitement of Bluebird Keepsake's sale, Meadowbrook Chip entered the ring and became the second six-figure yearling of the day. From the first crop of Whom Shall I Fear, the colt is out of the Pine Chip mare Chips Goddess, who has already produced Swan For All filly and Indiana Sires Stakes Super Final winner Meadow Brook Grace 2, 1:54s, 3, 1:52.3s-'18 ($306,983). Part of the Meadowbrook Farm consignment, Al Kowalewski purchased the colt for $100,000 on behalf of his Kales Company LLC.
A total of 21 yearlings from the first crop of Whom Shall I Fear sold Friday and Saturday. The sire's progeny averaged $23,452.
The highest-priced pacer of the day came from the In Law Stable consignment. Mr Courage, an Always A Virgin colt, brought a $75,000 final bid from trainer Joe Holloway. The colt is the first foal from Real Artist mare Fashion Mystery, a winner of $450,000 on the track with a 1:50 speed badge. Holloway purchased a trio of Always A Virgin colts Saturday, spending $167,000. He also signed slips on Bluebird Demarini, Hip 318, a half-sister to Indiana Sires Stakes final winner Rockin Serena p,1:54.1s, 3, 1:52.1s, 4, 1:51.2-'18 ($248,215), and Sunset Secret, Hip 215, first foal from Cole Muffler mare Things Left Unsaid.
Always A Virgin topped all pacing sires by average. Represented by 53 yearlings and total sales of $1,277,000, the stallion carried an average of $24,094.
Rockin Image colt My House was next on the list of top-selling pacers. Part of the Legacy Lane Farm consignment, the colt is the first foal from Cambest mare Best Boss p,2, 1:52.3, 3, 1:51, 1:49.2 ($707,440). Tom Pollack purchased the yearling for $67,000, one of three pacers he acquired for a total of $117,000.