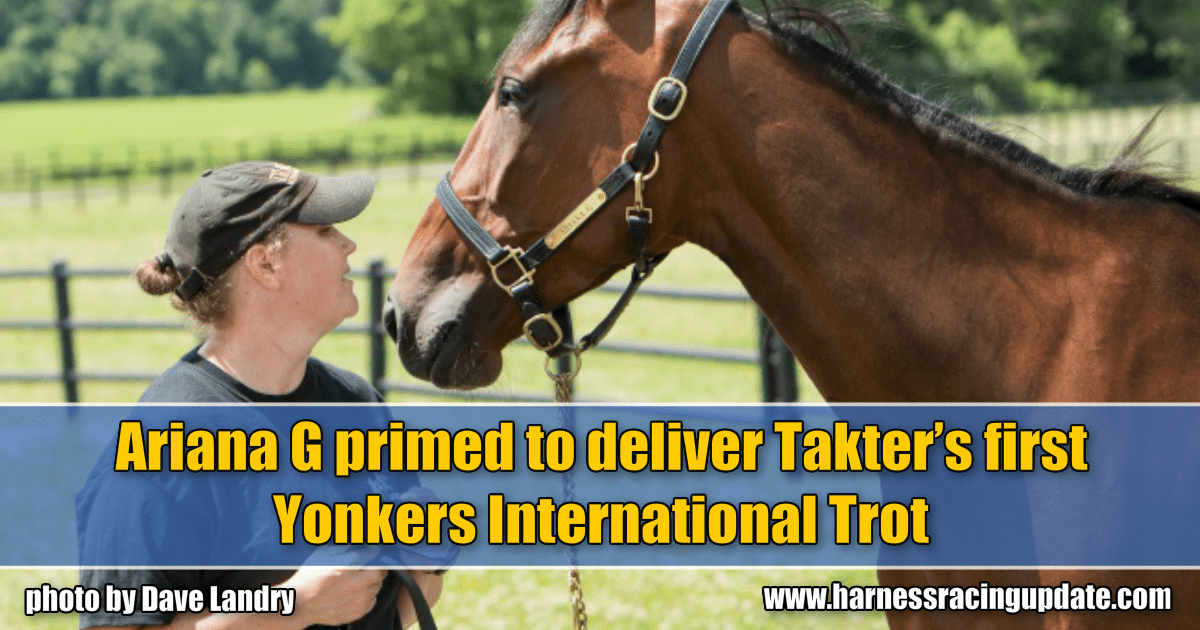 Ariana G primed to deliver Takter's first Yonkers International Trot
Thanks to prodigious talent and a great post position, Katz and Libfeld homebred is hoping to become the ninth mare to win the International.
by Tom Pedulla
Jimmy Takter, winner of the Dan Patch Trainer of the Year Award a record six times, has just about done it all during his Hall of Fame career.
Breeders Crown victories? He counts a whopping 33 of them. Hambletonian? Four times. Hambletonian Oaks? Six times. Elitloppet and Prix d'Amerique? The fabulous Moni Maker checked off those from his bucket list in 1998 and 1999, respectively.
Perhaps the only missing piece in his resume involves the International Trot, and he hopes to fill that void when he sends the great mare Ariana G into the 40th edition of the race on Saturday at Yonkers Raceway.
"I've won basically everything, but I haven't won this one," said Takter, 58. "This is something I want to win."
This is about much more than the $1 million purse for Takter as he readies his third International starter. Ariana G, the one United States representative, can add to her brilliant career by becoming the ninth mare to win the prestigious contest.
She would join Armbro Flight (Canada, 1966), Roquepine (France, 1967-68), Une de Mai (France, 1969 and 1971), Fresh Yankee (Canada, 1970), Delmonica Hanover (United States, 1973-74), Classical Way (United States, 1980), Kit Lobell (United States, 1989) and Peace Corps (Sweden, 1991).
The International was first contested at old Roosevelt Raceway in 1959. It was not held in 1994 and from 1996 through 2015 before it returned from a 20-year hiatus and was moved to the half-mile oval at Yonkers.
Ariana G has competed at 10 different tracks while sweeping 26 of 37 starts for earnings of $2,367,709 on behalf of Marvin Katz and Al Libfeld, her breeders and owners. This will be her first test at a half-mile track; her adaptability looms as a huge question for some.
But not for her driver, Yannick Gingras. "If anything, it will work in her favor. I don't think it will be a problem at all," he said.
And not for Takter. "I really don't think it's going to be a big issue," he said, adding, "I think she's coming in with the right form. She's very professional and very healthy."
She has banked $500,052 in going 5 for 11 this season.
Takter worked with her at a half-mile track at Red Mile in Lexington a couple of weeks ago. He liked everything he saw. "She had no problem whatsoever," he said.
The trainer breathed a sigh of relief when the 4-year-old daughter of Muscle Hill out of the Cantab Hall mare Cantab It All drew post 3 in a field of 10. "I think post three gives Yannick a lot of different options," Takter said. She is listed as the third choice in the morning line, at 5-1.
Takter believes Ariana G's versatility may be a huge factor in the mile-and-a-quarter International.
"She can leave from the gate, she can back off the gate," he said. "You can do anything you want with this filly."
Ariana G emerged as the Female Trotter of the Year at 2 and 3. Katz, from Toronto, and Libfeld, from Pickering, ON resisted the temptation to send her to the breeding shed after that. They were having too much fun to stop with what Libfeld has called the "horse of a lifetime."
"It's been just a magical ride," Katz said. "She's been a spectacular performer right from the beginning of her racing career. She continues to perform at the highest levels."
Many trotters can muster a burst of speed. Ariana G can settle into a powerful rhythm and maintain it.
"Jimmy has described her as a Ferrari, and I think that's a very good description," Katz said. "She has tremendous speed and she can carry it for a long distance. She loves to race."
Ariana G has shown before that she can handle the finest male trotters. She comes off an impressive half-length victory against surging Warawee Roo in the Dayton Derby on Sept. 28 in her most recent start. Her time of 1:52.1 set a track record for 4-year-old trotting mares at Dayton Raceway.
Takter oversees approximately 50 horses at his farm in East Windsor, N.J. He describes his prized mare as having a sweet temperament at the barn and a merciless will to win when she goes to the gate.
"She knows what she is supposed to do," he said. "She has everything a great horse is supposed to have."
Maybe, just maybe, she has the makings of Takter's first International champion.