by Ron Gurfein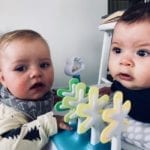 Tidbits: I had a wonderful weekend. My kids rarely are in the same place at the same time. This week, my son came from San Francisco to Boston to visit his sister. I drove up to see them and my two grandchildren Lucas, 9 months, and Oliver, 5 months. It was an amazing few days.
To my readers that enjoy making a wager now and then, jump on the Domenico Cecere bandwagon. The Lindy Farms trainer is hot as can be. Sunday at the Red Mile in the eliminations to the Kentucky Sires Stakes he guided Eurobond from the 10 post, parked the mile, to fall a nose short at the wire to Hambletonian favorite Wolfgang. Then Monday in the Stallion Series for 2-year-old trotting colts at Pocono Downs, he sent out two decisive winners in Kings County, a beautiful bay son of Muscle Hill that won by 11 lengths and Union Forces a big bay Cantab Hall colt that jogged by 7. If names interest you as they do me, Kings County is named after the county that is basically Brooklyn, which is the name of his dam. It is the second most populous county in the United States, the most being New York County that is Manhattan.
A few weeks ago, I discussed my reasons for avoiding half-mile tracks with top quality stakes horses, and sure enough the box was very week for the big events at Yonkers this weekend. The Yonkers Trot drew eight entries — of which I never heard of four of them — and the Hudson Filly drew six. There is only one big gun in the $500,000 Yonkers Trot and that is Six Pack, the colt that was brutalized in the Hambletonian as a big favorite and never made the final and has lost his brilliant form of late. Maybe he can right the ship at the hilltop oval. On the small track, the draw remains a looming problem.
Super Miller Time at Vernon Downs last weekend with the entire family in on the sweep of the Zweig finals. For the distaff, Supergirl Riley (out of one of my favorite mares, Crown Laurel) finally got her just deserts and won for trainer Erv and driver son Marcus and in the open event, Mets Hall, who had been knocking on the door, prevailed for trainer Julie and husband driver Andy. Congratulations to all.
Peter Stewart asks: I know you have been a Kentucky Wildcats fan for many years. I have seen you at the games on many occasions. What is your opinion of the rumor that John Calipari wants to turn the page and move on to the NBA?
To me, Coach Cal has one of the best jobs in sports. He is highly respected, gets a fabulous salary ($8 million, not including bonus money), and of major importance is home most of the time. No week-long road trips except for March Madness, no hand holding of overpaid and under achieving players and no crazy bosses to answer to.
Ego could be the only driving force, and in my opinion if that was the case he would have done it earlier.
On the financial side, there are only three NBA coaches that make more that him, Greg Popovich ($11million), Doc Rivers ($10 million), and Tom Thibodeaux ($10 million) and only one college coach Mike Krzyzewski ($9.6 million).
In my heart, I believe he loves working with kids and seeing his efforts pay big time to the players and their families on draft day. I think his biggest payday is seeing these kids develop and mature and go to the NBA and change the lifestyle of their entire families. Many of these players come from poverty-stricken roots, some raised by single mothers and Coach Cal gives them entree to a new and glorious world.
So, in essence, my answer is an emphatic NO. He will stay right where he is for as long as he remains in basketball.
Nick Salvi asks: With all the good horses you trained, there must have been some that you really liked that somehow left the barn. Tell us about the ones that got away?
This took a lot of thought as when a horse leaves my barn I try to turn the page and not look back, but there were two in recent years that bothered me. The first, not nearly as much as the second, was Walltocousins a Cantab Hall colt that I bought in Harrisburg for John Cummins and myself. We named him after John Wall and DeMarcus Cousins who were playing for Kentucky that year. He was just an okay colt and when we got to the Red Mile he started to bloom. Not that his lines were fabulous, but he started to show me he liked to finish his mile. He showed he could trot maybe 1:57, which wasn't great for a 2-year-old at the Red Mile, but was respectable. John was critical of some of his physical problems that didn't phase me, but I learned early in my career never to keep a horse that a partner or owner wants to sell — it's usually a lose-lose situation. PS we sold him for what was a reasonable price and he went on to win a half-million dollars, probably more as he is still racing.
The other was a crushing blow. Her name was Delicious and was a lot more than a nice trotting filly. She was the size of a pony and had a heart the size of a lion. She was perfect in every way. She was a very good 2-year-old and a nearly top 3-year-old. She was lightly staked as she was an $8,000 yearling, but she was very fast and perfectly sound. In her last start, she beat Maven in 1:52 at the Red Mile in an early closer and as she was entered in Harrisburg as we decided not to race her back as it had no upside whatsoever. Before the sale I spoke to the owners and gave my input as to what I thought she was worth. I thought she would be an excellent aged race mare as she was small and sound. My opinion was that they should protect her to $200,000. I thought that was a logical value. I will not bore you with the gorey details but she only brought $100,000. I was livid that they let her go for that. I remember I paid $97,000 for Beat the Wheel and I thought Delicious was twice the filly she was. The end of the story was that she took on Europe's best and won mid six figures and ended up the fastest trotting mare in Swedish history. If it wasn't for some unfortunate intestinal issues she would have been even better. Both me and Lisa, her wonderful caretaker, were very pleased with her performance in Europe and can't wait to see her babies on the track.
Michael DeVan asks: I remember being at Sunshine Meadows two years ago and you were training a bunch of great looking colts for Bob Key what happened to them and how did you like working for the sport's biggest owner?
Those horses were, by far, the best-looking group that year at Sunshine Meadows. We went north and they were all basically sound. However, the whole barn got very sick for about two weeks. I am not sure if I tried to come back with them too quickly or whether they were just too slow.
All were fairly good gaited, but just couldn't keep up in races and would make breaks trying to stay with the pack. I remember Jimmy Takter qualified one of the better ones for me and said afterward, "Why are you training a colt like that?"
There was a filly I loved in the group that had tremendous ability but hit her knees especially on the turns on the smaller tracks. Her name is Perfect Summer K. She has won about $200,000 and Andrew Harris has done an excellent job with her.
As for training for Bob it was a pleasure. They have a very structured system. There is continuous communication and to me the organization is first class. Anything I needed was shipped overnight and they are on top of everything. His personal secretary is an absolute doll; she is on top of the entire operation and available 24/7.
Bob himself is very set in his ways and I think that his persistence in trying to make his own stallion is the major pitfall to his operation.
He does his thing and it's certainly not my place to ask him to change anything at this stage of his life as he is probably one of the smartest most successful men I have ever had the pleasure of doing business with. He has more than earned the right to do what ever he wants in his own businesses.
Thanks again to all my readers for the kind words. Please keep the questions coming in. Next week I will resume my less than illustrious career as a handicapper with the Champlain open division, The Yonkers Trot and the Maple Leaf Trot — next week's feature trotting races — and I may even throw in a pacing event. Have a wonderful week.
Have a question for The Guru?
Email him at GurfTrot@aol.com.