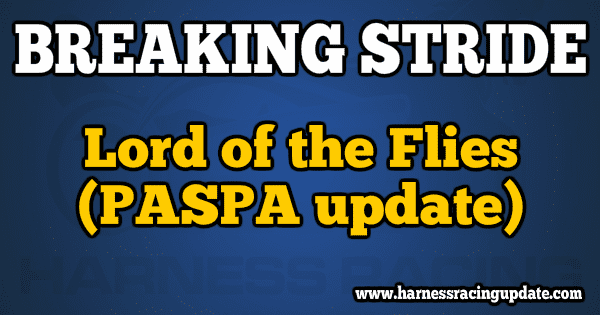 Lord of the Flies (PASPA update)
The Real Life Ventures and Adventures of Trey and Batman
by Trey Nosrac
Episode 2
He was in California, arranging his transition from full-time Master of the Universe to part-time consultant working from his family farm in Ohio. I was sitting in The Hub Rail Café and Tavern, watching the foam on my draft beer, pondering our dive into my little world of harness horse racing. I gave him a call.
He picked up immediately, "Trey, what's up?"
"I got another question before we buy our yearling this fall. I'm wondering if some of your connections in the digital universe have some inside information. They seem to have a finger on the pulse of events that affect us mortals."
"Shoot."
I cut to the chase, "When we buy a yearling, is the PASPA gibberish you've been talking about a factor? If new state legislation is going to send a flood of money to help a state racing program, we might want to catch the wave in that state.
"Right now, I haven't found any specific proposals that look like they will immediately impact horse racing."
I nodded, which was pointless since we were not on Skype. Then I said, "From what I've read, the PASPA ruling hasn't rocked the world. I haven't noticed any flash mobs at the racetracks taking bets on golf and soccer. Could this legalized gambling fuss be a big nothing burger?"
"Eventually it will be huge, but the rollout has been slow. Regular people don't know what is going on with legal sports gambling, they are so used to gambling being illegal that the dynamics have not set in for most."
"So when does it kick in?"
"The first wave will hit later this year. Advertising directing money to locations taking bets will begin running to grab the football market. Still, this will be limited because at this moment only three states that have legal betting sites — Nevada, New Jersey and Delaware."
I asked, "Who will jump into the legal sports gambling arena next?"
"The next two states will surprise you – Mississippi and West Virginia."
He continued, "Mississippi passed legislation in June and could go live in late August at previously licensed casinos. West Virginia passed a bill in March and their plan is to run it through the West Virginia Lottery Commission. An interesting twist is that the West Virginia legislation has a section that allows both in-person and online sports wagering within the state."
I came back where I always do, "Mississippi and West Virginia are not exactly harness racing strongholds. What about HORSE RACING, how do horse people get their heads in the money troughs?"
"Who is going to get what, and how each state is going to use this new law is all over the map. I still think this will be a wild scramble for a few years that will end up in federal legislation."
"What about the money for the sports? It's always about the money."
"Keep your eyes on what are called integrity fees. I have heard the number one per cent paid to the NFL, MLB, and college games."
"Horse racing?"
"Hope so, don't know."
"Who's on deck after Mississippi and West Virginia?"
"Pennsylvania has broad legislation and could possibly offer sports betting late in 2018. They are working on regulations. The balancing act is that pro sports are concerned about integrity, data, enforcement and other issues. States want to be fast, but they realize that acting too quickly will lead to problems."
"Who else is close?"
"Rhode Island. It's already in the state budget that they can have betting shops in Lincoln and Tiverton, but only at these sites, and no mobile wagering will be permitted. They are another state where the lottery system will run things."
"How do you know this stuff? Who sits around watching fifty states jockeying for position and writing laws?"
"It's a lot of money Trey. Of course, one of the biggies is New York. Five years ago, New York passed a law that allowed sports wagering at four locations, but nothing happened, the law sat dormant. The New York State Gaming Commission tried to use the 2013 law as a bridge to sports gambling. The proposal was rejected in June 2018, but they might try this route again in 2019."
"Where does horse racing fit, how are we helped?"
"That's the big question. Connecticut, Illinois, Kentucky, Michigan, Indiana, Massachusetts, Maryland, Missouri, Minnesota, Kansas, Louisiana, California, South Carolina, Oklahoma, Montana, Oregon, and Ohio – all of these states are a different story, but they all are moving towards legalization of sports gambling. These states are working at this moment to milk what they hope will be sources of income. Obviously a State like Oregon is unlikely to be concerned about harness horse racing, but others might be."
I sighed, "Sort of like 50 television soap operas where we need to hope harness racing gets a role."
He said, "More like the movie Lord of the Flies. The stakes are high. I'll keep watching the racing states and if I hear about one that could bring money to their stakes racing program, we can plan accordingly."
"Sounds good Batman, see ya next week."