Yannick Gingras and Jimmy Takter teamed up to win an unprecedented fifth straight Hambletonian Oaks when Manchego posted a 1:50 stakes record.
by Chris Lomon
The Hambletonian Oaks brings out the best in driver Yannick Gingras and trainer Jimmy Takter. Or is it the other way around?
On Saturday afternoon at the Meadowlands, Gingras and Takter – who now has eight Hambletonian Oaks titles lifetime – teamed up to win their fifth straight Oaks, this time with 2017 Dan Patch Award winner (top 2-year-old female trotter in the U.S.) Manchego.
A daughter of Muscle Hill from the Cantab Hall mare Secret Magic, Manchego managed to make some headlines of her own, stopping the teletimer in a stakes record 1:50-flat for owners Black Horse Racing, John Fielding (Ontario) and Herb Liverman (Florida).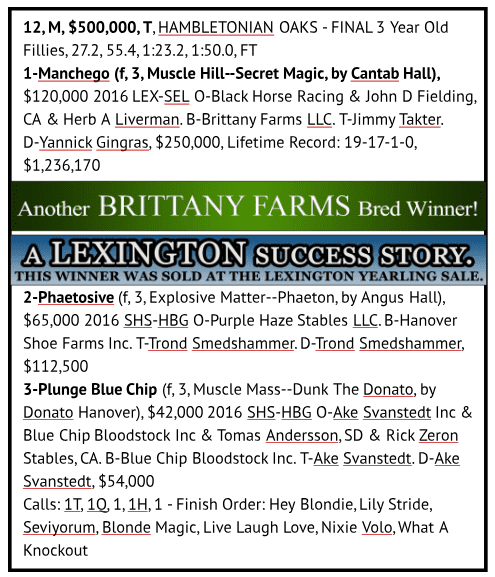 Sent off as the 6-5 second choice, Manchego was led to the front by Gingras at the outset. Plunge Blue Chip, who set the standard for the fastest three-year-old trotter in history when she won her division of the Delvin Miller Memorial by a nose over Manchego in 1:49.4 at the Meadowlands, sat second. Even-money choice Phaetosive was third through an opening quarter in :27.2.
It remained status quo through a half-mile trotted in :55.4. But soon after, Ake Svanstedt, who trains and drives Plunge Blue Chip, decided to take the plunge and engage Gingras and Manchego, while trainer/driver Trond Smedshammer kept close tabs on the dueling duo.
As the field turned for home after three-quarters in 1:23.2, Gingras, celebrating his 39th birthday, called on Manchego for her best as Phaetosive, who won with a 1:51 mile in the second Oaks elimination on July 28, challenged to the outside.
But it was to no avail as Manchego crossed the wire a comfortable one-length winner, with an emphatic and elated Gingras celebrating the victory in the final strides before the finish line.
"I was hoping for exactly this," said the decorated driver in reference to how the race unfolded. "They usually don't go as you plan, but when we headed into the first turn, nobody was leaving and I got an easy front. I took the matter into my own hands."
Gingras wasn't caught off guard when Svanstedt and Plunge Blue Chip made their presence known.
"No, not at all," said the reinsman who planted a kiss on Manchego in the winner's circle. "I knew he was going to come. I was backing it down. I kind of forced his hand a little bit. I thought it was an even better chance for me to win to have him first up and sit outside of me, and that put Trond a little further away from me. I think the race could not have worked out better.
"I've got a great filly. Maybe I underestimated Plunge Blue Chip in the Del Miller and went a little too fast to the half, but I think even if I had to go a little faster it would have been fine today."
Phaetosive, who was runner-up to Manchego last year in the Merrie Annabelle on Hambletonian Day, was second, while Plunge Blue Chip settled for third.
Manchego came into the Oaks off a win in the first of two Hambletonian Oaks eliminations last Saturday at the Meadowlands, stopping the clock in 1:51.1. Prior to that, she tasted defeat for the first time, breaking stride late to finish ninth in the Earl Beal Jr. Memorial at Pocono Downs on June 30, followed by the nose loss in the Del Miller.
Bred by Brittany Farms (Kentucky), the $120,000 purchase at the 2016 Lexington Sale has been a force over her 19-race career. She won her first 15 races and now has 17 victories along with $1,236,170 in career earnings.
On Saturday, Manchego served up her most memorable performance to date, while providing both Gingras and Takter with Oaks score No. 5.
"Well, five Oaks in a row, it's got to be a pretty special thing," said Gingras. "It's never been done before for any trainer or driver, so it's definitely right up there."
Fielding was thrilled to see close friend Takter keep his winning streak intact.
"Some 20-odd years ago when I partnered with Jimmy and Christina Takter… Jimmy has been my friend for a long time and, I mean, I've had a lot of trainers and they are all good and they're all good people, but Jimmy Takter stands out," he said. "This guy might be the greatest trainer that ever trained a horse. He's that good.
"He works very, very hard, as hard as anybody. And he leaves no stone unturned. He just continually makes sure every aspect of everything is there. He amazes me. He's that good."
So, too, is Manchego, whose next start is a question mark, at least for Fielding.
"I actually don't know and I don't make any of those calls," he said. "Jimmy makes those. I'm happy to be a happy passenger and he's never steered me wrong and I'm just happy to go along for the ride."
Just like on Saturday afternoon in New Jersey.