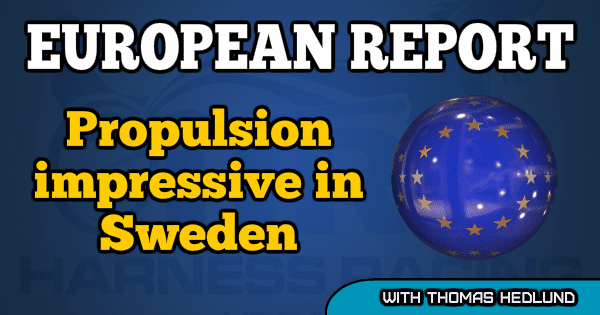 by Thomas Hedlund
The Årjängs Stora Sprinterlopp for elite trotters was held in Sweden on Saturday afternoon and heavy favorite Propulsion was outstanding in the mile race.
Propulsion started from post position 7 and there were a couple of very fast horses from the inside, so there was excitement before the race started.
Arazi Boko and Dante Boko fought extremely hard for the lead and the pace was set at an unusual high level for the first 500 meters. Propulsion sat in fourth early on and driver Örjan Kihlström was satisfied with the horses fighting in front.
"This year, the game went so much better for us and the pace was high the whole way. Of course, with Nadal Broline first over you can never be sure that you're going to win, but Propulsion is an extremely good horse", said Örjan Kihlström, who sent Propulsion three wide with 1/2 mile to go. At that point, the duo had three lengths to pick up for catching Nadal Broline, who disarmed leader Arazi Boko with 200 meters to go.
Propulsion's speed is really something special and Kihlström showed he was going to win in the middle of the home stretch.
Årjängs Stora Sprinterlopp offered $67,500 to the winner and Propulsion came home in 1:51.2.
Nadal Broline (2nd) and Dante Boko (third) were fantastic behind the winner.
"I'm so proud that Propulsion is in my stable. As I've said the whole year, a trainer cannot have this kind of success without a great crowd of people working in the stable and I'm also very proud of my staff. They do the hard work every day and the team is just great," said trainer Daniel Redén.
Today (Sunday), the $186,000 St Michel-ajo is scheduled in Mikkeli, Finland. Mikkeli is well known for the fast track and the strong purse has collected the following horses behind the gate for the mile race:
1. Workout Wonder – Tommi Kylliäinen
2. Peace of Mind – Alessandro Gocciadoro
3. Pastore Bob – Johan Untersteiner
4. Midnight Hour – Ari Moilanen
5. Heavy Sound – Kenneth Haugstad
6. Victory Bonsai – Marko Hakkarainen
7. Elian Web – Janne Soronen
8. Starzinner – Iikka Nurmonen