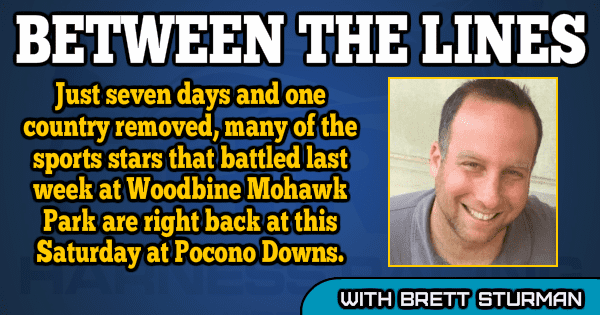 No rest for the weary as scene shifts to Pocono
by Brett Sturman
In another sport, a horse may win a signature million-dollar race and not be seen again for months, if ever. Or, horses coming off tough trips in tough races must be given time to regroup in hopes of coming back at some point off in the future. One of the best things harness racing has to offer is that none of those such things exist in this sport.
Just seven days and one country removed, many of the sport's stars that battled last week at Woodbine Mohawk Park are right back at this Saturday at Pocono Downs. In the stakes laden card, eliminations are to be contested in the James Lynch (3-year-old filly pacers), Earl Beal (3-year-old colt trotters), Max Hempt (3-year-old colt pacers) and the Ben Franklin (free-for-all pacers). Almost every race contains some element of intrigue, but the two main stories heading into Saturday are Lather Up and Manchego.
If there were still any lingering doubts as to if Lather Up was for real, those have surely been put away for good following his romp in the North America Cup. Used twice to the lead in a :54.1 half, he put it into overdrive through the stretch when Teague asked him, and everyone else could only chase in vain en route to the 1:48.1 open length win.
In a subplot related to his breeding, Lather Up's sire I'm Gorgeous was also trained by George Teague. But more fascinating is that I'm Gorgeous is still racing today at age 11 in conditioned races at Northfield Park. A sire who went back into racing after being sold at auction due to a lack of commercial breeding appeal, he may have a found a new lease on life as a stallion due to the success of his prized 3-year-old son.
Lather Up wasn't exactly rewarded for his heroic efforts with his draw this week. He lands post 7 into what could safely be considered the toughest of the three Hempt eliminations. Immediately to his inside, North American Cup runner-up Done Well, Cup elimination winner Wes Delight and then Nutcracker Sweet who looks to be on the improve after an ominous start to the season. To his outside, is Cup consolation winner Courtly Choice whose last two wins have come in times of 1:49.2 and 1:48.4.
In another Hempt elimination, Brian Brown won this race last year with Fear The Dragon and now brings with him the McArdle colt Cinnamack. Five of six this year while racing in the Midwest, his lone loss came in a race won by none other than Lather Up. It'll be interesting to see how he fits with these more well-known types; Zeron gets the call. In the same race, Dorsoduro Hanover had too tough a trip to overcome in his Cup elimination but was excellent over this track in two starts in May. Springsteen has lost some of his luster from last year, but comes off a confidence-building win at Tioga and goes first time Lasix for team Allard. This Is The Plan is an obvious factor from the rail.
The other big headline horse going into the Saturday card is Manchego. A top contender for overall horse of the year last year, she remains unbeaten in her career to this day but has somehow become overlooked. Due largely to three huge miles by suddenly her biggest threat, the three-year-old filly trotter Atlanta has come out of nowhere and currently sits one spot ahead of Manchego in the current Hambletonian/USTA top ten poll.
But Manchego will have an opportunity to remind everyone of her greatness when she takes the bold move of racing against the boys in the Earl Beal. Takter gives her a shot in this spot after coming up just short last year when his 3-year-old filly Ariana G tried the same feat. An elimination winner, Ariana G finished third in the final after a tough first-over trip.
If Manchego is to win the Beal final or even qualify for it, she'll have to overcome an absolutely stacked elimination field. Up against her will be last year's O'Brien winner Alarm Detector, last year's Dan Patch winner Fourth Dimension, and last year Breeders Crown winner Fiftydallarbill. Takter has already indicated that Manchego likely won't be pointed to the Hambletonian regardless of what happens in the Beal, but a winning performance against this group would be special.
In the Ben Franklin, the one-two finishers from last week's Mohawk Gold Cup fall into separate eliminations, but that may not make things any easier for Gold Cup winner Sintra. Coming off an upset score where Jamieson delivered a dream trip, he faces off against Burke's Filibuster Hanover who is a perfect five for five on the year. Overall, Sintra has been up against tougher and lands the post advantage; edge to him?
An earlier Franklin elimination on the card features McWicked, who returns to the scene of his career best 1:47.3 win from four years ago. He flattened out a touch last week in late stages of the Gold Cup after coming from far behind and will be the deserving favorite in this spot. Mach It So fires in almost every start and Rockin Ron looks to rebound after being upset as the big favorite three weeks ago in the Battle of Lake Erie.
Only two eliminations were needed for the James Lynch, and in the first of the eliminations Youaremycandygirl looks to right the ship early in the season. She folded on the lead in her Fan Hanover elimination and two races prior to that was uncontrollable at Saratoga; last year's 2-year-old champion isn't the easiest call right now.
In the other Lynch elimination, Fan Hanover second-place finisher Kissin In The Sand squares off against fellow Fan Hanover finalist I'm Trigger Happy. Not to be outdone, they are joined from the outside posts by Serene Stride and Sidewalk Dancer. Those two are a combined 9 out of 11 this year while racing exclusively in PA.
For all those finishing high enough in their eliminations to secure spots for their finals, there won't be any time to rest on their laurels. As always, they'll be right back at it again in one week.