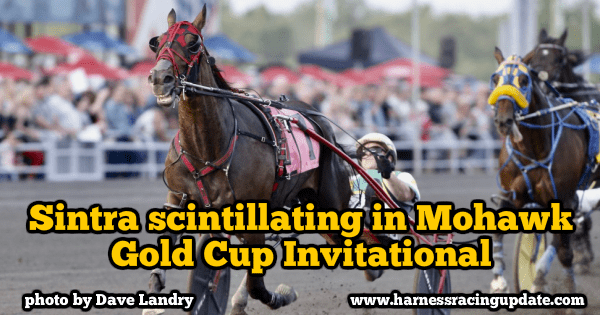 Sintra scintillating in Mohawk Gold Cup Invitational
The connections of the 2017 Canadian Pacing Derby champ and O'Brien Award winner are hoping it's the beginning of a big 2018 campaign.
story by Keith McCalmont | quotes by Sandra Sndyer
Sintra, second best in his first two starts of 2018, would not be denied in Saturday's $100,000 Mohawk Gold Cup scoring off a second-over trip courtesy of Jody Jamieson.
Trained and part-owned by Dave Menary with co-owners Brad Gray and Michael Guerriero, Sintra was named the 2017 Canadian Older Pacing Horse of the Year on the back of nine wins and $617,000 in purse earnings during a breakthrough four-year-old campaign.
"He wasn't in position the past two races, but Jody got him in position tonight," said Gray.
Nirvana Seelster set the pace in the Gold Cup marking off splits of :26.3, :54.3 and 1:21.2, to set the table for Check Six who drove first-up from third position to provide cover for an energetic Sintra.
Set clear down the lane, Sintra burst off cover and surged to a 2 ¾-length score in 1:48. McWicked, away slow and fourth over on the way home as the heavily-backed 2-5 mutuel favourite, arrived late for place.
When asked about Sintra's ability to find a way to win, Gray was quick to note, "He always does. He's a great horse."
The happy co-owner noted last year's O'Brien Award win as a career highlight and showed the utmost confidence in his now five-year-old charge adding, "Don't worry, he'll win it again."
To do so, Sintra will have to be successful within a difficult, but reachable campaign set forth by Menary.
"Last year, he got to start in all the four-year-old stakes. Now, it's a bit bigger," said Menary. "Next Saturday, we go to Pocono for the Ben Franklin and then he's got two big stakes at the Meadowlands, the Sam McKee and the U.S. Pacing Championships. He gets to go to Lexington this year. Last year, he supplemented into the Breeders Crown. This year, he's paid in.
"We're going to concentrate on the Pacing Derby right here at home. He's got a lot of opportunities ahead of him and we're taking it week by week and we'll see where it takes us."
An amped up Sintra exploded to the wire for the Gold Cup score signalling a significant turn of foot that hints at faster times to come.
"Last year, he went at the Meadowlands in :47.2. He had a lot in the tank that day. I know he could've gone :46-and-a-bit that day," said Menary. "If he catches some big fractions… especially at the Meadowlands or Lexington. He's undefeated at the Meadowlands. If he hits one of those tracks on a warm day, with good fractions, I think it's scary how fast he could go."
Menary agreed with Gray that the O'Brien Award winner was due a trip.
"He probably could've gone :25.4, like last week — they went three quarters in 1:23. The first week, he got beat by math," said Menary. "He had the outside post and we made him wait a little bit too long. The horse had opened up, but the four times I've put him behind the gate this year, he has paced to the wire hard every start."
And while Jamieson provided an inch-perfect trip, the numbers inclined Menary to figure his charge was in good order regardless.
"Jody gave him an ideal trip, so I give 30 per cent of the credit to the trip and 70 per cent to the horse," said Menary, grinning. "He's really round into form, got a perfect trip and took advantage of it. And hopefully we keep the ball rolling."
Menary said he is hopeful the sizable Mach Three—Dancing Barefoot bay will continue to maintain the good health he's shown since being put back in training as he looks to earn a second O'Brien Award.
"The horse makes our job easy. I'm happy with how he's come back. We took his harness out of the bag from the Breeders Crown and I couldn't believe how much his rear end had grown," said Menary. "I was really happy with the year he had last year and I hope we can build on that for this year."
Sintra, bred by Louie J Camara of Puslinch, ON, is now an 18-time winner with $988,425 in career earnings. He paid $18 to win.
— with files from Woodbine communications