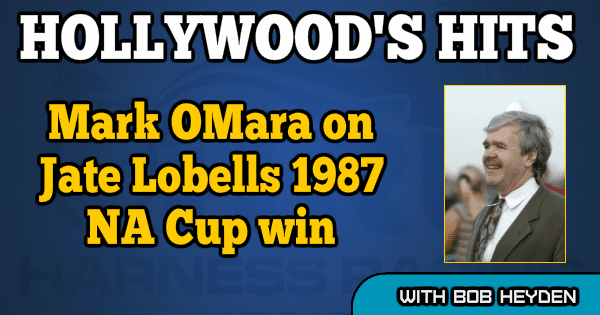 O'Mara on Jate Lobell's NA Cup triumph in the first million-dollar race in Canada
by Bob Heyden
The first million-dollar race in Canada was the 1987 North America Cup won by Jate Lobell by a nose over Frugal Gourmet at Greenwood Raceway in downtown Toronto.
Mark O'Mara trained and drove the winner for Joe McCluskey of Michigan. Trevor Ritchie was the runnerup for Blair Burgess.
Jate Lobell would go on and defend his divisional title at 3 and then stood at Kentuckiana Farms. He surged well past $100 million in siring credits and produced three NA Cup champions from his first half-dozen crops: Safely Kept in 1992, Davids Pass in 1995 and Gothic Dream in 1997.
Recently, I caught up Mark O'Mara to remember NA Cup of 31 years ago.
How did you feel and how was the pressure going into the 1987 NA Cup?
"I felt it some, but I think Joe (McCluskey) felt it more. We had just sold a quarter interest in the colt to Kentuckiana Farms. The whole experience was great there at Greenwood. They never seemed to get enough of us. Gracious hosts. I particularly remember being on a radio show that Wayne Gretzky was also on."
Where does Jate's win rank among his best ever races?
"Right there. That one, the Confederation Cup and the American National were probably his three best. When he set his mark at 2 — 1:53 — the track was drenched with rain the first heat at the Red Mile but not the second. Jate never seemed to be bothered by the conditions. That race was up there also."
How did the NA Cup-play out?
"I raced him on the front and they kept coming at me. I couldn't let anyone go. All the while, Frugal Gourmet was sitting right behind me. In the stretch, it was the two of us to the wire. I remember thinking — hoping maybe — because I wasn't sure of the photo, that Jate deserved to win because of all the work he did. I didn't want him to lose by an inch after all that.
"Trevor (Ritchie) then outdrove us all in the Meadowlands Pace"
(Frugal Gourmet defeated Laag and Run The Table. Jate Lobell was seventh in his only career off-the-board finish).
Did you realize at that moment how special winning the NA Cup was?
"I'd say yes. Remember, that was the only NA Cup I ever drove in. But yes, I knew it was a very big deal and we were sure enjoying the moment. Remember, too, that we had just gone for $500,000 the week before in the NJ Classic."
Jate set his lifetime mark of 1:51.2 capturing the NJ Classic, avenging his only defeat at the hands of Run The Table (1:51) from May in the $200,000 NJSS Final. For the uninitiated, Jate Lobell in 1986, at age 2, ran the table with a perfect 15-for-15 season and was Horse of the Year runnerup to Forrest Skipper.
"That was a tough year in a way because (Jate Lobell) wasn't eligible to a lot. I watched as Cullin Hanover won the Wilson ($1.5 million plus) and Redskin taking the Governors Cup for a Million and a Half. It wasn't easy to watch. But we did all we could have done. Jate just was more advanced than the others."
Do you remember Jate training down? Was he anything special?
"Not early on. I remember going down to Florida around a holiday and we were training them in 3:00 or so. He was okay, but I wasn't buzzing them or anything. He always covered a lot of ground. Early on, he seemed to be doing things easier than the rest. Henry Lunsford and my father (Frank) worked with him early, and I got him for his last three weeks. He trained on a smaller track. You couldn't really ask my father who he liked because he liked them ALL!."
Jate did something else you don't see today — four double-heats as a freshman.
"No you don't. It didn't bother him. But nowadays you won't see freshmen going double heats."
Was Jate a versatile colt?
"Absolutely. He didn't need a trip of any kind or be up front or behind. It didn't seem to matter a lot to him. We decided later in his career to make sure he got a chance. We didn't want to be blamed for 'pilot error'. But no matter what, it can happen, and it did in the final start of his career in the Breeders Crown. I finished third, but I didn't give him enough room or racetrack. He finished with a lot of 'go', but too late."
NA Cup tidbits
• Blair Burgess lost the NA Cup by a nose two years in a row — with Amity Chef in 1986 and Frugal Gourmet in 1987.
•The first 4 winning drivers in the NA CUP recorded their lone career million-dollar win:
1) Mark O'Mara 1987 Jate Lobell
2) Yves Filion 1988 Runnymede Lobell
3) Steve Condren 1989 Goalie Jeff
4) Bud Fritz 1990 Apaches Fame
• In 1991, Precious Bunny made some history by becoming the first horse to win a million-dollar with two different drivers — John Campbell in the NA Cup and Jack Moiseyev in the Meadowlands Pace. (Mach Three would duplicate this a decade later, winning the richest ever Metro with Mike Lachance and then the following year the Meadowlands Pace with John Campbell)
• Homebreds went 1-2-3 in 2012 in the NA Cup,headlined by the biggest win of Bob McIntosh's double Hall Of Fame career — Thinking Out Loud.
• Speaking of Bob McIntosh, his was not the only "MAC" attack in NA Cup history. Paul MacDonell won in 2008 with Somebeachsomewhere and then just two years later Mark MacDonald won with Sportswriter
• Brett Pelling is the only trainer in history to win two million-dollar pacing events in the same year and not win the division title with either one: 1995 with Davids Pass (NA Cup / Meadowlands Pace) – division title went to Jennas Beach Boy and 1999 with The Panderosa (Cup/Pace) — division title went to Triple Crown winner Blissfull Hall.
First million-dollar handle
The first million-dollar handle came at Hollywood Park on May 17, 1947 when $1,002,429 was bet. The attendance was 26,986. The handle was $38,000 more than Roosevelt Raceway had in 1947 on Aug. 22 ($964,709).