by Brett Sturman
Race 3 – The Armbro Flight Race 3 $250,000
Can the sport's #1 ranked horse, Hannelore Hanover, be beaten? After defeating male rivals in the Cutler in her first start back, she's crushed in her last two races, both at odds of 1-9 and it's hard to see a scenario occurring where she doesn't win again. For what it's worth, Emoticon Hanover did beat her once last year in a race at Tioga in 1:50.2, which coincides as Emoticon's lifetime mark. She looked solid herself last week and we'll see if she can trot late with the reigning horse of the year. Caprice Hill is one that I feel could always go with these at her very best and she's obviously better than her 1 for 15 record over the last two years. She had a good amount of trot last week from an impossible spot and could be involved early from the rail. Celebrity Ruth waited too long to tip off backpedaling cover last out, but it might not have mattered anyway.
Picks: 5-1-4-2
Race 6 – $100,000 Mohawk Gold Cup
I think most would agree that the most "likely" to win would be McWicked, but an upset from Check Six isn't something that should be out of the question. Burke usually picks these spots carefully and Check Six has been known to surprise against these types in the past. Recent form isn't bad and he has a good post edge on all his main rivals; worth a swing.
McWicked won easily last week going first-over in 1:49.1 and aside from price there isn't a real reason to go against. He was also an open-length winner the second most recent time he raced here and Dave Miller can do it on or off the pace with him. Rodeo Romeo is in career form for Ryder and nearly got to Mach It So at Pocono last week; picks up the services of Tetrick now. It would be quite a story if Jimmy Freight won – a 3-year-old who is only in here against older because he wasn't Cup eligible – but this is an awfully tall task. He did rally off cover last week to get the job done against slightly lesser older horses so I guess it's possible; has Moreau and Roy working in his favor. Sintra wasn't bad last week, but couldn't do anything off the cover of McWicked. Great Vintage is the wild card in here. That was one of his best race miles ever last out at M1 but now it's post 10 for the 10-year-old; Takter has managed him brilliantly through the years.
Picks: 2-6-7-4
Race 9 – $415,000 Fan Hanover Final
In a pretty evenly matched group of 3-year-old fillies, it's Sudden Passing who I think rates the best chance in here. Trained by McNair, she was given a (too) patient drive last week by Jamieson but it paid off when she was able to sprint when clear to get the win over the heavily backed fave. Now 3 for 4 on the year after being 0 for 5 last year, this one had pace all throughout the mile but had to wait and then weave when blocked; if anything it should serve her well as a prep for the rich final.
Alexis Faith brushed easily last week to the front and looked clear but couldn't stave off the top choice when it counted. Always tough to completely discount a Casie Coleman trainee and she could easily rebound in the role of beaten favorite. In that same elimination, Just My Luck was coming widest and fastest of all; one of two Paul Reid trainees in here along with Kendall Seelster.
Kissin In The Sand scored in her elimination last week, but I think she's liable to be a bit overbet in this spot. She took advantage of second over cover in a race where the leaders couldn't go forward in the stretch, but others behind her were closing as well. Kendall Seelster had the misfortune of being on the inside during that race when all the action was to the outside; I wouldn't discount Shower Play at big odds either.
Picks: 2-5-3-4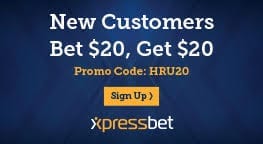 Race 10 – $266,000 Goodtimes Final
In a potential Hambletonian preview, last year's freshman divisional champion Alarm Detector squares off against the 2-year-old Matron winner Wolfgang in what should be a highly anticipated showdown.
Both colts make their seasonal debut last week in winning their respective Goodtimes eliminations. Alarm Detector coasted home while eased down near the wire to win in 1:53.1 for trainer Baillargeon, while Wolfgang trotted almost a full second quicker in 1:52.2 for Gingras and Takter. Alarm Detector would have been heavily favored had this race occurred last year, but it looks like Wolfgang has improved noticeably. No one was getting close to him last week, including Hat Trick Habit who could only make a brief first over bid, and Wolfgang is my choice as the likely second choice in wagering.
Breeders Crown winner Fiftydallarbill was closing late on Alarm Detector last out although the race had already been decided by that point. It was nonetheless a good first-over try and he was well clear of the rest. Lawmaker chased the top choice last week as a big longshot, but it was just his first raced of the season and he held well enough; should be well positioned again. Hat Trick Habit will offer a much bigger price this time around; needed more in his elimination in his first start over the track.
Picks: 4-3-7-5
Race 11 – $370,000 Roses Are Red Final
For Shartin N, this is shades of the Matchmaker all over again. In that series at Yonkers, she miscued in her race immediately prior to the final, but was able to mind her manners and dominate the next week when it counted most. She's lucky to make the final following an amazing recovery after she broke early, and was lucky that the mare she interfered with finished fourth. This one ended up closing in :25.3 in her elimination and was pacing an absolute storm down the lane. Seemingly in an all or nothing spot, King and Tetrick are more likely than not to have her figured out.
Blazin Britches took advantage of the break by the favorite last week to win handily with no one able to get close. That looked much more like the Britches we saw last year and that was a good bounce back mile from her seasonal debut at Hoosier. With or without Shartin N in the picture, we know better from last year not to underestimate this speedy lass from Brown. Tequila Monday was the other elimination winner last week in a race that was dominated by the front couple mares. She was chased home in that race by longshot The Joy Luck Club who couldn't reach the pacesetter, but who did good for herself to hold off Nike Franco N who had every chance to pass her late but couldn't. Blue Moon Stride didn't have the easiest go of it last week and L A Delight isn't outclassed but Gingras will need to find a way into it.
Picks: 7-4-10-1
Race 12 – $1,000,000 Pepsi North America Cup:
Lather Up seeks to offer driver Montrell Teague redemption following a gutsy loss three years ago with Wiggle It Jiggleit in this race, and the duo look to be the ones to beat. Granted, Lather Up was the beneficiary last week from when Lost In Time and Courtly Choice hooked wheels at the top of the stretch, but he still paced a streak on the inside through the stretch to win that race in 1:49.2, the fastest of the three eliminations. All of his prior races this year have been monstrous; you have to hand it to Teague and Francis for what they get out of these modestly-bred horses.
Stay Hungry was loaded last week in his elimination when McNair waited until halfway down the stretch to tip him off cover. Last year's Dan Patch divisional runner-up is a formidable threat and the one that I'm leaning towards to capture Cup XXXV.
Not to be overlooked, Done Well finally tasted defeat for the first time in his career last week and he didn't do it lightly. After grudgingly wearing down the Coleman trained Summer Travel, he held off the second over Hayden Hanover but the oncoming Stay Hungry was too much. A slightly different trip tonight and the outcome could be different. Wes Delight has been overachieving this year and won the third elimination last week when Callahan squeezed out of the pocket in the stretch. He's a horse that may be overlooked despite his record and will offer a price. Nutcracker Sweet rebounded nicely last week to be second from post 9 after being given a sweet cover trip by Tetrick; gets David Miller now.
Picks: 2-7-4-3