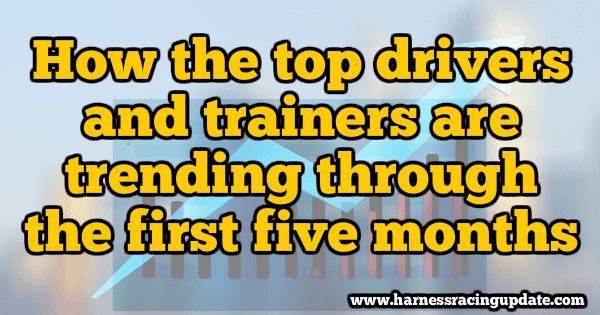 Through the first five months of 2018, which drivers and trainers are trending up, which are down and which are consistent compared to the same time last year?
by Joe FitzGerald
Taking a look at the trending report for some of the sport's top drivers, Jason Bartlett continues to trend up. He topped the earnings list after five months of racing, just as he did last year. However, while the leading driver at Yonkers was more than a million dollars up on second place Jordan Stratton (trending down) through May 31, 2017, he's only $170,000 ahead of second place Tim Tetrick (trending up) this year. And Bartlett's five-month bankroll was $1.3 million short of what he had last year. Stratton is third right now. Bartlett drove in 69 fewer races, while Stratton was up by 27 drives and Tetrick, who was back in eighth last year, had 215 more drives. He seems determined to regain the earnings title he held from 2007 to 2013. He was top dog at Dover Downs and Harrah's Philadelphia.
Aaron Merriman (trending the same), who is fourth on the money list after being third last year, is once again comfortably atop the dash list. A virus raised havoc with racing at The Meadows during the first quarter of the season so Merriman was short 260 drives from last year's five-month total, but he was still 88 wins ahead of second place Ronnie Wrenn Jr. Last year, Merriman was 196 ahead of Trace Tetrick. Merriman is number one at Northfield and third at The Meadows.
Trace Tetrick (trending up), the number one driver at Hoosier Park and number two at Miami Valley, continues to climb the ladder. He and Jordan Stratton have both firmly established themselves in the upper echelon. Trace was 11th on the earnings list at the end of May in 2017. He jumped six spots to sixth and stepped up $161,000 in a year when many top drivers lost ground.
Corey Callahan (trending up) jumped one spot to sixth this year on 313 fewer drives. That's impressive. Corey has been popping up all over the circuit: he was third at Dover, #6 at Philly, #9 at The Meadowlands, #9 at Harrington. His dash and earnings totals both fell short of 2017.
Dan Noble (trending up), who won the dash title in 2011, moved all the way up from 34 at the five-month point in 2017 to number seven in 2018. The top driver at Miami Valley and third at Scioto Downs, Noble won 134 more races and earned in excess of a million dollars more this year. Noble finished 2017 in the 28 spot.
George Brennan (trending down), who is eighth all time on the earnings list with almost $168 million, dropped from fifth to eighth this year. The number three driver at Yonkers, he won a dozen more races but was short about $478,000.
Ronnie Wrenn Jr. (trending up), who won the dash title in 2013 and 2014, moved up from 13th to ninth as he won 56 more races and earned $51,000 more. Wrenn had 82 more starts this year. He was second in money to Aaron Merriman at Northfield, but number one in wins and UDRS.
Jimmy Marohn Jr., who didn't make the top 50 earnings list at the close of 2014 and finished at number 46 in 2015, made the top ten after five months of 2018. Marohn was number one at The Meadowlands, third at Freehold and fifth at Yonkers. He won 34 fewer races but earned $51,000 more than last year.
Trainer trends
Training leader Ron Burke (trending down) had 30 fewer wins and $443,000 fewer dollars than he did after five months in 2017, while Rene Allard (trending down) who again occupied the two spot, is off 36 wins and $317,000. So the money is down at the top of the scale. Burke's charges made 71 fewer starts than they did during the same period last year, while Allard's starts were off by 149.
Rockin Ron, Filibuster Hanover, and for two starts as the period came to a close, Hannelore Hanover, did well for Burke, while Keystone Velocity repeated in the Levy for Allard.
Scott Di Domenico (trending up), who was at 22 on the trainer's money list at the close of 2015, 25th in 2016 and ninth in 2017, has stepped up from fifth five months into last year to third in 2018. Di Domenico was number two at Yonkers Raceway, 10th at Philly and seventh at The Meadowlands. His horses have made 189 more starts this year and earned $127,000 more than this period last year. Missile J and Handsoffmychips are two of his charges.
Richard Moreau (trending up), who stepped up from seven to four, is the only trainer in the top 10 who is not connected to Yonkers Raceway. The top trainer at Woodbine/Mohawk won 32 more races and earned almost $254,000 more than he did through May 31, 2017.
Richard Banca (trending down), who recently suffered the loss of two dozen horses at his Mt Hope Training Facility, dropped from third to fifth. Banca, the number three trainer at Yonkers, is more than $900,000 short of what he had last year. He made 87 fewer starts and won 17 fewer races. Mach It A Par, Winds Of Change, Lady Shadow and Somewhere In LA all raced for Banca.
Gilbert Garcia-Herrera (trending down) who has finished the year in the top 10 the past two years, dropped two spots to six. The number two trainer at Harrah's Philly, third at Pocono Downs and seventh at Yonkers was off by $237,000.
Nick Surrick (trending up), the leading trainer at Freehold and number four at Philly, moved up ten spots to number seven. His 14 more wins translated to $346,000 more in the bank. For all his success at Freehold, Surrick actually made $171,000 more at Yonkers than he did there.
James King Jr. (trending up) who works in concert with his wife, Joanne Looney King, stepped up nine spots to number eight. He banked $390,000 more on essentially the same number of wins. Matchmaker, Chip Noble and Betsy Ross winner Shartin N, who is the richest horse in North America with $419,000, tells the story here. Newborn Sassy has also been a force at Yonkers.
Jenn Bongiorno (not ranked last year) who wasn't even training last year, came in at number nine. She was ninth at Yonkers, 16th at Harrah's Philly and 10th at The Meadowlands.
Carmine Auciello (trending up) is 10th. He's number two to Moreau at Woodbine/Mohawk, but also banked almost $143,000 at Yonkers Raceway. His money was up $110,000 on the same number of wins this year.