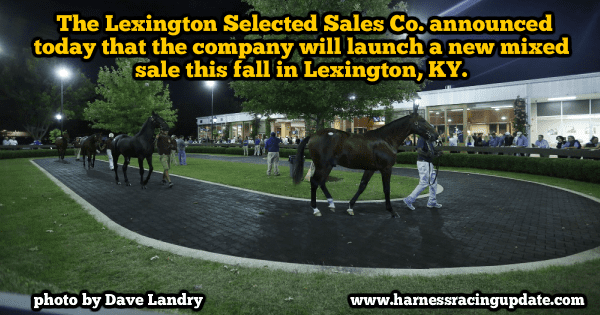 Lexington Selected launches mixed sale
The inaugural sale will be held Oct. 7 after the Kentucky Futurity and Tattersalls Pace card at Red Mile.
by Lexington Selected Sales Co.
The Lexington Selected Sales Co. announced today that the company will launch a new mixed sale this fall in Lexington, KY. The sale will be held on Sunday evening, Oct. 7 at the Fasig-Tipton sales grounds. It will follow an afternoon of racing at Red Mile that features the Kentucky Futurity and Tattersalls Pace, and will come at the conclusion of the selected yearling sale held the previous five days.
"The principals of Red Mile — Winbak Farm's Joe Thomson, Brittany's George Segal, and Lindy's Frank Antonacci — along with the owners of Kentuckiana Farms, are all committed to strongly supporting the sale," said Lexington Selected co-manager David Reid.
"The new sale will further enhance what we call 'the Lexington experience,'" co-manager Randy Manges added. "Its revenues will be directed toward improving the purse structure at Red Mile and perhaps one day, creating new stakes events."
Reid also said the mixed sale hopes to capitalize on the diverse, international crowd that will already be in Lexington for racing and the yearling sale.
"We'll have the buyers in town, and we have use of one of the world's greatest horse sale facilities. But what makes it even more appealing is that sellers will have the opportunity to showcase their racehorses prior to the sale in stakes races, late closers and overnights at Red Mile the previous two weeks. It's a natural," he said.
According to Reid, the sale will focus not only on attracting racehorses of all ages, but also in-foal mares and race fillies — "the kind of fillies with pedigree and pizzazz that light up a bid board."