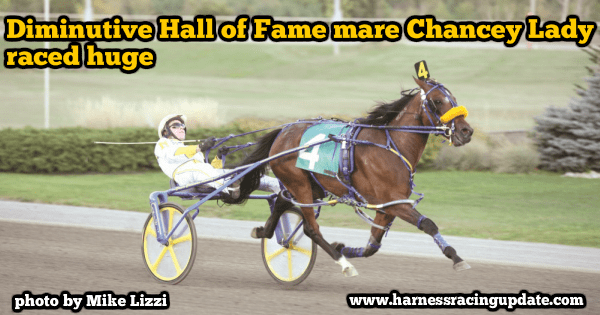 Chancey Lady raced bigger than her size
The Camluck mare earned more than $2 million on the track en route to a berth in the Canadian Horse Racing Hall of Fame.
by Sandra Snyder
When Chancey Lady is inducted into the Canadian Horse Racing Hall of Fame in August it will be just the latest in a string of outsize accomplishments for the diminutive pacing mare.
Purchased by Niele Jiwan out of the 2006 Lexington Selected Yearling Sale, trainer Casie Coleman said at the time that both she and Jiwan had been captivated by the daughter of Camluck and the Artsplace mare Art Of Design from their first meeting.
"She was a smaller filly, not overly big, but she was built like a tank," said Coleman in 2007. "Her conformation couldn't be any better, and I really liked the way she moved over the ground. We got her for $60,000, but I was prepared to go higher."
By the time Chancey Lady made her racing debut in late July of 2007, the filly had not grown much, but neither had she put a foot wrong during her early lessons. And while Coleman and Jiwan may have been a bit surprised by her lack of stature, Chancey Lady's freshman results simply affirmed their early perceptions.
"From the time I bought her she definitely was small, no doubt, and normally when you buy them as yearlings they grow more after you buy them," recalled Coleman with a laugh. "But she never really grew; she kind of stayed the same size. Saying that, she really filled out — had a great big thick chest on her, big ass and she did have a long gait. I can't remember how long her hopples were, obviously that was years ago, but for a little filly I was always shocked how long her gait was."
Fortunately, success on the racetrack is not measured in inches and Chancey Lady's heart and desire would carry her to a $350,340 freshman season, capturing seven of 10 starts, including two Ontario Sires Stakes (OSS) Gold Eliminations, one Gold Final, the season-ending Super Final and her Breeders Crown elimination. Chancey Lady's OSS results netted breeders Brittany Farms and Daisy Acres the Standardbred Breeders of Ontario Association award in the two-year-old pacing filly division.
At three, Chancey Lady picked up where she had left off, sweeping the elimination and final of the first OSS Gold Series. After a runner-up effort in her Fan Hanover elimination at Mohawk Racetrack she stormed home to a one-half length victory in a personal best 1:51.1 in the Fan Hanover final for Jiwan, Coleman and driver Mark MacDonald. However, following the June 14 Fan Hanover final, a disagreement between Jiwan and Coleman saw Chancey Lady moved into the barn of trainer John Pentland. Under the guidance of Pentland and driver Mike Saftic the filly added one more Gold Elimination and two Gold Final wins to her tally. Another Breeders Crown elimination win, for trainer Richard Bilach and driver Daniel Dube, pushed her lifetime earnings over the $1 million mark and earned her the O'Brien Award as Canada's top three-year-old pacing filly.
"I was always watching her. Me and the owner had a disagreement about a couple things on her stakes schedule and I lost her after she won the Fan Hanover, but I still kept a good eye on her," said Coleman. "It definitely hurt losing that one, she was a champ."
Chancey Lady made the transition into the older pacing mare ranks under the tutelage of Mark Kesmodel, winning five of 21 starts as a four-year-old and earning $184,385. She captured two legs of the Bluechip Series at Yonkers Raceway and competed in the mares open and invitation classes at The Meadowlands and Harrah's Chester Racetrack.
Sadly, Jiwan was unable to see Chancey Lady's best performances as an older mare. The Burnaby, BC resident passed away on December 25, 2009, eight months before she recorded her personal best 1:48.4 at Harrah's Chester for new owner Hal Glestein of Richboro, PA. Andy Miller was in the race bike for the sparkling mile — which made Chancey Lady Camluck's fastest daughter — and remained the mare's pilot through the balance of her five-year-old season.
"It was one of those days when she left good and just kept right on going," recalled Miller. "She was very quick off the gate and could carry it a long way."
Miller drove the mare to another win in the Harrah's Chester mares open class, a third-place result in the Breeders Crown at Pocono Downs — part of an Ontario Sired sweep that saw her finish behind fellow Camluck daughter Dreamfair Eternal and former OSS rival Voelz Hanover — and a runner-up result in the Allerage at Lexington.
"She had a stretch there where she was racing really good for me… I think I drove her six or seven starts. She was third in the Breeders Crown and second at Lexington and put in some big efforts," said Miller. "She was a pleasure to drive. She could really snap off the car and get you in the race."
Chancey Lady also captured a leg and the final of the Cape and Cutter Series at The Meadowlands early in her five-year-old season, in rein to John Campbell. In total the mare would post a record of six wins, four seconds and five thirds in 28 starts, adding another $286,200 to her lifetime earnings.
After being sold to Baron Racing Stable of Horsham, PA at the conclusion of her five-year-old campaign, Chancey Lady made 26 starts as a six-year-old for a record of five wins, six seconds, two thirds and earnings of $350,632. She captured two legs of the Bluechip Series, her elimination of the Milton Stakes at Mohawk Racetrack and finished second in the Breeders Crown to then stablemate Anndrovette.
Moving into the P. J. Fraley barn at the start of her seven-year-old season and finishing up the year under the care of Joshua Green, Chancey Lady added eight wins, three seconds, three thirds and $161,577 to her record, moving her into the elite company of horses with $2 million in lifetime earnings. In 10 starts as an eight-year-old, the mare would score two more wins and $28,965 before being retired to the breeding shed with a lifetime record of 43 wins, 22 seconds, 15 thirds and earnings of $2,083,514 in 143 starts.
Since joining the broodmare ranks Chancey Lady has produced Somebeachsomewhere geldings Somebeach Baron (1:52.3f, $64,476) and Baron Chancey ($5,570), has a yearling filly by Shadow Play and a 2018 colt by Sweet Lou. She is currently part of the Winbak Farms broodmare band.
Looking back neither Coleman nor Miller knew they were involved with a future member of the Hall of Fame, but both trainer and driver said Chancey Lady is well deserving of the honor.
"At the time you're not really thinking that, you're thinking about the race at hand, but you know, she definitely deserves it," said Miller. "She put a lot of good years in, made a lot of money, and was a very honest racehorse."