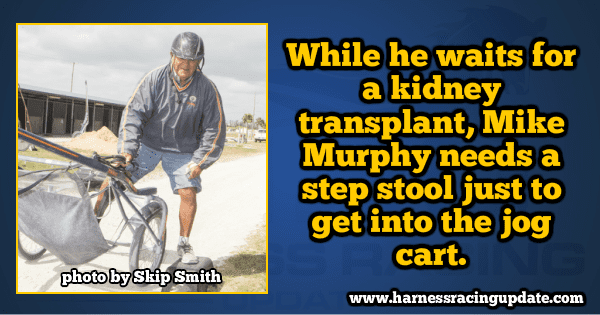 Giving back with the gift of life
Horseman Mike Murphy is in need of a kidney transplant and his grandson, Jacob Fox, is more than happy to donate one if he's a match.
by Tom Pedulla
When Jacob Fox was young, Mike Murphy doubled as grandfather and father while teaching him everything he learned since he entered the harness racing business as a trainer and driver in 1972. Now, Murphy is an aging man in dire need – and Fox is there for him.
Fox tops the list of seven family members who volunteered to donate a much-needed kidney to Murphy, 72.
Murphy's diseased kidneys are functioning at only 15 per cent, leaving him so debilitated that he uses a step stool to enter the jog cart each morning at Pompano Park. He is coping with stabbing back pain. He finds himself exhausted by noon.
Although further evaluation must be done, blood tests indicate that Fox, 33, is a promising match for Murphy. And Fox could not be more willing.
"I don't think there's one thing in this world that I could ask him for that he wouldn't give me," Fox said. "I don't see any reason why I wouldn't do so for him."
Murphy grows emotional as he discusses those willing to participate in the transplant surgery.
"When they volunteered, it was just amazing," he said. "And my grandson, he was adamant about it. He said, 'I know you're headed down that path. And when you need it, I've got it for you.'"
Murphy and his wife, Barbara, 73, spend their winters at Pompano Park before returning to Hoosier Park, their home base for many years. Despite reducing their operation to eight horses, they continue to enjoy their share of success.
Four Socks recently returned from a layoff due to injury to win in the opening pacing division at Pompano. The 8-year-old boasts career earnings of approximately $200,000.
Although Lick Creek Francis was named by the owners after gentle Pope Francis, she is hard on those who work with her every day but equally hard on her competition. She recently won for the sixth time at the Pompano meet.
The Murphys typically avoid being involved with horses that need to compete at the claiming level. They enjoy getting to know their horses well and treat them as though they are members of their extended family.
They very much want to remain in the sport, albeit on a smaller scale.
"They say if you love something, it's not working," Barbara said. "We have so much to be doing, you just do it."
Murphy dreads the thought of being forced to leave the barn forever. "It seems like if you don't stay active, you just wither away," he said. "I want to stay active as long as I can."
Doctors advised Murphy that dialysis might make it difficult for him to stay as active as he has been. And the combination of dialysis and age could weaken him to the point that transplant surgery might be more difficult for him than it would be now.
As for a kidney donation from someone who is deceased, Murphy said he was told there are 100,000 patients on that waiting list. With his kidney function constantly slipping, he knows he is running short on time.
The Murphy's hope their story will help to raise awareness of the need for others to agree to donate much-needed organs in the event of their death.
"If I can help someone else, that's what I want to do," Barbara said. "You don't know how important this is until a family member needs something."
Fox works at The Meadows in Washington, PA as an assistant trainer to Scott Betts. He plans to come to Florida to undergo a battery of tests on April 6 with the hope that he will prove to be an excellent match for someone who means so much to him.
Fox and Murphy filled a void for each other long ago.
"He's the only male figure I've ever had in my life," Fox said of Murphy, who endured the death of two middle-aged sons. Michael Jr. died of complications caused by diabetes. Terry Lee was lost to a brain tumor.
"He's as close to me as my two sons were, maybe closer," Murphy said of Fox. "My two sons were kind of independent and he depended on me more."
Murphy, a native of Henderson, KY, recalled that Fox would expect to be picked up as soon as the school year ended in order for him to spend every possible day of the summer break with him, Barbara and the horses. When Fox was 4, he would sit with Murphy in the jog cart. Fox would later race many of his grandfather's horses.
"I learned everything from him," said Fox, who drove Four Socks to a 1:50.2 clocking at Red Mile in Lexington in 2015.
Meanwhile, the Murphys and Fox hope the transplant will be scheduled soon.
"They say I'll be a new man. I hope they're right," said Murphy, comforted by knowing so many others share that sentiment.