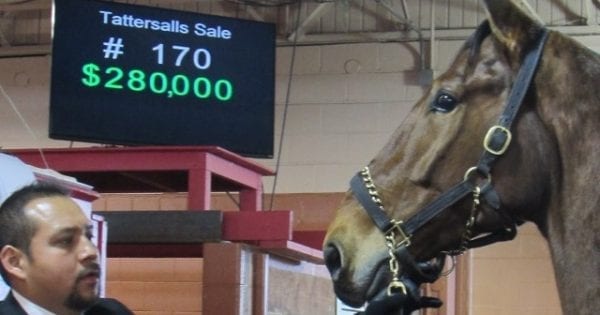 Monday's January Select Sale features talented, active racehorses
The sale at the Meadowlands Racetrack features one of the strongest catalogs in years, as well as dispersals for the Hempt and Mulligan families and a reduction of White Birch Farm stock.
by Dave Briggs
David Reid said Monday's (Jan. 15) Tattersalls January Select Mixed Sale in the paddock at the Meadowlands Racetrack is stronger, "quality wise, horse for horse… than we have had in the past."
The sale on the Martin Luther King, Jr. holiday will see some 250 head, as well as a list of stallion shares on offer in the paddock at the East Rutherford, NJ track beginning at 11 a.m.
Reid, the general manager of the sale, said there's a small, but nice group of broodmares offered, as well as dispersals from the estate of the Hempt family and from the estate of Bill Mulligan, "which includes two sisters to Tripe Crown-winner Marion Marauder in the group. We also have a reduction of White Birch Farm that's offering mares along with some yearlings.
"Then we have a great selection of stallion shares. In the supplement, we're going to be offering five 2018 breedings to Sweet Lou, along with shares in Credit Winner and Dewycheatumnhowe."
The primary attraction will be racehorses.
"It's a typically deep, solid, strong racehorse offering… We've got a good selection of horses that can race over all-size tracks. The most important thing that I always stress, and continue to stress, is to keep looking at the updated past performance lines… between (Wednesday) and Monday, there are 73 horses in-to-go, either quality or racing. So I just can't stress for people enough to continue watching the past performance lines, which will be updated and available here. And there will be an updated booklet printed and spread throughout various tracks."
Catalogs and updated pdfs available here.
Sale web-stream available here.
List of outs for the sale available here.
Videos will be available for the racehorses in the sales paddock.
"Some have raced in the last couple of days, so and a very high number of horses are performing and that's what the people want," said Northwood Bloodstock's Bob Boni who will sell some 65 horses.
"I think it's one of the differences in personality between Harrisburg and the January sale here. At Harrisburg, you can sell horses that have not raced in a while… because the stakes schedule has wound down, but I think when you sell here in January, you're kind of committed to having horses that are qualified and racing," Boni said.
Reid's Preferred Equine Marketing Inc., will consign the most horses.
From the Preferred consignment, Reid highlighted hip 162 Miso Fast, hip 179 Snowstorm Hanover (the 2017 Kentucky Futurity winner) and hip 149 Art Scene, "on top of some young horses that have been racing (at Woodbine) in the Valedictory Series, including the winner of the final (hip 186 Windsun Gotham) and then another horse (hip 151 Better B Rolling) that won multiple legs of it."
From the Northwood consignment, Boni highlighted, "a dozen or so really nice (horses) that are three, just turning four now. All legitimate stakes horses, a bunch of Jimmy Takters and three really nice trotters from Chris Beaver."
Boni pointed to hip 147 Always A Good Time, hip 148 Andy M, hip 154 Cresurrey, hip 155 Dekeyser, hip 168 Ocean Colony, hip 178 Sir John F, hip 180 Texican, hip 181 The Wall, hip 193 Art History and hip 194 B Yoyo
"There are quality horses and either they are ready to race or are racing… it's what people want to buy," Boni said. "They are fresh, young horses that have shown they can go. With what they race for now, especially if you have horses that show they can go on a half… and I think everything I've mentioned shows that they can, it's a big opportunity to make money."
Reid said he was "really looking forward" to the sale.
"I'm looking to see strong participation. It's always good to see people come in from out of town and do some networking and hopefully the owners will come in and fill their orders and everyone goes home happy with a winner. That's what I'm hoping for," Reid said.
At the 2017 January Select Mixed Sale, the gross of $6,6288,400 was the best since 2010 and the average of $26,989 for the 233 horses/stallion shares sold was the highest since 2008 when the sale posted all-time record numbers.
The gross was up 7.5 per cent over the $5,849,400 fetched in 2016 despite 25 fewer horses being sold this year. This year's average was up 19 per cent over the 2016 sale average of $22,672.
In 2016, the gross was down 6.6 per cent from the $6,265,200 fetched at the sale in 2015 when 269 horses, stallion shares and breedings were sold and was off two per cent from the gross of $5,971,500 reached in 2014 for 234 horses and items were auctioned.
The 2016 average was down 2.7 per cent compared to 2015's average of $23,291 and off 11.2 per cent from the average of $25,519 reached in 2014 when 234 horses and stallion shares were sold for a gross of $5,971,500.
In 2013, 206 horses and stallion shares sold for a gross of $4,549,600, an average of $22,085. In that sale, 158 racehorses grossed $4,192,000 and averaged $26,532.