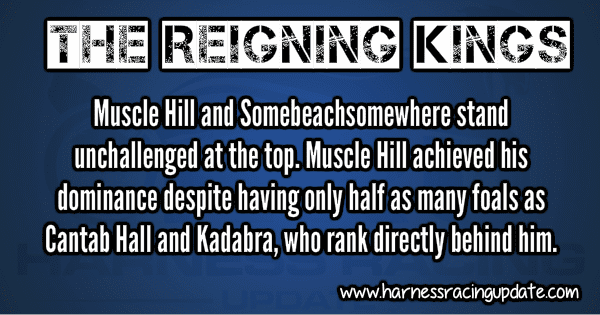 In breeding, everything old is new again
by Dean A. Hoffman
The stallions that led all trotting sires and all pacing sires in North America in 2016 are also going to come out on top again when the final 2017 sire stats are tallied.
They are Muscle Hill and Somebeachsomewhere.
Are you surprised? Of course not. Unless you've been living under a rock for the past few years or have a stubborn case of amnesia, you surely know how these two champs on the racetrack have matured into champs in the stallion ranks.
Not only do Muscle Hill and Somebeachsomehwere have locks on their respective crowns, but their roster of challengers is unchanged. The top four stallions on both gaits are the same in 2017 as they were in 2016.
Finishing well behind Muscle Hill is second place is Cantab Hall while Kadabra and Donato Hanover rank third and fourth, respective, just as they did in 2016.
On the pacing list, Bettor's Delight has been runner-up both years while Mach Three and American Ideal round out the top four.
Muscle Mass elbowed his way into fifth place among trotting stallions in 2017 while Dragon Again joined the top five among pacers. Both of these stallions had hit the Top 10 in 2016 but climbed even higher this year.
Muscle Mass was helped by such stars as Plunge Blue Chip, a winner of nine of 10 starts including the late season Goldsmith Maid. She banked more than $400,000 in 2017.
Dragon Again, the sire of the indefatigable Foiled Again, also got a boost this year from the relentless Fear The Dragon, whose seasonal bankroll exceeded $1.35 million.
Among trotting stallions, those ranking 6-10 in 2017 were Credit Winner, Swan For All, Andover Hall, Chapter Seven, and Explosive Matter. Compare that to 2106 when the stallions ranked 6-10 were Andover Hall, Yankee Glide, Muscle Mass, Explosive Matter, and Conway Hall.
Swan For All, of course, got a boost from Hannelore Hanover, the fastest trotting mare of all time and a winner of more than $1 million in 2017 for the second consecutive year. Swan For All also was lifted by the freshman trotting star Fiftydallarbill, champ in the $600,000 Breeders Crown.
The rise of Chapter Seven into the top 10 list should not be overlooked. It's ironic that he could achieve this with only 155 foals racing and his star son Walner sidelined after an abortive sophomore season. Take note of Chapter Seven's success. His son Fourth Dimension won the late season Valley Victory after being the beaten odds-on favorite in t he Breeders Crown. Chapter Seven bred 123 mares this past season, his largest book ever, and I think you're going to read more about the exploits of his offspring.
Somebeachsomewhere was the undisputed king of the hill again and he reigned over the same challengers in 2017 as he did in 2016. After the top five came Rocknroll Hanover, Art Major, Western Terror, Western Ideal, and Well Said. Those were the same stallions as 2016 but only in a slightly different order.
The Reigning Kings
Muscle Hill and Somebeachsomewhere stand unchallenged at the top. Muscle Hill achieved his dominance despite having only half as many foals as Cantab Hall and Kadabra, who rank directly behind him.
It's clear that if you want to win the big prizes in harness racing, you should go shopping among the yearlings sold by Muscle Hill and Somebeachsomewhere. (But take lots of money.)
I've always been startled by the similarities in their racetrack resumes:
Muscle Hill won 20 times in 21 starts and was second once. He earned $3,273,342.
Somebeachsomewhere also won 20 times in 21 starts and was second once. He earned $3,221,299.
Both were Horse of the Year in their sophomore season. Both wasted no time in making their impact felt in the stud.
Average Earnings Per Foal
The USTA Sire Statistics offer an invaluable insight on the sires of younger horses by providing rankings on average earnings per foal. After all, if you look at the raw numbers and see a first-crop stallion such as Wishing Stone with only $395,012, you might not be impressed. But if you realized that Wishing Stone had only 16 foals in 2015, it would make a difference.
The average earnings per foals shows that Wishing Stone ranks higher than many established stallions.
The leading trotting stallion is average earnings of 2-year-olds in 2017 is Chapter Seven, who edged out Muscle Hill and Cantab Hall.
If you look at average earnings of sophomore trotters this past sesason, you see the Muscle Hill predictably comes out on top but I'll bet you'd be surprised who ranks second.
It is Archangel, the well-bred black son of Credit Winner that served a small book of mares in New York in his first season at age 4 before returning to the races as a 5-year-old. He then located to Canada and has bred about 250 over the last three seasons. Is the success of his first crop an omen for the future? We'll see.
Again, it's no surprise that Somebeachsomewhere is the top-ranked pacing stallion on average earnings of freshman pacers in 2017, but there's a new boy in second place and he's making noise like he wants to play in this league, too.
His name is A Rocknroll Dance and 51 of the 69 foals in his first crop raced in 2017 and they averaged almost $24,000 in earnings. I was a great admirer of this colt as he went one tough mile after another over three seasons. Like the Timex watches of the past, he took a licking and kept on ticking. So his success should not be surprising and it's altogether fitting and proper—to borrow a quote from Abe Lincoln—-that his best son Lost In Time was developed by Jim Mulinix, who also brought out A Rocknroll Dance.
Breeders and yearling buyers are well advised to check out the average earnings per foal section on the USTA Sire Stats to get an objective appraisal of a stallion's accomplishments.
Breeders and yearling buyers are also well advised to go after Muscle Hill and Somebeachsomewhere whenever possible. They're the truly the Twin Kings of the Hill.