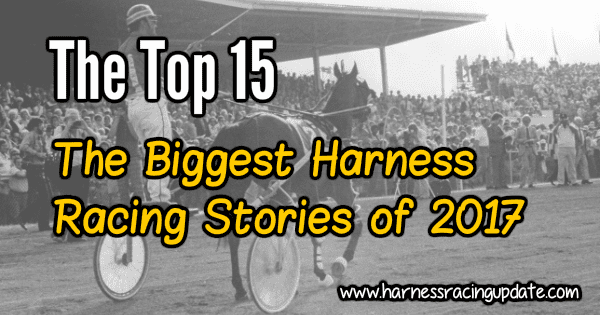 The 15 biggest harness racing stories of 2017
by Dave Briggs
Counting down my list for the 15 biggest harness racing stories of 2017:
15. Palone pushes past 18,000
Remember when many of us thought Herve Filion's 15,183 lifetime driving wins was an unbreakable record? Dave Palone is more than 3,000 wins past that now, and still chugging at age 55. On July 12, he recorded his jaw-dropping 18,000th career win. Palone won 421 races on the year and now sits at 18,193 lifetime.
14. Dr. J Hanover in 1:46.4
Few people saw this coming when the 4-year-old son of Somebeachsomewhere equalled his sire's world record in a Graduate leg on June 3 at Mohawk with Doug McNair at the reins for trainer Tony Alagna. It was an all-time Canadian record.
13. Hail to the female trotters
Older trotting mare Hannelore Hanover, three-year-old trotting filly Ariana G and two-year-old trotting filly Manchego were the top three horses in the sport in a year of female empowerment.
12. What The Hill beats older horses
On Nov. 25 in the TVG Open Trot at the Meadowlands, What The Hill became the first 3-year-old trotter in 10 years to defeat older horses in an event with a purse of $100,000 or more.
11. Hanover Shoe Farms sets earnings record
After being the leading breeder for 69 straight years – ever since breeding records have been kept — it's sometimes easy to overlook the incredible output and consistent excellence of Hanover Shoe Farms, which broke its own record for earnings in a single year by exceeding $31.4 million.
10. Twister Bi dominates Yonkers Trot
Italy's Twister Bi was so impressive while winning the $1 million Yonkers International Trot on Oct. 14 in a 2:22.1 world record for 1 1/ 4 miles, the Jerry Riordan trainee even cracked the North American-dominated Hambletonian Society / Breeders Crown Top 10 poll for a brief time.
9. Herve Filion dies
Harness racing lost a legend and larger-than-life figure on June 22 when former world driving king Herve Filion died due to complications from respiratory distress at age 77.
8. Record-breaking Lexington sale
Few people figured the Lexington Selected Yearling Sale could surpass its record-breaking 2016 auction, but the 2017 sale smashed records in all categories — gross ($36,410,000), average ($58,537), median ($42,000) and number of yearlings that sold for $100,000 or more (103).
The $480,000 sale topper — a Muscle Hill filly purchased by Swedish agent Robert Lindstrom —came on the second night, not the first and was the highest-priced yearling ever sold by either the filly's breeder, Jeff Gural, or the consignor, Bob Boni's Northwood Bloodstock.
7. 250th anniversary of horse racing in Canada
Canada celebrated the 250th anniversary of the first recorded horse race in the country by playing host to the World Trotting Conference and World Driving Championship.
Fittingly, James MacDonald won the WDC for the host nation in his hometown of Charlottetown where the conference was held during OId Home Week that concluded with the magical Gold Cup and Saucer.
6. Aaron Merriman's 1,000+ wins
Aaron Merriman became just the fourth driver to exceed 1,000 victories in a year when he piloted Official Kisser to victory on Dec. 2 at Northfield Park and joined Tim Tetrick, Walter Case, Jr. and Tony Morgan in the history books. Through Friday, Dec. 29, Merriman had 1,091 wins on the year.
5. Tetrick youngest to 10,000 career victories
Two weeks before turning 36, Tim Tetrick became the youngest man to record 10,000 career driving victories when he drove Earl Variera to victory on Nov. 3 at Harrah's Philadelphia. The previous youngest to 10,000 wins was 40-year-old Walter Case, Jr.
4. Indiana in the spotlight
Beckhams Z Tam's mild upset in the $527,500 Breeders Crown for sophomore pacing colts on his hometown track was the highlight victory for the wife-and-husband tandem of trainer Jamie Macomber and driver Rick Macomber, Jr. as Hoosier Park stole the sport's spotlight and won many new admirers for a great job as Crown host.
3. Hail to Hannelore
Hannelore Hanover not only beat the boys in the $486,260 Maple Leaf Trot and the $526,250 Breeders Crown open trot, she also recorded the fastest mile by a female trotter in the history of the sport while beating her male rivals (again) when she won the $136,000 Allerage Farms open trot on Oct. 7 at Red Mile in 1:49.2.
2. Hambletonian won by DQ
It certainly wasn't a good story when Perfect Spirit and Ake Svanstedt won the 92nd Hambletonian on Aug. 5 at the Meadowlands by disqualification, but it was still one of the biggest of the year. Three-year-old trotting colt of the year What The Hill and David Miller crossed the wire first, but were set back to ninth for interference in the stretch in a race also marred when International Moni was interfered with in the first turn.
1. John Campbell retires at Clinton takes reins of Hambletonian Society
John Campbell, the sport's most decorated driver and career earnings leader with $299 million, officially retired from the sulky with a massive farewell party at Clinton Raceway on Legends Day on July 30 that drew more people than the town's population of 3,000, raised $57,000 for the Clinton Public Hospital Foundation and ended with a classy goodbye speech from Campbell to the crowd just down the road from where he grew up. That it came a month after he became chief executive officer of the Hambletonian Society made him the newsmaker of the year.