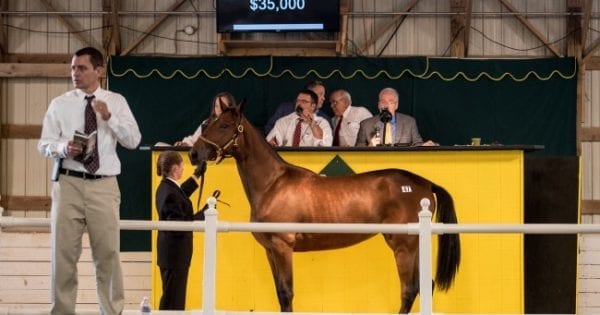 Aby America tops Morrisville with $35,000 bid
The annual yearling sale put on by the Morrisville Equine College was down marginally in average from a year ago.
by Dave Briggs
Dave Hanson said he wasn't surprised it was Aby America that topped Sunday's Morrisvile Equine College Yearling Sale in Morrisville, NY and not the brother to last year's sale topper.
Aby America, a daughter of Muscle Mass out of Carman M, benefitted from good looks and a hot sire and was sold for $35,000 to Steve Pratt of Corfu, NY.
"The Muscle Masses, they kind of cleaned up pretty well in the last (New York) Sires Stakes before the sale and they were certainly ones that people wanted to see and look at. She looked the part," said Hanson, whose Lakeview Equine consigned the filly.
"She is a really pretty filly and she had a great video," said Hanson who sold 10 yearlings for a gross of $160,500, an average of $16,500. That made him the second leading consignor by average (with at least three yearlings sold) behind Steuben Farms that averaged $19,167 for three yearlings sold. Preferred Equine Marketing was the top consignor by gross with $317,709 made for 27 yearlings sold.
Hanson also consigned Charlieman, a Conway Hall—Ann's Promise full-brother to last year's Morrisville sale topper Chomar, who fetched $55,000 in 2016 from Crawford Farms. Charlieman sold for $32,000 to Jim Crawford.
"To me, it's like every sale. Good horses sell well," Hanson said. "If they have some pedigree and they look the part, then they sell well. If they are a little light on pedigree, maybe the mare hasn't produced anything recently or the family is not really active or has some blemishes, then they get knocked down pretty hard."
In all, 72 yearlings grossed $967,700 for an average of $13,440 that was down 1.6 per cent from 2016 when 81 yearlings grossed $1,106,136, for an average of $13,656. In 2015, the sale average was $15,540 when 62 yearlings were sold. The 2014 average was $10,714 and the 2013 average was $10,246.
"There weren't any $50,000 horses this year, but that's just because they weren't there this year. It doesn't mean they won't be there next year. I thought it was a good sale and I think most of the people did, too. There were a few horses there that maybe sold a little lighter than they should have, but that's what an auction is," said Hanson who has sold horses at the sale for nearly 30 years. "I thought it was a good sale. The (students) were great, as always, and I had a great team there."
Yearling sale administrator Mary Taylor said, "the money from the sale goes back into the equine program. The students in the program are involved in one way or another with the sale — either as grooms, first leaders, second leaders, office, parking… it's all different phases of the sale."
Hanson said there was a nice crowd at the sale.
"There was certainly money there, if people saw horses that they wanted," Hanson said. "I think the sale was a little light on horses, but I don't think there are a lot of horses out there."