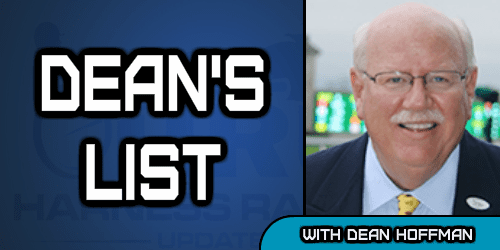 Tar Heel makes history in an epic and controversial Jug.
by Dean A. Hoffman
It was a casual comment uttered in a tack room a half-century ago.
"Solicitor," the old horseman said, rubbing his chin whiskers, "was the first horse ever to pace in 2:00 on a half-mile track and get stiffed."
I knew who Solicitor was. In that era, he was best known as the sire of Overtrick, winner of the 1963 Little Brown Jug in a world record 1:57.1. But Solicitor had competed in the early 1950s when 2:00 miles were as rare as a cactus in the Klondike.
I knew, too, that Solicitor had been a stablemate of Tar Heel when he won the Little Brown Jug, but it wasn't until the 1980s that I probed the accusation of Solicitor being "stiffed" in the Little Brown Jug.
Allow me to set the stage first. By the middle of the 20th century, Delvin G. Miller was harness racing's shooting star. He became the first driver ever to win the Hambletonian and Jug in the same year when he steered Lusty Song to win at Goshen and Dudley Hanover to win at Delaware in 1950. He had a power-packed group of juveniles in his racing stable in 1950 and he had a 10-year-old stallion named Adios at his Meadow Lands Farm in western Pennsylvania.
Miller's extraordinary skill earned him the patronage of W.N. Reynolds, a patriarch of harness racing and co-founder of the R. J. Reynolds tobacco empire. Reynolds had bred and owned a Hambletonian winner and campaigned at the elite levels of the sport, but picked the young man from Pennsylvania to manage his horses.
In the spring of 1950. Miller and his assistant Jimmy Arthur realized that they had some serious talent in Tar Heel and Direct Rhythm, two posthumous sons of the world champion Billy Direct. Another talented but headstrong juvenile colt in the stable was Solicitor. This trio rolled over their opposition in the juvenile wars of 1950.
Miller often drove Solicitor because he was a challenge to control in a race and Miller seemed to get along with him best.
One young reinsman that Miller selected to drive Tar Heel in his juvenile form was Billy Haughton, then 26. Miller came under some criticism for not using more experienced Grand Circuit stars.
"He's sure getting kids to drive Tar Heel," whispered the anvil chorus.
Milller said, "Billy had shown me that he could drive with the best of them by then."
The Fox Stake was then the prime prize for junvenile pacers and the Miller entry bowled over their foes. Solicitor won the first heat after Tar Heel skipped offstride briefly. But Tar Heel took round two.
That set up a raceoff between the stablemates. Tar Heel went to the front and Miller sat on his back with Solicitor and burst past the pacesetter with a final eighth in 14 seconds.
Tar Heel popped a curb at the start of the 1951 season and Miller took it easy with him for a couple months. He was far from top form in the summer, but getting better as his hocks healed and he got tighter.
The success of his homebreds was lost on the beloved "Uncle Will" as Reynolds was seriously ill in the summer of 1951. He died on Sept. 10.
Miller spent the summer priming Solicitor, Tar Heel, and Direct Rhythm for the Little Brown Jug in Delaware. He'd won the previous year with Dudley Hanover, but that was a catch-driver. This year, Miller wanted to have the Jug winner in his stable.
Miller had already entered the Reynolds trio in the Reading Futurity in Pennsylvania, but scratched them when he got the news of their owner's passing.
"I didn't want them to race while Mr. Reynolds was laid out," he said. Miller himself went to North Carolina for his patron's funeral services.
The Little Brown Jug loomed just a week away. The three heats of the Reading Futurity would have been a perfect tightener for the Jug. He managed to get Tar Heel into a free-for-all race that he won in 2:03.2.
In the Jug, Del Cameron steered Tar Heel and Miller himself was behind the headstrong Solicitor. Tar Heel got away easily and Solicitor gave Miller fits and simply couldn't catch his stablemate.
In the second heat, however, Solicitor behaved and got away strongly and Tar Heel was behind him this time.
This was a scenario that Miller had frankly dreaded. He knew that if he drove Solicitor all out, the colt might win the second heat.
"I was worried about going three heats since I'd missed the Reading Futurity because of Mr. Reynolds' death," explained Miller. "If Solicitor had won the second heat, we'd have to come back for a third and another horse might have won the third heat. And then there'd have been a fourth heat.
"I was cutting a pretty good pace with Solicitor in the second heat," Miller continued, "and I got a little worried that Tar Heel wasn't going to catch me. I didn't punish Solicitor, but he wasn't a horse that needed to be punished. But I really believe that if I'd gotten into Solicitor he might have beat Tar Heel. But I wasn't anxious to go another heat."
Tar Heel inched past his stablemate in the stretch and hit the wire in 2:00, making him the first sophomore to pace in that time on a half-mile track.
Miller quickly pointed out that the Reynolds horses were all coupled in the wagering and they were owned by the same man, so the bettors were not harmed and no owner suffered.
Times have changed since Tar Heel paced the first 2:00 mile in Jug history. Trainers seldom drive their horses today. Popular and talented Ohioan Brian Brown comes into today's Jug with a powerful entry, but he won't be sitting behind either one. Those responsibilities fall to David Miller and Brian Sears. And it's likely that Brown will give both drivers the same simple instructions: "Win the Jug."