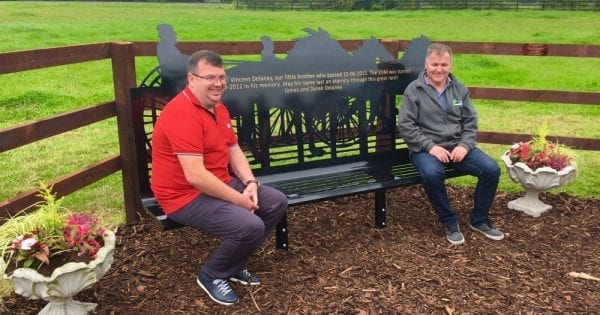 Vincent Delaney Memorial: love, loss, and legacy
by Dean A. Hoffman
They were a band of brothers, the Delaney boys were. Three Irish lads who loved horses. They worked with horses and ponies delivering coal and scrap in carts in Dublin.
They went separate ways after a while, but the love of horses always bound them tightly.
Vincent, the younger brother of Derek and James, was an athlete who prized fitness, watched his diet, and competed in marathons. Suddenly at age 27, Vincent died of a massive heart attack.
His brothers — and many others — were inconsolable in their grief, but Derek and James soon vowed to make certain that their little brother would never be forgotten.
They created the Vincent Delaney Memorial racing weekend in 2012 with hopes of getting the best horses and people in Ireland to participate.
And they succeeded beyond their wildest dreams.
Last weekend, they welcomed an enthusiastic contingent of fellow Irishmen (and women) to the Port Marnock Racetrack north of Dublin. Also in attendance were visitors from the USA, Australia, Sweden England, Scotland and elsewhere.
Under cloudy Irish skies, the racing fans enjoyed many hard-fought contests on the track and the matchless Delaney hospitality off the track.
Hall of Fame announcer Roger Huston has made the Delaney a "must" event on his busy schedule each year and his boundless energy and enthusiasm goes over big with the Irish. He is practically mobbed as he walks among the crowds, particularly by the many strikingly beautiful Irish lassies in attendance. And Roger is all too happy to pose for photos with them.
It was the second straight year at the Delaney Memorial for Murray Brown, the longtime PR man at Hanover Shoe Farms. He's spent a lifetime associated with the best horses and people in harness racing and no one was having more fun in Ireland than Murray Brown and his wife Carol. Murray gave the bookmakers more than a little action and distributed dozens of Hanover Shoe Farms orange caps.
Leading owners such as Joe Sbrocco and Bill Donovan were enjoying the atmosphere as were veteran breeders and owners Jan and Mike Carter from Michigan. The inimitable Heather Vitale is loved by one and all in Ireland and she encouraged bidders during the fund raising auction while her sister Susan Looney relived some of her earlier sulky-sitting days.
While Irish harness racing does not compare to what you'll find in the trotting kingdoms of France or Sweden, it is expanding and improving now. My sources gave Derek and James Delaney much of the credit for the growth of Irish racing. I was told that British harness racing is holding steady while its neighbor across the Irish Sea is moving forward.
Dan Noble, the top dash-winning driver in North America a few years ago, was the guest reinsman and he had a delightful time in Ireland after a shaky start. His first drive was behind a French trotter in a 1-1/2 mile race and the 11-year-old gelding picked inopportune times to abandon his gait.
Later in the first day's program, however, Noble scored his first win of the weekend, driving Silvano Bello, another 11-year-old French trotter, to victory after three laps around the half-mile track Port Marnock track.
Noble's mother Debbie and training partner Christi Rae stood by proudly as Roger Huston interviewed Noble. It was an emotional moment for them as Huston and the Nobles are natives of Xenia, OH.
Other top drivers from the USA and around the world have been showcased as part of the Vincent Delaney Memorial weekend. It's difficult for drivers such as Noble to give up stakes drives at a critical time in the season, but the Delaney brothers make certain that they have a memorable time in Ireland. Noble, for example, is reportedly already dreaming of a return trip to Ireland.
Hanover Shoe Farms was a sponsor of the Vincent Delaney Memorial weekend, as was Diamond Creek Farms and Alabar Farms of Australia.
Caroline Vasquez and Rachel Keeney represented Diamond Creek, while Brett Coffey of Alabar was in Ireland with his wife.
The Port Marnock track is a half-mile north of Dublin immediately west of the DART (Dublin Area Rapid Transit) tracks so that fans see trains whiz by the backstretch periodically.
No nation promotes its trotting sport and breed better than the French do, and the French reached an agreement with Irish officials to sell them a large contingent of trotters. These are obviously not the top tier trotters such as Bold Eagle or Timoko, but they are providing Irish horsemen with experience with trotting.
One race for French trotters on the weekend was even conducted clockwise, and that is not so unusual in Germany and other places on the continent.
The two-day event peaks on Sunday when many ladies wore chic fashions and elegant and elaborate hats. One person noted to me how many of the regular male racing fans were wearing sports coats.
The crowd was a demographic that American tracks would die to have. It was perhaps 50-50 male-female and the number of enthusiastic young fans was noticeable.
Betting is done with bookies, not via pari-mutuel machine.
"Bet With Carlin, The Punters Darlin" read the sign by one very busy bookie.
Darren Owen from Wales shared the announcing duties with Huston and he delivered his calls with panache and professionalism, using clever and humorous comments not heard at tracks in North America.
Even track photographer Nadina Ironia gets into the mood by encouraging the crowd (and it's always a crowd) in the winner's circle to raise their hands and cheer when she snaps the photo. (Ironia is also an incredibly-gifted artist and her equine paintings are stunning.)
The final race of the weekend was the Delaney Memorial for freshmen colts and geldings, conducted for a purse of 14,500 Euros ($17,000) It was taken by Matticulous, a son of Hasty Hall, a Jenna's Beach Boy stallion that has enjoyed success in his new home. Matticulous is trained by star conditioner Alexis Laidler and was driven to victory by Will Greenhorn.
Interestingly, the winner's share of the purse was 10,000 Euros ($11,700) while the runner-up got 2,000 Euros and the show horse earned 1,000 Euros.
Matticulous paced the half-mile in 1:58.9.
The late Norman Woolworth, a Hall of Fame breeder and owner, said that every harness racing fan should try to see the Little Brown Jug, the Prix d'Amerique in France, and the Elitlopp in Sweden.
When I saw the Gold Cup And Saucer on Prince Edward Island about 25 years ago, I added that to Woolworth's list. And now I will add the Delaney Memorial in Ireland.
The events in Ireland and one Prince Edward Island don't offer megabucks purses and the crème de la crème of our equine stars. What they offer, however, is something quite rare: they are festivals of racing where fun is foremost and the hospitality of the hosts' is unbeatable.