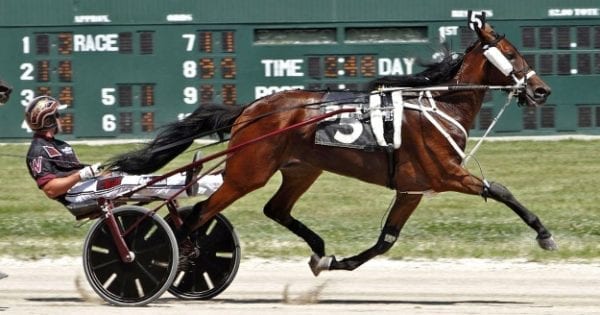 Part-time trainer having full-time fun
Roger Hughes, Jr. is having a blast campaigning undefeated Sultan Of Cash in the Ohio Sires Stakes program.
by Jay Wolf
For owner/trainer/driver Roger Hughes, Jr. a pair of bargain-priced freshmen, including the undefeated Sultan Of Cash, are allowing his small operation to compete and win against many of the largest operations in Ohio.
Hughes, 44, is a full-time facility manager at an aluminum die cast plant and a part-time driver/trainer. He conditions his stable of four at the Clinton County Fairgrounds in Wilmington, OH. In his spare time, he designs and paints helmets for fellow drivers and trainers under the banner of Helmet Designs.
"My mother (Linda Hughes) and sister (Michelle Caldwell) wanted a trotting colt," said Hughes. "I saw this one (Sultan Of Cash) in the catalog with three full brothers that were nice. One made $500,000 and two others raced in (1):56."
Sultan Of Cash's sire, Cash Hall, made an impression on Hughes the first time he saw him.
"The first year I went to the Little Brown Jug, I saw Cash Hall time trial in 1:51," said Hughes. "In fact, that was the first time trial I had ever seen."
Despite the fact that the dam, Anything For Love, was unraced, Hughes wanted to take a closer look at hip #224 in the Blooded Horse Sale's Fall Speed Sale.
"I actually wasn't at the sale," said Hughes. "I called a buddy and asked him to look at the colt. He called me back and thought he would bring $10,000 – $20,000. I watched the results and said 'I guess I bought another one.'"
With the winning bid of $4,000, Sultan Of Cash was sent to Hughes and right away he knew he had a good one.
"He trained down real well, no mistakes. I thought he would be nice, just not this nice."
Sultan Of Cash's first two starts (Circleville and Ottawa) resulted in a pair of victories by a combined 25 lengths with Hughes in the bike.
Hughes knew the competition would be a lot tougher in the $40,000 opening leg of the Ohio Sires Stake on July 8 and elicited the services of Northfield Park's top reinsman, Ronnie Wrenn, Jr.
Wrenn used a patient pocket ride to score a one-length victory in 1:59.1.
Ten days later, the pair captured the second OSS leg at Scioto Downs with another one length win in a lifetime best 1:57.1.
The $43,800 Ohio State Fair Trot was next and was supposed to be a showdown with Get The Cash, another son of Cash Hall.
The battle was just that for the first quarter of the mile. Get The Cash parked Sultan Of Cash three-wide in :28.1 for the opening split. As the pair prepared to past the stands the first time, Get The Cash jumped off stride giving the lead to Sultan Of Cash. Wrenn and Sultan Of Cash cruised to a three-length win in 1:57.2.
"Kelly (O'Donnell) has a real nice colt," said Hughes. "I think he got a little hot when Danny (Noble) grabbed him to put him in the hole."
Undefeated in his five starts, Sultan Of Cash has earned $65,515.
Sultan Of Cash will leave from post 4 in the third division of the Ohio Sire Stakes leg on Aug. 7 at Northfield Park.
Hughes expects Sultan Of Cash to compete in the final OSS leg and final and close the year at the Ohio Breeders Championship at Delaware, OH.
"I'm guessing that he can trot in (1):55 by the end of the summer," said Hughes. "I want to stay optimistic, but I also don't want to count my chickens yet either."
Another one of Hughes' bargain basement purchases is the freshmen pacing colt, CG's Boy Toy.
Hughes purchased the son of Powerful Toy for $1,500 at the Buckeye Yearling Sale in Springfield, OH.
CG's Boy Toy has a 5-1-0 record in 8 seasonal starts at Ohio county fairs and has earned $10,641.
He took his seasonal mark of 2:01.4 at his hometown Clinton County Fair back on July 9.
"The couple of races he has lost, he has thrown a fit behind the gate," said Hughes. "When I broke and trained him, I noticed that he has a ton of speed, but he's a head case."
"We are probably having more fun with him because he's racing at all these fairs," said Hughes.
The family can attest that there is nothing more fun than winning.