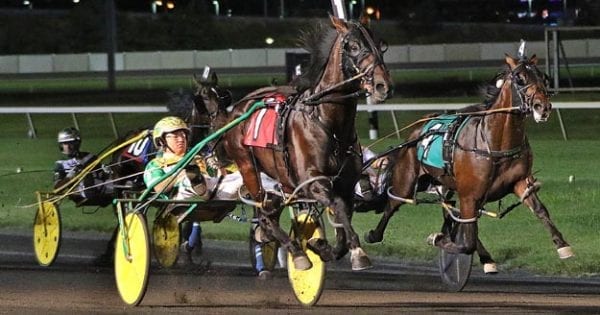 Schnittker's strategy pays off
The trainer opted to race Huntsville in Saturday's lone Meadowlands Pace elimination, rather than take a bye to the final, and it paid off with a victory and a primo post for next Saturday's $738,550 final
by Dave Briggs
Ray Schnittker had his hands full Saturday night driving his trainees in the eliminations of Lawrence B Sheppard at Yonkers, but he was pleased to learn his strategy to race Huntsville in the lone elimination for the Crawford Farms Meadowlands Pace paid off.
Huntsville could have taken a bye into next Saturday's $738,550 final, but Schnittker opted to race the colt to give him a tightener after a three-week break. He was also hoping to win the elimination — which Huntsville did handily in 1:48.4 — and earn the right to get a spot between one and six on the gate.
"I'd much rather race if it means I've got a shot at not getting that damn 10-hole," Schnittker said when reached on his way home from Yonkers. "In Canada (on seven-eighths) to get the 10-hole at least you've got a shot because you're on a straightaway (to start), but at the Meadowlands that makes it awful tough (when you start closer to the turn)."
Huntsville, who was driven to victory by his regular pilot Tim Tetrick, ended up with the four hole (see draw below), with his stiffest competition on the outside of him.
"He should be in good shape," Schnittker said of Huntsville. "After three weeks off he got in, so he should be a little tighter next week.
"I thought he'd win that (elim). I think he's just better than those horses right now, but you never know, things change, but just looking at the race I thought we were in good shape.
"It's fun to have a horse at that level where you're not just a filler, you're a player."
Classic Pro, Downbytheseaside and Miso Fast accepted byes to final, meaning seven spots were up for grabs.
In addition to the top three finishers, Mac's Jackpot, Talent Soup, Filibuster Hanover and Boogie Shuffle earned berths for the Meadowlands' signature event.
"We wanted to race because we didn't go to Pocono (for the Hempt) and we didn't want to go into the Meadowlands Pace being off so long," Tetrick said. "He was good tonight, plenty of go. He was on the left line a little again, but Ray will have him ready. He trained great the other day, wasn't on the line, so he'll have the quirks worked out of him."
Huntsville, listed at even-money favorite on the morning line for next week's final, sat third in the early going before taking the top just after the quarter. The son of Somebeachsomewhere—Wild West Show sprinted the third quarter in :27 to reach three-quarters in 1:22.2 before a final quarter of :26.2 enabled him to establish a new lifetime best.
Huntsville paid $2.20 as the 1-9 public choice and lifted his lifetime stats to 11 wins in 17 starts and earnings of just over $953,000.
In his previous start, Huntsville finished second to Fear The Dagon in the $1 million (Cdn) Pepsi North America Cup.
"In Canada I thought he raced really well. I wasn't even disappointed. It was a good race to watch," Schnittker said.
The trainer said he turned Huntsville out the week after the NA Cup and then trained him in 1:52 last Saturday morning at the Meadowlands during qualifiers. He said he doesn't plan to do anything special with Huntsville this week, but he will likely ride the colt.
"I will be riding him a little bit this week to kind of keep him fresh. He went in :48 so he probably doesn't need much conditioning. He can probably go :47 next week," he said.
"He's got to go until November and that's a lot of races. Hopefully if he comes out of the race well, next week he's going to go to the Adios. Then we come back to the Meadowlands for the Cane."
Schnittker, who partly is based at the Goshen Historic Track in New York, said it would "be cool" to win the Meadowlands Pace for the second time to go with his 2010 victory with One More Laugh.
"I was talking to a kid in the Harness Horse Youth Camp. They're at Goshen right now. I told him, 'If you're from Ohio, the Jug is probably what you dream about winning. If you're from Canada it's probably the North America Cup, but up my way it's the Meadowlands Pace and it's always been a big deal.'"
Walner Hambletonian ready
Hambletonian favorite Walner made his much-anticipated return to the races in a conditioned event earlier on the card and the Linda Toscano trainee spoke loud and clear about his standing as the top 3-year-old colt in training, crushing an overmatched field by 7½ lengths.
Tetrick, who won five times on the program, got the son of Chapter Seven—Random Destiny away third around turn one but quickly moved the 2016 Breeders Crown champion to the top where he cut easy fractions of :28.1 and :56.1.
Walner went into sprint mode to the three-quarters, extending his lead to 5 lengths as he hit that station in 1:23.2 before powering home in a final quarter of :27.4 to complete the mile and equal Ariana G's 1:51.1 seasonal mark for a 3-year-old on the trot. Sweet Thing was second with Winter Harbor third.
"He's ready to rock," said Tetrick. "It feels like I'm driving a Corvette with a Mack Truck engine. I had the whip tucked. I never asked him to go one bit. He's got a full stakes schedule from here on. He had a little bit of a slow start this year but I think he's going to make up for it."
A little more
On the undercard, Roses Are Red winner Lady Shadow tuned up for next week's Golden Girls by winning a fillies and mares invitational in 1:49 at odds of 1-5. She paced her back half in :53.3 and stayed unbeaten in five starts this year.
Total handle on the card was $2,689,967.
The 2017 Meadowlands Pace Field
Here is the field for the $738,550 Crawford Farms Meadowlands Pace for 3-year-old open pacers on July 15 at the Meadowlands Racetrack with post position, horse (driver, trainer) and morning-line odds:
1. Blood Line (Mark MacDonald, Jimmy Takter), 5-1
2. Mac's Jackpot (David Miller, Jim Campbell), 15-1
3. Boogie Shuffle (Scott Zeron, Mark Harder), 30-1
4. Huntsville (Tim Tetrick, Ray Schnittker), 1-1
5. Downbytheseaside (Brian Sears, Brian Brown), 4-1
6. Miso Fast (Matt Kakaley, Ron Burke), 10-1
7. Filibuster Hanover (Yannick Gingras, Ron Burke), 10-1
8. Santafe's Coach (Corey Callahan, Leo Iordan), 20-1
9. Classic Pro (Trevor Henry, Dr. Ian Moore), 15-1
10. Talent Soup (Eric Abbatiello, Bruce Saunders), 30-1
Scheduled post time: 9:34 p.m.
— with files from Dave Little / Meadowlands