by Brett Sturman
David Miller had one of those problems this week that was a nice problem to have, but one that nonetheless could prove to be prosperous or costly.
In a move that surprised more than a few, Miller opted to drive Fear The Dragon over 2-year-old divisional runner-up Downbytheseaside in Saturday's $1 million Pepsi North America Cup at Mohawk. Both colts are trained by Brian Brown, although heading into the season it was Seaside who was clearly seen as the main threat to reigning divisional champion, Huntsville.
To his credit, Seaside hasn't done anything wrong this year and remains unbeaten through four starts that includes wins in the Art Rooney final and in his NA Cup elimination last week. But clearly, Fear The Dragon – who was a formidable colt in his own right last year – has come back with a vengeance.
Miller knows both horses well and regarding Fear The Dragon said, "I always had a high opinion of him, but still you don't know how good they are going to come back. I've been impressed with him in how he's come back so well." Miller explained the choice to me as "very, very tough." He stated, "I like both horses and it was tough to pick one. (Fear The Dragon) just seems to be a bit sharper right now."
The scenario of Miller opting off Seaside while still unbeaten this year would have seemed almost impossible just as recently of a few weeks ago. But where things may have started to change was in a PA sire stake race at Pocono less than one month ago. In the race, Fear the Dragon humbled Huntsville with a backside rush where he blew right by the Breeders Crown winner and was able to win comfortably by a couple of lengths. In an ironic twist, it was the first time Huntsville lost since he was beaten in last year's Governor's Cup by of all horses, Downbytheseaside.
Picking up the drive on Downbytheseaside is coincidentally Brian Sears, and one doesn't have to look back far to find the last time that Sears was the beneficiary of a similar tough driver call in a high-profile race. In the 2015 Hambletonian, Yannick Gingras elected off eventual winner Pinkman in the Hambletonian final in order to drive Mission Brief. Sears picked up the ultimate catch drive on Pinkman and won, while Gingras and Mission Brief were second.
There's always room for second guessing after the fact, but Miller seems comfortable with his choice. He said, "There's nothing wrong with Seaside and I know that he'll put in a good race, it's just very tough. I like Fear The Dragon and that's basically what it came down to."
If not for a stroke of luck in avoiding a freak miscue, Fear The Dragon might not even have made it into the NA Cup final. In last week's elimination with matters well in hand, Fear The Dragon tried to jump over what was later reported as a fallen head number in deep stretch. The horse almost fell to his knees, but somehow Miller was able to quickly gather him back up and cross the finish line pacing.
As for race strategy, Miller plans to be aggressive.
"My plan is that I'm going to try and leave and be with (Huntsville and Seaside)," Miller said. "I can't afford to let them get too far ahead. I expect other horses to leave from the outside and expect a hot pace; I just can't afford to let the top horses get too far away or allow another horse from the outside to get in my way."
Having the right race strategy is one thing and having the right horse to do it with is another. In both instances, Miller is hoping that it all works out.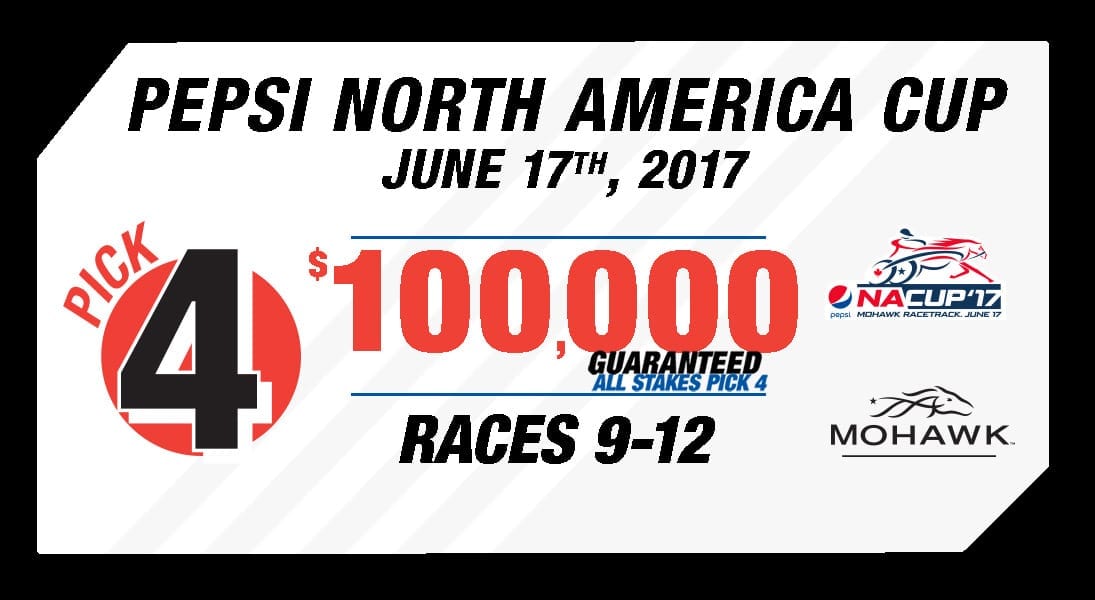 North America Cup Night best bets
Race 3 Armbro Flight final: CAPRICE HILL got a bit weary late last week in her elimination but it was only her second start of the season. Tough luck filly from last year has shown a new speed dimension in both her starts this year and horses from Alagna have been doing well of late. A swing can be warranted on this one at an anticipated square price. HANNELORE HANOVER has bounced back strong in her last two following her surprising defeat three back at Miami Valley and is the obvious one to beat. CHARMED LIFE was the mare that beat HANNELORE HANOVER in that Ms. Versatility race at MVR and I wouldn't blame anyone for taking a shot with this one based on her current form; did well for herself two back at Chester against the boys too.
Race 5 Mohawk Gold Cup Invitational: CHRISTEN ME has impressed in his four North American races thus far. The 9-year-old NZ standout gets Tetrick back and early speed is likely coming; relished the mile track at the Meadowlands where he closed in :25.2 and :25.3 in his two races over that track. I'll be a believer in DR J HANOVER if he can win this against older, more seasoned foes but he proved last week at Tioga that his 1:46:1 win at this track two back was no fluke. Couldn't possibly be any better right now. NIRVANA SEELSTER exits a career performance and is rewarded now by landing the rail; rates a big shot even against some of these new shooters. MCWICKED is the one to beat but has been somewhat hit or miss this year; GREAT VINTAGE comes off a game try.
Race 9 Fan Hanover final: In the upset call of the night, FUTURE HEADLINES is worth taking a flyer on. This one had a noticeable amount of belated pace up the inside last week and it came in her first start with Tetrick on board; I'm always hesitant to dismiss this barn as well. TEQUILA MONEY eventually got going late last week but wasn't visually impressive throughout considering she was 1-5; vulnerable favorite? IDYLLIC BEACH won as she pleased in her elimination and seems tough on paper; an obvious short priced and deserving contender.
Race 10 Goodtimes final: INTERNATIONAL MONI flat out exploded in his elimination when given his que by Zeron, and it almost happened in the blink of an eye. Signs were there as this one recently qualified nicely behind FFA star Obrigado and if anything he should be even stronger in his second start back; his dam is one of the all-time greats and he'll have every chance to make her proud. ENTERPRISE jogged last week and will squarely be the one to run down. GUARDIAN ANGEL AS was game in defeat in his elimination and now may suddenly be overlooked while starting from post 10; picks up Sears.
Race 11 Roses Are Red final: NIKE FRANCO N cruised to an elimination win in 1:49:2 and she looks to be the best of these. She made up considerable ground in an uphill battle against LADY SHADOW two back at Chester and that mare won't get off as easy tonight. WRANGLER MAGIC wasn't bad last week and she's jumped up to surprise in spots like this before; wouldn't be a total shock for Allard. FROST DAMAGE BLUES did well for herself last out to win going away after pouncing off cover; needs to prove it all over again. PURE COUNTRY would seem up against it from the outside but you can't question the class or the connections; needs the right setup.
Race 12 North America Cup final: I can't write a column about FEAR THE DRAGON and then not pick him, right? FEAR THE DRAGON is the pick mostly for the reason of the impression that the Pocono win over HUNTSVILLE left on me. That was a real eye opener and the horse has since won over Miller; gets the nod in what sets up to be a thrilling North America Cup. HUNTSVILLE has dominated rivals at Chester and again in his elimination last week since the lone seasonal loss he had pinned on him; he'll be a slight but deserving favorite. DOWNBYTHESEASIDE has been all business this year and can't be faulted for any of the ways in which he's won. Miller did have to chase after him a bit in the stretch last out but by no means would this one be a surprise; trip may tell the story.