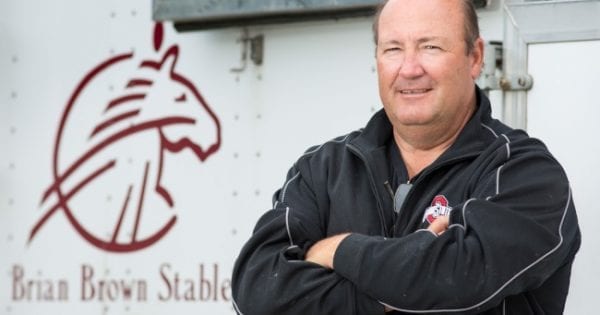 Brian Brown's Cup Double Shot
The personable trainer based at the famed Delaware County Fairgrounds in Ohio has not one, but two, top colts in Saturday's $1 million Pepsi North America Cup at Mohawk Racetrack thanks to elimination winners Fear The Dragon and Downbytheseaside.
by Jay Wolf
It is special for a trainer to have a pupil in a million-dollar race, but having two elimination winners puts trainer Brian Brown in rarified air. With a win or loss in tomorrow's $1 million Pepsi North America Cup at Mohawk Racetrack, one thing is certain, Brown will be surrounded by family.
The 52-year-old trainer is making his first appearance in a NA Cup final and sends out Downbytheseaside (3-1 on the morning line) and Fear The Dragon (2-1).
Downbytheseaside (Post 2) comes into the rich final off a two-length victory in last weekend's first elimination. Ohio native David Miller drove the Somebeachsomewhere–Sprig Hanover colt to a 1:50.4 score over Western Hill and Sports Column.
Downbytheseaside is owned by Jim Kohler's Country Club Acres Inc. (Findlay, OH), Joe Sbrocco (Brecksville, OH), Richard Lombardo (Solon, OH) and Diamond Creek Racing (Wellsville, PA). He has won 12 of his 17 career races, never finishing off the board, and has earned $784,266.
Fear The Dragon (Post 4) also comes into the final undefeated in five seasonal starts. Despite the unblemished 2017 record, the Dragon Again—Armbro Cinnamon colt gave his connections a scare when he jumped over a head number laying on the track. Driver David Miller gathered the colt back on stride to secure the one-and-a-half length elimination win in 1:50.
"When he opened up, I started to relax. (The break in stride) happened so fast, I couldn't react. My heart sank," Brown said. "I thought they might take him down. David (Miller) did a great job getting him back on stride. Dragon never broke before and he didn't know what to do, so he stumbled. He is such a nice horse, so last week's mistake shouldn't bother him."
Fear The Dragon is owned by Bruce Trogdon's Emerald Highlands Farm (Mount Vernon, OH).
Brown started in the sport like so many, spending time with family, watching his father Robert H. Brown and uncle William Brown. He starting driving horses at age of 16, but switched to training nearly exclusively in the early 1990s.
Brown enjoyed much success in Ohio and the Midwest, and made waves nationwide in 2015 by winning a Breeders Crown with Emerald Highland's pacing mare Color's A Virgin and came within a scan nose of winning the Little Brown Jug when Lost For Words, who was owned in part by the Country Club Acres and Lombardo, was edged by Wiggle It Jiggleit in an epic battle.
Once last week's elimination results were final, driver David Miller found himself in a difficult position, having to choose between two undefeated colts. Miller chose to stay with Fear The Dragon, noting that although Downbytheseaside won, "he wasn't his best." The 2017 Hall-of-Fame inductee, Brian Sears, will pick up the mount behind Downbytheseaside.
While the issue of choosing a new driver behind him, Brown turned his focus to prepping his colts.
"We are going to treat this week like any other week," Brown said. "Same jogging and training schedule. The horses stayed in Canada this week (at Classy Lane Training Centre)."
Despite the pledge to have things status quo for the biggest three-year-old pacing race of the year, Brown is contemplating an equipment change for Downbytheseaside.
"We are looking at an eye hood with holes to try to get him more aggressive," he said. "We used an open bridle last year to calm him down."
Brown's plan as of Tuesday was to train both colts Wednesday morning and head back to his Ohio operations for Thursday's qualifying races at the Delaware County Fairgrounds.
"We are sending out 30 two-year-olds out for the first time," Brown said. "We have another 15 or so not quite ready."
Brown with the assistance of son, Beau Brown and son-in-law, Cameron McCown, actually sent 28 rookies postward Thursday morning.
The Brown stable currently has 70 head at the Delaware County Fairgrounds, their home base since 2005.
With such a large stable, Brown employs several family members, but there is no important member of 'Team Brown' than Brian's wife, Jennifer.
"She is the numbers person," Brown said. "She gives me the training reports and handles the finances."
Brown's niece, Toni Dale Hollar is the groom for Downbytheseaside. Fear The Dragon is cared for by Rick Graves, a non-Brown family member.
"He's been with us long enough to be a family member though," Brown said.
No matter the results Saturday night, the affable Brown will continue to work hard to develop the next champion.