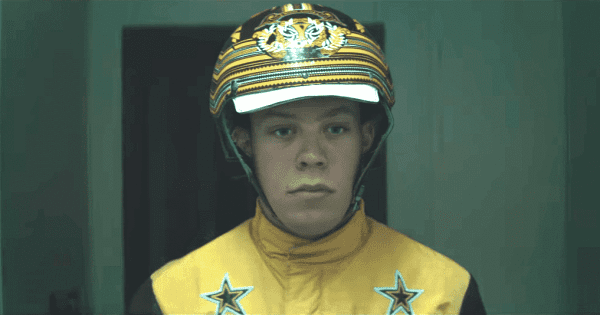 New commercial mirrors part of Scott Young's story
The young Ontario driver is pleasantly surprised by the positive reaction to The Thrill of Winning commercial from outside of the horse racing industry, even as the fictional storyline is all too familiar.
by Dave Briggs
A new commercial about harness racing is something of a case of life imitating art for its star — up-and-coming driver Scott Young.
For as long as the third-generation horseman can remember, he's wanted to drive horses for a living, vowing as a young boy on his family's annual pilgrimages from Ontario to Delaware, OH that he would one day drive in the Little Brown Jug.
While the 25-year-old's driving career is one of slow, steady ascension, he has faced the usual frustrations chronicled in the underdog-comes-through storyline of The Thrill of Winning, a commercial currently airing in Ontario that is the result of a collaboration between the Ontario Lottery and Gaming Corporation (OLG) and Ontario Racing (OR).
"That happens every day. I'd like to win every race I'm in, but, obviously, that's not going to happen. I've had races before that I thought I was going to win, but it's called a horse race for a reason. Things have happened. The horse wasn't as good as you hoped, I drove badly multiple times," Young said. "That's just a part of life. Then there's days where I never thought I had a shot to win a race and it went my way and I ended up winning. It happens all the time."
Despite all the challenges, the engaging driver said he wouldn't trade his job for anything in the world.
"I'm so appreciative that I get to do what I love," Young said. "I know there's tons of people in this world that don't get to do what they love. They have a job just to have a job… There's no better feeling than being able to do something you love to do."
Young was told from the beginning of the shoot that he was going to be the star of the commercial, but even he is taken aback by both how prominently he is featured and the positive reaction the spot is receiving.
"Everybody has always said, 'His head is big enough. Now he's not going to be able to fit it through the door.' I just laughed at that," Young said. "It was a lot of fun to do. I'm getting nothing but good feedback from everybody. I've had multiple people tell me that they like it. I'm happy people do and, hopefully, it brings people out to the racetrack."
A 60-second version of The Thrill of Winning (above) is being shown in Ontario movie theatres. A 30-second version (below ) is being aired on television. The commercial was produced for the OLG and OR by Toronto agency BBDO that commissioned Suneeva production company and director Jason Van Bruggen.
On April 20, The Thrill of Winning premiered at Flamboro Downs and Young's mother, Gail, cried when she saw it.
"If I can make my mom happy, I know I'm doing something right," Scott said. "It was pretty cool to hear that."
Scott's father, well-respected Woodbine Entertainment Group (WEG) trainer Bob Young, was just as proud.
"My dad, he's been saying since I was a kid that I love to talk and being in front of the camera, whether it's being interviewed or getting filmed driving, or whatever it is, has always been my thing. So, when dad saw (the commercial), he thought it was super cool. It makes him pretty proud turning on the TV and his son popping up doing a commercial about the business that he loves, too. So, it was good for both of my parents."
The night the commercial had its premiere, Scott couldn't stay to see the ad because he had drives in the first four races at Flamboro.
"Probably four or five of the other drivers in it were able to stay and watch it. When they all came over to the drivers' room I said, 'How did it look?' They said, 'It's a commercial about you, Youngie…' I said, 'There's nothing wrong with that.' They said, 'You're going to like it because it's just you the whole time.' I thought, 'Perfect,'" Scott said, laughing.
He's kidding, but there's no doubt the driver from Guelph, ON doesn't mind the attention, particularly if the sport he has loved ever since he could walk gets some mainstream attention.
"I'm on all these billboards right now for Ontario Racing. So, that's kind of cool. I've seen three in London. I saw those first and then I had the video sent to me and then once it went on Standardbred Canada, I had probably 20, 25 people tag me in it or share it. My non-horse racing friends have been sending me Snap Chat or Clips. They've said they've seen it on Global News, City News. I guess it was on Sportsnet the other night. It's been all over," Scott said.
There's even talk of a large group of Scott's non-racing friends having a night out at the races this summer.
"They are all friends I grew up with in high school. Honestly, they have nothing to do with horse racing. One of the girls actually came to the Confederation Cup on Sunday (May 21). She texted me and said, 'Oh, I see you're here. Tell me who to bet.' I told her to bet (eventual winners) Trevor Henry and Western Fame. She was all happy and they were all talking about my commercial last week and now I think there's 25 or 30 of us that are talking about going to Grand River this summer. I'm going to race, but they're going to have a night out at the races. That's perfect. That's exactly what I was looking for," Scott said.
It is also the reaction Adriana Spatzner was hoping for from the commercial. Spatzner, the Director of Product Development and Marketing for OLG, played a key role in the development of the ad.
"The main goal is really to connect Ontarians with this beautiful sport," Spatzner said. "Our job really is focusing on creating that awareness, first and foremost. Although people in Ontario know that horse racing is available, it's not top of mind in terms of entertainment, generally speaking. So, that's what we're trying to do is make sure that we have that top of mind awareness and then work with the tracks so the tracks can leverage that awareness to draw people to their tracks and give them that experience and create a customer who will become a repeat customer."
A year ago, the OLG worked with OR and BBDO to create a thoroughbred-themed ad called Your Horse (below).
"So, we did want to try to round that out this year, which we were able to do by focusing on standardbreds first and, at the end of the commercial we have a small clip that shows some quarter horse racing," Spatzner said. "I think in taking (viewers) through this beautiful story about a so-called underdog that continues to race and perseveres throughout their journey, I think that's one of the connections people have, in general, to competitions and sports. So, it was to let them see it through standardbred racing and to really see the excitement of the sport we're hoping will create a stronger connection."
Scott said late in 2016 he was asked by Flamboro Downs paddock judge Marnie Bochenek if he wanted to be in a commercial. "I said, 'Sure.' I studied two years of broadcasting when I was first done high school. So, I always loved being in front of the camera. She asked a bunch of drivers that drive at Flamboro if we had time to do it. So, I was on board right away," he said.
The driver said the commercial was shot over three 12-hour days last December at Flamboro
"We staged races. I lost 100 races, probably. Then on the last day I won like 15 of them. At the end of every one, I had to make sure I won and I did the fist pump at the end of every one, as well," Scott said. "It was a lot of fun. They put a camera hooked up to my bike… about a foot-and-a-half from my nose. I had to jog a horse around four or five laps around the track with this camera bouncing in front of me the whole time. It was cool."
Apart from the attention he hopes the commercial brings to his sport, Scott said he's hoping the ad will provide him with some real-life karma, as well. In his eighth year as a driver, he has never had a better start to a season. Through nearly five months, he has 73 wins and earnings of $446,412 and a career-best driving percentage of .250. His previous best for a full 12 months was 98 wins (in 2014) and earnings of $677,220 (in 2016).
"Knock on wood, this is the best year I've had, so far, at this point in the year," Scott said. "I'm trying to keep it rolling. I've had a bunch of people, whether from sharing (the commercial) on Facebook or something else, have come and shook my hand in the paddock and told me I did a great job. Honestly, I've had nothing but positive feedback from it. If it turns into me getting more drives, then I'm all for it, that's for sure."