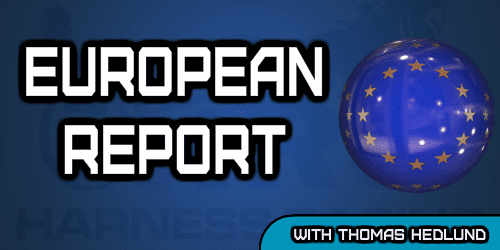 D.D.'s Hitman upsets in Finland
The American-bred son of Donato Hanover upset last year's Finlandia-ajo winner, Propulsion, in Helsinki Sunday afternoon.
by Thomas Hedlund
From post number nine, in the second line behind the gate, favorite Propulsion couldn't repeat his victory from 2016 in Sunday's €200,000 Finlandia-ajo in Helsinki, Finland. But it was another American bred horse that stood in the winner's circle after the mile race.
Donato Hanover son D.D.'s Hitman made his European debut one year ago, in Denmark in May and has progressed a lot during the year that has past. Under the management of Petri Puro, the six-year-old "Hitman" has now joined the elite in Europe thanks to his win in the Finlandia-ajo.
Johnny Takter, brother of Hall Of Famer Jimmy, was supposed to drive D.D.'s Hitman in Helsinki, but back pain kept him at home in Sweden, making way for backup Ulf Ohlsson to step it.
Ohlsson was the most winning driver in Sweden 2016 and he's also the hardest working man in the business in his home country.
"I had a message on my phone telling me that I was going to drive this horse when I arrived in Finland and this was just a great surprise," Ohlsson said after the race.
Ohlsson put D.D.'s Hitman in the position third over, while the lead horse, Elian Web, offered a lot of speed the first quarter to get the lead.
Propulsion sat in the back of the winner, but had problems following at several points during the race and despite a finishing 5/8 of 1:51.4 in approximate mile time, the favourite could not catch D.D.'s Hitman, who easily sprinted to the victory worth €100,000 (about $110,000 U.S.) in 1:52.2 over the mile.
"My first plan was just to get down in the lane and he felt nice the whole trip. He defeated horses that already were in question for the Elitlopp later this month and I really consider him as a serious participant in that race," Ohlsson said.
1:52.2 is by far the fastest time in Finlandia-ajo so far and D.D.'s Hitman has recently passed the limit of racing in Sweden's "Gold division". Last year, Propulsion made the same trip through the classes and for the moment there are several American-bred six-year-old horses that want to distinguish themselves in the really big races in Europe.
This Wednesday, in a race at Solvalla, Nuncio is hoping to show that he deserves respect from Bold Eagle and Resolve when they come to Stockholm at the end of this month.
Love Matters
Hambletonian horse Love Matters (Explosive Matter—Lotsa Love) made his second appearance in Europe and was in great shape when he won the Glenn Kosmos Memorial for four-year-old horses at Vermo. Örjan Kihlström put the son of Explosive Matter in front and had a relaxed trip to the victory in 1:55.1 over the mile (image below links to replay).