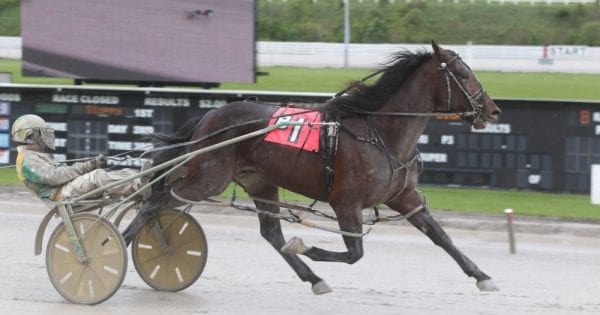 Huntsville roars to 10-length rout in 2017 debut
Trainer Ray Schnittker said his sophomore pacing colt was ultra impressive in Pennsylvania Sires Stakes action at The Meadows that also included a victory by his chief rival, Downbytheseaside.
by Dave Briggs and Evan Pattak / The Meadows
Trainer Ray Schnittker said it takes a lot to dazzle him, but he admits to being pretty darn impressed by his trainee Huntsville's 1:50.3, 10-length victory in the slop Saturday afternoon in his 2017 pari-mutuel debut that came in a$151,280 Pennsylvania Sires Stake (PASS) at The Meadows.
"He drew well, but there was some nice horses in there. If he had won by a length or two I would have been happy. But the way he did it, I thought, 'Wow.' I've been doing this a long time. I don't get that excited that often, but I was pretty impressed," Schnittker told HRU.
Huntsville's time of 1:50.3 in the slop not only is the fastest this year by a sophomore on a five-eighths-mile track, but it also was at least 1.3 seconds faster than the clocking of any of the other three divisional winners Saturday.
Schnittker said Huntsville seems to have come out of the race well.
"He was a handful coming out of the paddock. It didn't seem to phase him at all. Timmy (Tetrick) did a good job. When he took off, he was gone."
Downbytheseaside, runner-up to Huntsville in last year's Dan Patch Award voting, also fashioned a successful if less spectacular seasonal debut, scoring in 1:52.1.
Filibuster Hanover and Fear The Dragon also won splits, the latter giving Brian Brown, trainer of Downbytheseaside, a PASS double. Brown also collected a Pennsylvania Stallion Series victory with Kellys Bett.
Huntsville qualified well for his sophomore campaign, but Schnittker, who owns the son of Somebeachsomewhere—Wild West Show with Ted Gewertz, Charles Iannazzo and Steven Arnold, said the colt looks like, "he's right back to where he was last year. He looked really good."
Huntsville quarter-poled around Highalator, opened up five lengths at the three-quarters and poured it on from there. Highalator, who saw his nine-race winning streak snapped, saved second, with Blood Line third.
Winning driver Tim Tetrick had mixed feelings about the huge performance of Huntsville, who now boasts $708,724 in lifetime earnings.
"That was all him, that was Ray getting him ready," Tetrick said. "I was hoping I didn't have to go that fast. I wanted to save that for another month. He just dragged me around there. He's that talented."
Using Lasix for the first time, Downbytheseaside was efficient in victory, powering to the lead from fifth before the half for Chris Page and holding sway in a business-like manner — Page never popped his earplugs — to down the first-over Normandy Beach by one-and-a-quarter lengths. Boogie Shuffle earned show.
"I thought he was a little dull getting out of the gate," Brown said, "but Chris kept him really quiet. Last year we had trouble taking him off the gate. This was perfect for the first start. Everything went as easy as it could."
Country Club Acres, Joe Sbrocco, Richard Lombardo and Diamond Creek Racing campaign Downbytheseaside, a son of Somebeachsomewhere—Sprig Hanover who extended his career bankroll to $596,016.
Their trainers indicated the next starts for Huntsville and Downbytheseaside likely will occur in two weeks in the PASS leg at The Downs at Mohegan Sun Pocono.
Filibuster Hanover defeated both Huntsville and Downbytheseaside early last year. In fact, trainer Ron Burke once regarded him as the most promising 2-year-old in his stable. But the son of Somebeachsomewhere—Fashion Ecstasy became unfocused and willful as the year progressed and so was gelded.
He was fast and professional Saturday, moving three wide into the final turn for Matt Kakaley and downing Point Somewherelse by one-and-a-quarter lengths in 1:52.2, with Candell third.
"He's a lot smarter and way more manageable to drive," Kakaley said. "I think he has things figured out now. The front wasn't too good in the early races, so I just tried to get him in the middle where he could make a big move on the end."
Filibuster Hanover has earned $133,309 for Burke Racing Stable, Joseph DiScala, Jr., J&T Silva Stables and Weaver Bruscemi LLC.
$80,000 PA Stallion Series
The Saturday card also featured four $20,000 divisions of a PA Stallion Series event, with wins going to Cougar Bait, Independent One, Southwind Yukon and Kellys Bett. Mike Wilder (Cougar Bait, Kelly Bett) and trainer John Butenschoen (Cougar Bait, Independent One) enjoyed stake doubles.
Cougar Bait was impressive in his seasonal debut, moving first over and grinding out a tough win in 1:55.4. Keystone Phoenix shot the Lightning Lane for second, one-and-three-quarter lengths back, while Cinnabar Dragon completed the ticket.
"The rail today is real heavy, and he doesn't show a whole lot of gait speed," Wilder said. "I just kind of landed where I did and planned to move when they forced my hand. In the stretch, he just paced right off. That's not the ideal trip, but it sure didn't seem to bother him."
Harmony Oaks Racing, Jeremey Day, Tangie Massey and VIP Internet Stable own Cougar Bait, a Western Terror-No One Is Along gelding.
Southwind Yukon took the final of a late-closing series at The Meadows in his most recent outing, and he kept on rolling Saturday, retaking the lead for Dave Palone and defeating the hard-used Magritte by a half-length in 1:54.4. Iminurblindspot completed the ticket.
"He's a big, lazy colt, only does what he has to," Palone said. "That's what I like best about him — he's very easy on himself."
Burke trains the son of Somebeachsomewhere—Southwind Solara for Burke Racing Stable, Larry Karr, Richard Suda and Weaver Bruscemi.