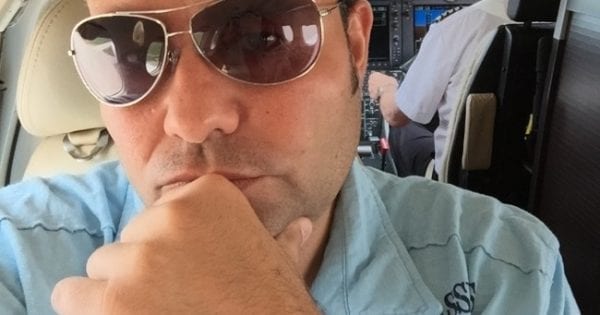 Online traffic guru Adriano Sorella said harness racing's survival depends on a targeted continent-wide online marketing campaign, a unified front and millions of dollars… and it's all possible.
by Dave Briggs
Horse owner Adriano Sorella said harness racing is hopelessly behind the times when it comes to marketing. He should know. His Milton, ON-based company Union Ad Sales sells online traffic. Union is currently doing $50 million worth of sales and racks up close to 100 million views per day across all of the traffic sites the company sells.
"(Harness racing is) still doing grassroots things… but no one is really putting an effort forth to market the product as a whole in North America," Sorella said Thursday.
"You need a starting point and you can't make everyone happy. You basically have to say, 'Our main objective is we want to fill the stands' and everything else follows. You'll have some people talking about gamblers or takeout or stuff that's going on in the business with fines and suspensions… All that is for further down the road, but you can't tackle it all at one time."
Sorella said it will take millions of dollars, perhaps between $3-5 million, to mount a continent-wide campaign that is critical to the sport's survival.
"You have to eliminate the mentality (where jurisdictions are doing their own thing)," Sorella said.
He said the United States Trotting Association (USTA) and Standardbred Canada are the logical groups to take the lead on the marketing initiative.
"The USTA, as much as people don't think they have a lot of pull, they have a lot of pull, because the tracks still need participants to have racing licenses. This is where we need to start. The USTA, Standardbred Canada, as a whole, need to figure out where this money needs to come from. We have to go to the tracks or have them all come in on the plan."
Sorella suggested the USTA could ask for "X amount of dollars from every single district," including the tracks themselves, decrease purses to cover the marketing fund and/or charge everyone money every time they enter a horse.
"The money is there. The tracks have money. Some of these big races don't need to be $600,000, $700,000. And this is coming from me, a guy that buys horses to race in these type of (big stakes) races," Sorella said. "Ohio has more money now. Instead of making the Jug $800,000, make it $700,000 and put in that $100,000 and have the other seven or eight states put in $100,000 and sooner or later you've got a million dollars to put into advertising efforts. And the following year, you put in two million or three million. That's what you need to do because it's going to directly affect every single racetrack, from the small ones to the big ones.
"You look at Yonkers… They've got $20,000 horses that are racing for $32,000. Every single day I'm trying to buy horses to race at Yonkers. They are giving the money away… Instead of racing for $32,000, maybe race for $25,000 and every single week that $8,000 goes into (marketing). You don't need to race for $32,000.
"If you want to charge me $50 to enter my horse every single race, I'm all for it because I know that's the only way I'm ever going to see $60,000 purses and fans in the stands and know that we can survive in the industry without slots. Wrestling doesn't need slots, baseball doesn't need slots, hockey doesn't need it. On (Canadian sports channel) TSN, instead of showing horse racing, they are showing curling and 5-pin bowling. What does this tell you?"
Once the money is collected, Sorella said harness racing needs to do targeted online advertising to reach the exact people in the vicinity of each track most likely to be interested in live horse racing and try to get them through the door of their local track.
First, people need to stop fearing social media, he said.
"People don't like to hear the words 'social media' for some reason in this industry. Some will say it's great and others don't really understand it. Social media is basically advertising, that's all it is. You are basically advertising yourself, your product or something like I'm doing," he said.
Sorella said social media and Google Adwords are particularly effective tools for directing campaigns at specific geographic regions and to people with specific interests.
"You know where the Meadowlands is, you know where Woodbine and Mohawk are. Basically, that's the area you target, and you use targeted demographics, people that have interest in sports, interest in gaming, interest in entertainment. This way, it's specific. It's more expensive to do it that way, but you're going right to your target audience," Sorella said.
"What online is doing right now is the exact same thing that we've had in advertising for dozens and dozens of years. Every area has it; you probably get it in your mailbox, those little pamphlets for all the little trades around your area… Online took that same approach, targeting people through their IPs on where they actually are. From there, you can see exactly what people like, because of all of these Internet spiders that capture information of yours when you visit a website. You see it all the time, if you go look at cars then all of a sudden every single ad that pops up is a car ad.
"Let's say we target in and around the New Jersey area by the Meadowlands. Now, all of a sudden, all those people that are online looking at wrestling tickets on StubHub or Vivid… those people are already showing interest in something that we should be targeting, like sports and entertainment. When we start targeting them, when they log on to their computer they are going to start seeing ads for the Meadowlands. They've already gone to a website that is similar to a targeted ad we are doing.
"Stick a Meadowlands ad in everyone's face and let them know that it's the Meadowlands Pace or College Night with dollar drinks… half-prize wings, carnivals."
Sorella said it's not cheap to target potential customers this way, but it is highly effective.
Then, it's up to the tracks to keep people in the building by having great facilities, good food, inexpensive prices and more than just horse racing, he said.
"Have something else for them," Sorella said. "Have you ever noticed that every single industry that has sports has something else with it? The NFL doesn't just sell tickets, they market their players, their products, their jerseys. What we do is just put them through the front door and give them bad food and expensive alcohol. We need the tracks to focus on themselves, make the place look good, to have fun stuff for families that is not just racing. Gambling is basically an addiction. Once you get them through the front door, they are going to find one way or another to play and they are going to bring other people there if there is something there for them, if it's fun, if it's not dragged out with 40 minutes in between races."
He said current marketing plans just aren't working.
"Don't go buy a $50,000 billboard and then give away free hats," he said. "All you are going to get there is people that are coming to get something for free and it's going to be your regulars."
He said tracks should sell hot dogs and fountain drinks for $1 each and beer for $2 and stop worrying that customers are going to come and not spend any money elsewhere.
"If they are willing to come to your front door, they are willing to spend something," he said. "Build an experience.
"The tracks are spending outside their building when they need to be spending inside their building so when people get there it's not crappy and boring or the place looks like a dump."