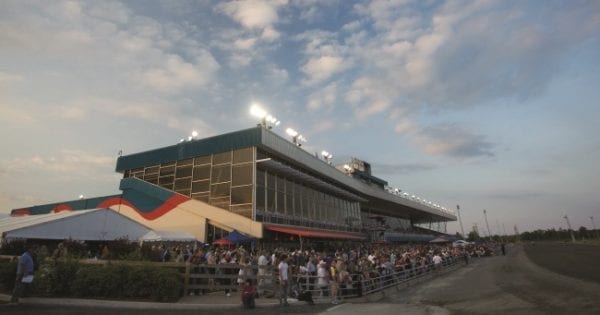 Is Mohawk ready to go to year-round racing in 2018?
As Mohawk Racetrack opened its 2017 meet, Jamie Martin talked about charging admission to the Pepsi North America Cup and moving closer to the likelihood of Mohawk being home to year-round harness racing.
by Dave Briggs
Mohawk Racetrack opened its 54th live racing season last night (Thursday, April 13) in what promises to be an interesting year beyond the plethora of stakes races on tap for the Campbellville, ON plant.
Jamie Martin, the executive vice-president of racing for the Woodbine Entertainment Group (WEG), confirmed the track is likely one-step closer to year-round racing. He also addressed the decision to charge $10 admission for adults and $5 for ages 12 to 17 (children under 12 are free) for the $1 million Pepsi North America Cup card scheduled for June 17. Tickets can be pre-purchased through Ticketmaster.
"We haven't charged admission to a standardbred event in at least 20 years, I would think," Martin said, explaining it's part of a marketing event strategy similar to what WEG does with charging admission to thoroughbred racing's Queen's Plate. "It costs us money to host that many people. It's not about the races themselves and the purses, but just to put on the event. It's tough to get that back just through wagering and food and beverage, so…. We're going to try it this year."
Already scheduled for NA Cup night is a pre-race concert featuring country stars Kira Isabella and Jojo Mason, as well as many giveaways and contests, a beer garden, a variety of special food items, a "First Bet on Us" voucher and a free hat for the first people through the door with paid admission.
"We will probably spend a bit more on our live entertainment. We are going to invest more in the experience… We are definitely going to improve our offering to bring value for the admission. My view is that the card itself and the experience itself is worth 10 bucks, but, you know, some customers will disagree."
He said he is expecting the decision to charge admission, "will be a discussion point… but we are proceeding with it."
Martin, who previously announced he is retiring in December of this year, said sometime before he leaves the company he expects the WEG board to vote on whether to turn Mohawk into a year-round harness racing facility and leave Woodbine for thoroughbred racing.
"We're still working towards that outcome," Martin said. "We're not fully there yet, as far as 'I's dotted and 'T's crossed, but I'm hopeful that will be sooner rather than later… to either agree to it or not to, because we would have a fair bit of work to do in advance of us racing there year round that we could only do when we are not racing there. So we would need to decide to do that work this winter. So, there's always a fair bit of planning and approval that goes into that."
Martin said "a probable outcome" is a decision to race year-round at Mohawk will be approved; capital improvements would be done at Mohawk when standardbred racing returns to Woodbine on Nov. 9 and then year-round racing at Mohawk would begin in 2018 once the meets shifts back to Campbellville in April.
"(But) there's a fair bit of legwork that would have to go into getting us to the point where we could make that recommendation, as far as capital required," Martin said.
He said most horsepeople are on-side with the idea of year-round racing at Mohawk.
"I think the people that race standardbreds have come to recognize the limitations of racing at Woodbine," Martin said. "There hasn't been much discussion about it, other than people asking me how much longer they have to keep coming to Woodbine."
Martin said he understands that there are still some opposed to completely leaving the Toronto market. Campbellville to the west of the city is considered outside the Greater Toronto Area (GTA).
"When we actually call the question, then those voices will come up. That's still to happen and we'll have that discussion. We need to call that question fairly soon and we will. We'll see where it goes," he said.
An extension of the lease with the Ontario Lottery and Gaming Corporation (OLG) to keep — and possibly expand — the gaming hall at Mohawk (announced last autumn), has given WEG the financial backing it needs to pursue capital improvements necessary for Mohawk to operate in the winter.
Though the OLG had committed to a long-term lease deal for Woodbine Racetrack in Toronto, under a gaming modernization review, the lottery corporation was, until Sept. 27, 2016, still deciding whether it wanted to keep a gaming hall at Mohawk despite it being the third most lucrative slot parlor in the province during the Slots at Racetracks Program (SARP) era.
WEG CEO Jim Lawson said when the lease deal with Mohawk was announced (full story here) that without the new deal WEG likely could not have afforded to keep Mohawk open for long because the cost to operate two expensive facilities would have been too great. If Mohawk had closed, WEG would have raced standardbreds and thoroughbreds at Woodbine only.
"I would say, certainly, that the opportunity to race year round (at Mohawk) is good," Lawson said. "Something tells me that if we're running there more months (at Mohawk) then there's a good possibility, in this environment, where horse supply is an issue, that people will stay around and race there.
In fact, a current horse shortage should be helped, somewhat, by the opening of Mohawk for 2017.
"This is actually our worst time of year for horse supply, late March, April. We have struggled, but we struggled last year as well," Martin said. "Horse supply is better at Mohawk than (at Woodbine) and so it's one of the reasons that we made the decision to move up the opening of the meet and that's helped us. Last year was the first year that we went (to Mohawk) in April, as opposed to sometime in May."
Live racing cards at Mohawk will be held Monday, Thursday, Friday and Saturday through Nov. 6 with Tuesday cards added beginning June 6 and continuing through the end of the meet.
The Fireworks and Family Fun Night is scheduled for the Victoria Day long-weekend in May. Live racing, activities for all ages and a fireworks show will take place on Saturday, May 20.
The 34th edition of the Pepsi North America Cup, Canada's richest harness race, is part of a June 17 card that features $3 million in purses and includes the Fan Hanover, Goodtimes, Armbro Flight, Roses Are Red and Mohawk Gold Cup.
The Canadian Pacing Derby highlights a stakes-filled card on Saturday, Sept. 2. The oldest pacing event in Canadian racing will feature heavyweight older pacers battling for a purse of $550,000. The Labour Day weekend card also features the Champlain Stakes for two-year-old pacers and Simcoe Stakes for three-year-old trotters.
New in 2017, the $700,000 Metro Pace and $500,000 Shes A Great Lady find a new home on the stakes calendar. The signature events for two-year-old pacers will have its own night to step into the spotlight on Saturday, Sept. 23.
"We had to move the Metro because of other conflicting events, but other than that it's still the same schedule (as last year), Martin said. "We were pretty happy with our level of nominations to our races. Actually, they are up a bit, generally. Some of them, like the two-year-old trotters and filly trotters are down, which is just a cycle. But, generally, we were pretty pleased with the support we got from horse owners for our stakes so we are looking forward to the season."
A week before the Metro, the $650,000 Canadian Trotting Classic and $600,000 Maple Leaf Trot will feature the best trotters from around the world on Saturday, Sept. 16.
Over $5 million in purses will be up for grabs during September's Grand Circuit action at Mohawk.
The wagering menu this season continues to offer all the usual signature and popular wagers. A pair of guaranteed pools will be offered nightly, as the $40,000 Pick-5 and $50,000 Early Pick-4 hold their regular spots on the card.
Fans and horseplayers will have a new way of getting to the track this season. Milton Transit has added a bus route that starts from the Milton GO Station and makes a stop at Mohawk Racetrack. Bus 62 Campbellville has service to Mohawk each day of the week, including extended hours on Friday and Saturday evenings to allow racing fans the opportunity to catch all the exciting action. For more information regarding the Milton Transit Campbellville route, click here.
An official "Welcome Back" to live racing at Mohawk will take place on Saturday (April 15).
— with files from Mark McKelvie / WEG standardbred communications