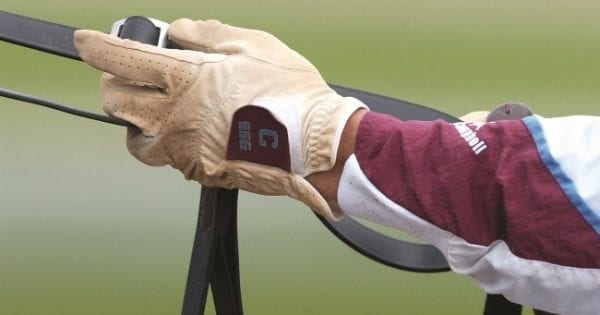 With a slew of top drivers taking the first part of the year off, the early 2017 standings indicate plenty of change from this time last year.
By Joe FitzGerald
The Yonkers Raceway driver's colony always dominates the leader board during the first half of the year. And three months into 2017, four of the top five on the North American money list are Westchester, NY regulars, led by Jason Bartlett. What sets this year apart is the absence of Brian Sears, who was second at Yonkers and fourth in North America at this point in the 2016 season. He had PRK laser eye surgery in December and has been out of action longer than expected. His driving opportunities and earnings have been spread around to the benefit of his colleagues: Bartlett, Jordan Stratton, Matt Kakaley, Daniel Dube, Mark MacDonald and others are all showing fatter bankrolls, thanks in part to Sears.
David Miller, the USTA Driver of the Year the past two seasons and the runner up in the 2016 money race, has taken the first quarter off by choice, with the exception of a couple of drives at Pompano Park. However, Miller did the same thing last year, so his absence is already built in to the numbers.
Tim Tetrick, number three on last year's money list, also kept a low profile during the winter. He drove in 354 fewer races than he did last year, leading to 66 fewer wins and an earnings total deflated by $622,000. He finished the first quarter of 2016 in third place; this year he came in 27th. The fact that the Meadowlands is down to two days a week has probably been a decision-making factor for both Tetrick and Miller.
I think we have a trend going. Top dog Yannick Gingras said he'd be someplace warm the first part of the season if he didn't have young kids to raise.
Trending Up
Jason Bartlett, who has finished fourth on the NA earnings the last two years, while rarely straying from Yonkers Raceway, finished the first quarter on top, just as he did in 2016. His bankroll was 25 per cent bigger and his closest competitor, Jordan Stratton, was more than $593,000 behind him. Bartlett, who had six winners Monday night, is crushing it. He sported a 0.353 UDRS and won more than 20 per cent of his starts at his New York base.
Jordan Stratton, who turns 30 at the end of June, moved into the second spot toward the end of the quarter. Last year, he was 16th at this point, but well on his way to making a name for himself in the Levy and Matchmaker Series. Stratton has 92 wins and finished the quarter with a 0.305 UDRS. He ended the year in the 20s in 2013, 2014 and 2015, but finished in 14th last year.
The Whirling Dervish, dash champ Aaron Merriman, was up an impressive 108 wins over second-place Corey Callahan at the quarter pole. He made an eye popping 1,191 drives through the end of March —that's 403 more than Cory. Does he have a self-driving car? Merriman, who was second on the money list at this point in 2016, was third this year, but his earnings total was more than $210,000 ahead of 2016. The 38-year-old got win number 9,000 on Tuesday at The Meadows.
Matt Kakaley, who has made more than 75 per cent of his 2017 drives at Yonkers Raceway, went from eighth last year to fourth. His earnings are up $505,000. He has finished the year in the top 10 in three of the last four years.
George Brennan, who was sixth at the quarter in 2016, is fifth this year. He has two more wins, but his money is off more than $347,000 and his UDRS has dropped from 0.283 to 0.235.
Scott Zeron, who has made 77 per cent of his drives at Yonkers and ranks fourth in that track's standings, is sixth on the overall list, up from 13 a quarter of the way in last year. While he has four fewer wins, his bankroll has increased by more than a half-million dollars. Zeron, who turns 28 in May, finished at number 17 in 2013, the last year he was a regular on the WEG circuit. Last year he finished fifth and made the Driver of the Year ballot.
Mark MacDonald, who calls Yonkers Raceway home, moved up all the way from 25th to eighth this year. He only has six more wins but his earnings have increased by more than $518,000 to $1.2 million.
Yannick Gingras, who has topped the money list the last three years, generally doesn't make his move to the top of the leader board until August, but he's ahead of schedule this year. In 2016, thanks in part to the Down Under foray, he was down at number 32 at the quarter. This year he was in ninth, with 52 more wins and an earnings boost of $590,000.
Trace Tetrick, the leading driver at Miami Valley, occupies the 10th slot, up from 27 last year. Trace won more than 19 per cent of his starts, as opposed to 11 per cent during the opening quarter of 2016. His earnings increased by $415,000. And all that with Hoosier Park dark.
Jimmy Marohn, who is fourth on the dash list and number 13 in earnings, continues to climb the ladder. He gets around: Marohn is number two at both The Meadowlands and Freehold and number five at Pocono Downs. His money is up 53 per cent — almost $500,000.
Doug McNair topped all Canadian based drivers at the quarter point. He went from 36th last year to number 14. He had 81 wins, up from 41, and earned almost $886,000 U.S., $355,000 more than in 2016. McNair's UDRS jumped from 0.243 at the end of March, 2016 to an impressive 0.355.
Louis Philippe Roy, who joined the WEG circuit after a successful year at Rideau Carleton and the Hippodrome 3R, has joined forces with the powerful Rene Allard barn for a very successful season at Woodbine, where he is winning at a 21 per cent clip. He's 23rd on the earnings list with more than $727,000 US and he's 12th on the dash list with 96 wins at the quarter.
Last year's Canadian dash champ Bob McClure is fifth on the NA list with 129 wins and a stellar UDRS of 0.363. He's number 44 on the money list.
Ronnie Wrenn Jr, the number two driver at Northfield, where is winning better than 22 per cent of his starts, is third on the dash list, up from fourth last year. And although he has 10 fewer wins to his credit, his bankroll is $186,000 larger.
Kayne Kauffman, the number two driver at the Miami Valley meet, stepped up from 31 in 2016 to number 18. He won 23 more races, upped his earnings by more than $250,000 and improved his UDRS from 0.212 to 0.313.
Trending The Same
Corey Callahan, who lost time to his participation in the International All-Star Series Down Under in 2016, as did Gingras and Brett Miller, was seventh this year and last. He has driven in 124 more races in 2017 and has 39 more wins and has banked an extra $210,000.
Trending Down
Sylvain Filion, who has led all Canadian based drivers on the money list at the conclusion of the last two years, has dropped from number 21 at the quarter in 2016 to 47. He made 85 fewer starts, had 29 fewer wins and fell short by almost $310,000.
Josh Sutton, who was 12th at the quarter in 2016, dropped to 28. He made 166 fewer starts, had 24 fewer wins and was short more than $271,000. He was number eight at MVR and number six at Northfield. Sutton finished 2016 in twenty-first place with 550 wins and $5 million in earnings.
All-time dash king Dave Palone, who is winning almost 25 per cent of his starts at The Meadows, dropped from fifth to 12th on the earnings scale and dropped one spot to sixth on the dash list.
Jim Pantaleano, who is third at the Washington, PA track, went from ninth at the quarter in 2016 to 25th this year. He had a million dollars at this point in 2016, but is almost $300,000 short of that this year.
Tony Hall, the number four driver at The Meadows, who was in 10th last year, is one spot ahead of Pantaleano at 24. His money is off by $215,000.
And Mike Wilder, who is fifth on The Meadows leader board, dropped from 10 to 22. He's down 10 wins and $187,000. Top dogs Dave Palone and Aaron Merriman have 217 wins and $1.8 million between them. There isn't much left for the rest to pick over.