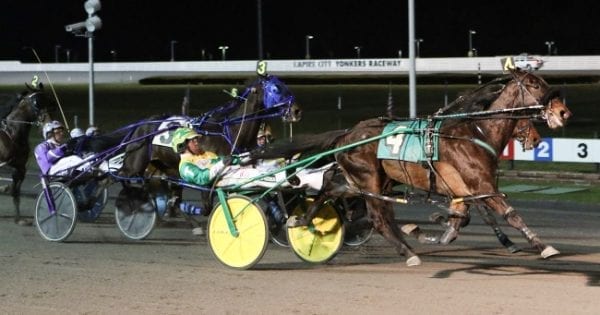 Missile J stays perfect in Levy Series
Meanwhile, defending Levy champ Bit Of A Legend N posted his first Levy win of 2017.
by Frank Drucker / Yonkers Raceway
Horses aren't supposed to win races from where Missile J was situated Saturday night. He didn't get that memo.
Missile J (Tim Tetrick, $2.70) unleashed a filthy stretch move, winning his third race in as many tries during Yonkers Raceway's George Morton Levy Memorial Pacing Series.
Round 3 featured another quartet of $50,000 divisions, with Missile J completing his own personal three-peat.
Sitting third-over in a stagnant outer tier, Missile J was sixth — three-and-three-quarter lengths behind Great Vintage (Mark MacDonald) — after that pole-sitter led through intervals of :27.2, :56.4 and 1:24. Missile J couldn't be bothered with such impediments. He not only won, he measured it off, with the final margin a head over Great Vintage in 1:51.3. Third went to Clear Vision (Brett Miller), with Dr. J. Hanover (Scott Zeron) and Santa Fe Beachboy (Jason Bartlett) relegated to the remainder.
For Missile J, a four-year-old American Ideal—Cantor's Daughter gelding trained by Scott DiDomenico (big props for 1,000 career training victories) for Hoosierland co-owners John McGill and Brian Carsey, it was his seventh win in eight seasonal starts. The exacta paid $10.80, with the triple returning $50.50.
"He wants to chase horses," Tetrick said. "Winning three races from the off the pace the way he has is a plus in a grueling series like the Levy."
Defending series champ Bit Of A Legend N (Jordan Stratton, $4.90) did get off the seasonal and series schneid, using a solid, two-move effort in the evening's final Levy event. An early fourth from post six, he watched as polester Guantanamo Bay (Scott Zeron) offered some rare early foot (:28.2, :57.3, 1:25.3).
Despite those rather comfy fractions, Guantanamo Bay was powerless to stave off Bit Of A Legend N. The people's choice took over early in the lane, then edged away by a length in 1:52.4. Second went to an improved McWicked (Matt Kakaley), with Always at My Place (Yannick Gingras), a tiring Guantanamo Bay and Blood Brother (Bartlett) settling for the minors.
For Bit of a Legend N, an 8-year-old Down Under son of Bettor's Delight—Soky's Legend trained by Peter Tritton for owner Harry von Knoblauch, it was his first win in five seasonal starts. The exacta paid $31.40, with the triple returning $117.
"Tonight was the first time this season he resembled his old self," Stratton said. "Scoring down, he wanted to kick me out of the bike. He had a lot left at the wire."
Saturday night's first Levy grouping had Soto (Kakaley, $10) work out his third pocket trip in the series and earn his second series win. From post two, he conveniently slid in behind 19-10 choice Somewhere in L A (Bartlett). That job was made easier when Bettor's Edge (Miller) and his inside speed broke early and vacated the course.
Somewhere in L A laid down the law (:26.3, :55.4, 1:23.4) while being pestered by a second move of Rockin' Ron (Gingras). 'L A' owned a length lead in and out of the final turn, and held well, but not well enough.
Soto stuck his tongue out on the money, getting the decision in 1:51.4. Wakizashi Hanover (Stratton) closed for third, beaten a neck, with Rockin' Ron and Mach it So (Tetrick) earning small coinage.
For third choice Soto, a 5-year-old son of Rock N Roll Heaven—Incredible Beauty trained by Eric Ell for co-owners Kenneth Wood, William Dittmar Jr. and Stephen Iaquinta, it was his sixth win in 11 '17 starts. The exacta paid $29.20, with the triple returning $121.50.
As was the case with Soto, Keystone Velocity (Dan Dube, $3.10) grabbed his second series win.
Pocketed from the pole in the third event, he was both lucky and good, getting the passing lane after Caviart Luca (George Brennan) tired (:27, :55.1, 1:23.1).
P H Supercam (Miller) cleared first-up, with Provocativeprincen (Stratton) slipping out from behind Keystone Velocity to grab third tow. Provocativeprincen made his 'first run,' but Keystone Velocity was raging. He zipped up the cones, whipping the 'Prince' by a half-length in 1:51.3.
P H Supercam, Caviart Luca and Texas Terror N (Mark MacDonald) rounded out the payees.
For Keystone Velocity, a 9-year-old son of Western Hanover—Venus Killean co-owned (as Allard Racing) by trainer Rene Allard, Kapildeo Singh, Earl Hill Jr and VIP Internet Stable, it was his second win in four seasonal starts. The exacta paid $13.20, with the triple returning $48.80.
Saturday night's $55,00 open trot was won by Lady's Dude (Brennan, $3.80) in 1:55 for a second consecutive featured-trot win.
Matchmaker Series
Yonkers Raceway's Blue Chip Matchmaker offered up Round 3 Friday night (March 31), with another trio of $40,000 divisions for quite superior — and quite soggy — pacing mares fighting a persistent, wind-driven rain.
The third round's first division saw Bedroomconfessions (Scott Zeron, $3.80) repeat as an odds-on winner.
Leaving from post five, Bedroomconfessions eschewed an early three-hole to take the lead from Krispy Apple (Brett Miller).
The fave held sway (:29.1, :58.2, 1:26.4, 1:55.1), helped out in no small measure when second choice Mach It A Par (Jason Bartlett) violated the 'shortest distance between two points' theory and drifted drastically through the lane. Bedroomconfesssions took advantage of that detour to win by a nose, with Krispy Apple, Tessa Seelster (George Brennan) and For the Ladies N (Tim Tetrick) rounded out the payees.
Throw in an outrun Quick Draft A (Mark MacDonald) and the six-pack finished in ascending pari-mutuel order.
For Bedroomconfessions, a five-year-old state-bred daughter of American Ideal—Turnoffthelights co-owned (as Alagna Racing) by (trainer) Tony Alagna and Riverview Racing, it was her fourth win in seven seasonal starts. The exacta paid $4.80, with the triple returning $8.10.
The second event saw Regil Elektra (Bartlett, $.40) negate her outside post six and last on the lead (:28, :58.2, 1:27.2, 1:56.2). She took over from pole-sitting, 3-2 choice Empress Deo (Matt Kakaley), then found the wire in time, beating a first-over Betabcool N (MacDonald) by a half-length and a from-last Mackenzie A (Jordan Stratton) by a length
Empress Deo and Change the Rulz N (Brennan) settled for the remainder, while a second-over Sandbetweenurtoes (Miller) was last among the six-pack.
For third choice Regil Elektra, a seven-year-old daughter of Mach Three—Top Time Notcher owned by Fred Monteleone Stable and trained by Keith Armer, it was her fourth win in eight seasonal starts. The exacta paid $41.60, with the triple returning $135.
Friday night's final Matchmaker grouping had Shesjustadelight N (Ron Cushing, $4.70) join Bedroomconfessions and Regil Elektra as winners of two legs of the series.
Away from third post two, Shesjustadelight N watched as 4-5 fave Medusa (Kakaley) hop over Diva's Image (Joe Bongiorno) and lead the way (:29, :59.4, 1:27.4).
Shesjustadelight N moved to challenge just as Diva's Image was ending her evening, the former maintaining the momentum to win by a length in 1:56.4. Sell a Bit N (Stratton) couldn't match strides with her tow but did get into second at 25-1, with Medusa fading to third. Small checkers Lispatty (MacDonald) and Diva's Image, then a trailing Al Raza N (Bartlett) rounded out the order.
For second choice Shesjustadelight N, a 7-year-old Down Under daughter of Bettor's Delight—Love The Look co-owned by her driver and Kevin Sywyk and trained by Heidi Gibbs, it was her second win in five 2017 tries. The exacta paid $68, with the triple returning $107.50.