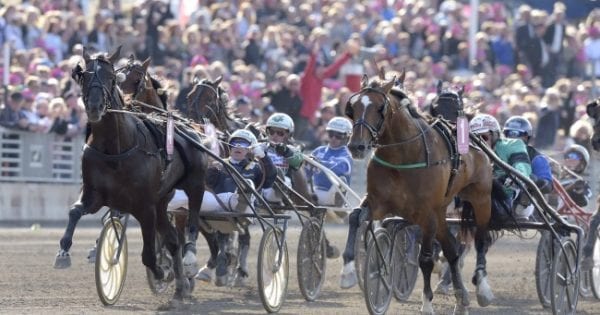 European Report: Fifteenth straight win for Nuncio, Delicious back on track
Two superstars showed this week that European harness racing fans may be in for something special in the spring.
Nuncio, second behind Trixton in the 2014 Hambletonian, doesn't want to lose and Wednesday (March 22) the son of Andover Hall kept his undefeated streak intact. Nuncio, with Örjan Kihlström in the bike, started fast and was in the lead the whole mile at Solvalla.
Nuncio easily sprinted to the 1:56.1 victory and will probably continue racing at Solvalla in April. The six-year-old son of Andover Hall out of the Lindy Lane mare Nicole Isabelle now has had 15 starts since his last defeat in October of 2015.
The big target is Elitloppet at the end of May, where the big duel with French superstar Bold Eagle may take place.
Another American-bred horse impressed the spectators on Friday night (March 24) at Romme in Sweden. Delicious (Cantab Hall), also with Örjan Kihlström, had her first start for the year over the distance 2 5/8ths and was seen in the lead after a fast first quarter. Delicious, with 10 straight wins, is a three-time world record holder (1:50.2 over the mile in Sweden 2015) and looked really good in the cold spring night at Romme.
The Cantab Hall filly had many problems in 2016. She raced five times last year, but could never reach the same high level as the year before.
"Now we'll see how she reacts after this race," said her trainer Daniel Redén. "Of course it looks good when she wants to race again and I feel that she's back in great shape."
Delicious came home in an approximate mile time of 1:59.
John Campbell to Sweden
Before he retires, John D Campbell will make the trip overseas to Sweden, Stockholm and Solvalla, where in 1988 he charmed the spectators when he won the Elitlopp with Mack Lobell in new world record.
This time Campbell will, at the very least, participate in a speed race (640 metres) on Elitlopp Day, but Swedes are already buzzing about possibly seeing him drive again in the biggest race in Scandinavia. Campbell was the driver of Nuncio in the U.S.