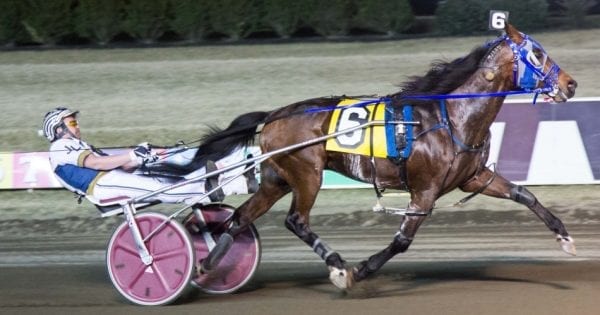 Joe Lee hitting it out of the park at the racetrack
The assistant equipment manager for the New York Yankees is one of the hottest amateur drivers in harness racing with 17 wins since 2015.
by Bill Finley
Joe Lee has worn the uniform of the New York Yankees, but he's never had a base hit, struck out an opposing batter or made a diving catch. He can only be found behind the scenes. Lee has been with the Yankees since 1995, first as a bat boy and currently as the assistant equipment manager.
There may not be much glory in that, but Lee has found a side job that gives him his thrills, his equivalent of teeing off on a fat fastball over the middle of the plate and sending it into the bleachers. The 37-year-old Yankee employee is among the hottest amateur drivers in North America, having won 17 races (as of March 15) since the start of 2015.
"For me, it's the thrill of going behind the gate," Lee said. "Every time the wings of the gate open and the starter says, 'Okay, you can get them together,' that's the biggest rush ever. It never gets old. Winning never gets old, either."
Lee, who moved to Yonkers as a teenager, has been going to the racetrack for as long as he can remember. For a time, his parents owned a few horses and even when they didn't the family would make frequent visits to all the area harness tracks. Lee was also into show jumping. Horses were a huge part of his life.
But so was baseball, at least when he went to work with the Yankees. He later added a job as a financial advisor to his resume, which didn't give him a whole lot of time for anything else. Still, he wanted to know what it felt like to drive a horse. A friend, owner Sandy Goldfarb, told him to see one of his trainers, Buzzy Sholty, and promised him that Sholty would tutor him.
"I was in my twenties and had watched a bazillion races," Lee said. "I started to think I have to find out what it feels like to sit behind one."
Lee got bit by the bug. He said he went to Sholty's stable every Saturday morning for two years, no matter the weather or how late he had worked the prior night, to learn the craft.
"Buzzy knew I had a horse background and that I had been around horses and jumping, so he was very trusting of me. He started letting me jog and train horses right away, especially in bad weather. He didn't want to go out there."
Lee continued to progress and made his driving debut in 2010. Juggling all his jobs, he won only five career races through 2014, but something started to click in 2015.He drove 63 races that year, winning five. The following year was even better. He had 72 drives and won 10 races.
Lee says that as his own skills started to improve trainers took notice.
"The last two years, I've done pretty well on the track," Lee said. "People see that I'm safe and that I try to put the horses in a position where they have a shot to do the best they can. I think a lot of trainers have noticed that. I'm starting to get phone calls, people saying 'I have one that fits the amateur series race, are you available? Could you drive him?' A couple of trainers I never even met before put me down on horses. I didn't think I was driving on that night and then I look at the entries and see that in fact I am down to drive. I've been very lucky with that and I really appreciate the way the trainers have supported me."
His success has continued this year as he has a record of 2-1-1 from seven drives.
Once the baseball season starts, Lee will limit his drives to nights when the Yankees do not have home games. He hasn't found anyone on the current team that shares his passion for the sport, but fondly remembers talking horses with former manager Joe Torre and bench coach Don Zimmer. Lee is also involved in the sport as an owner and currently has pieces of three horses. Torre is often a partner in his small stable, but it was Zimmer who became his racetrack buddy.
"Nobody loved the horses more than Zimmer," he said. "He mostly bet the thoroughbreds, but he liked the trotters, too. Any time we had a day game we'd go together to the Meadowlands after the game. He'd bet on anything — trotters, thoroughbreds. He loved the action."
Lee said he has no designs on becoming a professional full-time driver, that he's too busy with his "real" jobs and that he's content to focus on the amateur races.
"I'm having a lot of fun and there's no real pressure when you're out there," he said. "I'm already living out a dream, going behind the gate and driving in these races. I've driven in some qualifiers at Yonkers and I can look to the left of me or the right of me and see Jason Bartlett, George Brennan, Brian Sears. You're talking about guys who have won thousands and thousands of races combined. It's amazing being on the same playing field as these guys. This is the one sport where an average guy can get in the game and compete against the best. I could have practiced every day my whole life and I never would have been the second baseman for the Yankees."