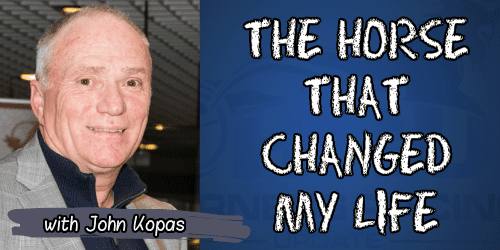 The Horse That Changed My Life: John Kopas
(Editor's Note: This item originally appeared on the Ontario Racing website recently under a section called For The Love Of Racing which still adds new stories weekly. Harness Racing Update will periodically republish some stories from the archives and plans to add original ones here featuring the stories of participants from across the harness racing world)
by Dave Briggs courtesy Ontario Racing
John Kopas' career-changing moment happened 40 years ago, but the Ontario horseman remembers it vividly. It wasn't every day that a 22-year-old kid got the chance to drive an undefeated two-year-old pacing colt in a Grand Circuit race at Blue Bonnets in Montreal for Hall of Famer Alan Leavitt.
The year was 1976 and Kopas went to Montreal with his father, Hall of Famer Jack Kopas, to race Nat Lobell, Super Clint, Missile Almahurst and Jade Prince.
"As it turned out, Nat (Lobell) and Super Clint got in together. My father was the owner of Super Clint. The rule — and I don't know if it's still the same — but if you owned the horse you had to drive him," John said. "So, he was not going to be able to drive Nat Lobell because of that, so he called (Nat Lobell's owner) Alan Leavitt, and explained to him what was going on and Alan said, 'Well, let John drive.' Father said, 'Well, are you sure? That's a lot of pressure for a kid his age and with that colt being undefeated.' Alan said, 'I'll tell you what, have John call me.' So, I called him later on that evening and he said, 'You go ahead and drive him. Win, lose or draw don't worry about it and good luck to the two of you.' As it turned out, I won with him."
Nat Lobell, a son of Nansemond out of the Duane Hanover mare Nardins Tempest, went on to earn over $415,000 in his career.
"What helped there, with respect to my career, is the other owners in our stable saw that Alan Leavitt had somewhat endorsed me and I was able to get the job done with the horse and that opened the door for me, at a very young age, to drive a lot of other great horses that my father trained," John said.
"The other thing that led to was the following spring, dad sent me down to New York with a stable of horses and it was related to that race and Nat Lobell. By this time, we had quite a few horses for Leavitt and his partners in the New York area and they were very comfortable with me coming down there and racing their horses."