by Brett Sturman
Of the many things wrong with harness racing, one thing that horesplayers commonly point out is that racetracks run races on their own accord without any regard for the timing of races from other tracks. This can be maddening to a bettor or enthusiast, particularly in cases where the number of harness tracks running at a given time is limited to begin with, or if there is a marquee race at one or more tracks, concurrently.
Last Monday on Dec. 26, Pompano Park, Northfield Park and Cal Expo — the only three tracks running that night (including North American thoroughbred tracks which did not race) — worked with each other to coordinate their race times so that no race overlapped another for the entire night. Spearheaded by racetrack operator Chris Schick at Cal Expo and coordinated with Pompano Park's director of racing operations Gabe Prewitt, along with management from Northfield Park, the tracks structured post times as to provide maximum visibility for each of their respective tracks. It's the first time I'm aware of a well-coordinated race time scheduling effort by more than two U.S. tracks, though coordinated schedules are somewhat common in Ontario.
All three tracks posted big numbers on the night. Both Northfield and Cal Expo cleared the $1 million figure in handle while Pompano came dangerously close to that threshold, posting $955k in all source handle, good for the fifth highest total in the track's 53-year history.
It's difficult to quantify precisely how much of an impact the staggered race times had towards each track's handle. Historically speaking, all three of these tracks handle very well during weekdays at the end of December. By comparison, on Dec. 23 of last year, Northfield handled nearly $1.7 million while Pompano cleared the $1 million mark. Still, it would be tough to argue by not having any overlap between the only three tracks racing that night that it didn't at least help each tracks handle by some degree.
The post time structuring experiment is a further illustration of work that each of these tracks have done in recent times to improve their product.
As an example, the resurgence of Pompano Park over the past couple of seasons has been well documented, but the track has made progress during this very meet alone since October. After beginning the season with a proportionally large number of small fields featuring Florida-breds, a parade of short-priced winners and races without much flow or movement, the competitiveness has picked up dramatically. The track recently increased the guarantee for its signature 12 per cent takeout Pick 4 wager and it's not unrealistic to believe the track will soon handle over $1 million with a comparable regularity that Northfield Park and Cal Expo do.
While the thought and intent behind the race time coordination must be commended, the coordination itself throughout the race night left much room to learn and build from. The timing between races relative to each track was horrific. When looking at the actual times each race went off, Northfield averaged 22 minutes between races while Pompano and Cal Expo both averaged 23 minutes. At one point there was a 29-minute gap at Pompano between races owed at least in some part to a late shoe repair, while at Cal Expo there was a full 30-minute gap in between races leading up to its Pick 4. The Cal Expo Pick 4 ended up handling $41,854 so I guess we can't be too hard on them although the post drag (minutes where post time flashed 0 minutes) crossed into the realm of absurdity.
All told, Pompano's race card lasted over four hours for its 12 races while Northfield and Pompano both went over the five-hour mark for their cards, with 15 and 14 races, respectively. It's one thing to not have overlap of the races, but it makes for an unnecessarily long night for anyone who isn't following all three tracks, or for a patron who is on track. Perhaps the extensive amount of time could be justified if there was a wager in play that utilized all three tracks for example, but the otherwise unaffiliated tracks need to determine the benefit of drawing out their product in such a manner when every study, poll and focus group show that the last thing harness racing needs is more time in between races.
With any luck, what has been initiated by Northfield, Pompano and Cal Expo can be replicated by other tracks. In the cases of races featuring marquee stars and other races of widespread interest, there are always countless instances of tracks running on top of each other, including the sport's premier tracks.
Monday night's experiment wasn't perfect and wasn't without flaws, but considering how many tracks have problems managing their own post times let alone others, this initiative was clearly a step in the right direction. Three harness tracks handling $1 million (for all intents and purposes) on the same race weeknight is impressive no matter how its viewed, and it shows the thinking the industry might be capable of if it chooses to work more closely together.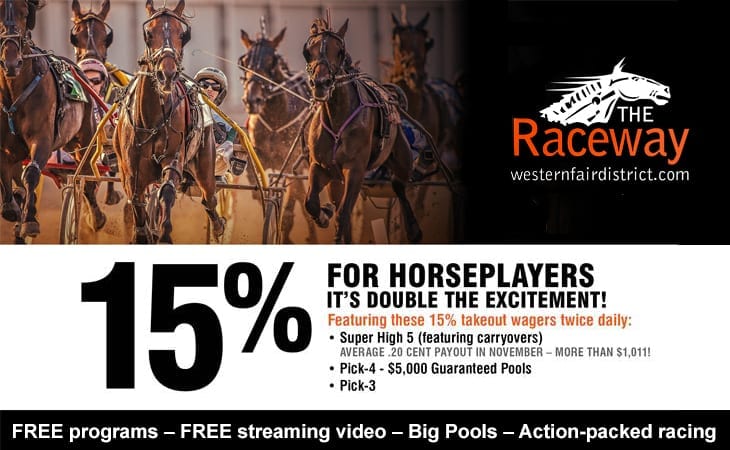 Jackpot Hi-5 Afterthoughts
By all accounts the Jackpot Hi-5 offered at the conclusion of the recent Woodbine meet didn't turn out to be one of the finer moments for harness racing to showcase itself. Over $1.3 million was wagered into the bet on Friday that brought with it a $548,000 carryover on a mandatory payout night, some of which was money from outside your typical harness racing horseplayer.
The first problem was when Gratias Deo never made it to the starting gate from post 10, but all hope for a competitive race was lost when Shadow Margeaux was hopelessly parked from post 5 with Travis Henry driving. Once parked, Henry kept his horse parked stagnantly in about fourth on the outside while not moving forward nor backwards; eliminating any possibility for a cover flow and keeping about six or seven of the remaining horses in the large 12-horse field with no shot to ever get close.
The tweet (above) by 2017 thoroughbred National Handicapping Champion Paul Matties Jr probably sums up the race best.
Pick of the Week
Last Week's Bankroll: $878
Total Wagers: $84
Total Return: $0
This Week's Bankroll: $794
Meadowlands – Friday, December 30
Race 6: WINDSUN GLORY steps back up for Burke, but this fresh acquisition is looking like a pretty good one and you get the feeling she could be a top level mare here before not too long. The Ontario-sired Mach Three filly has won two of three since arriving in these parts for new connections and the only time she was lost was in a first over try where the mile went in 1:50. This one has jogged in her other two starts and is likely to get hammered down from her 6-1 morning line offering; seems much best in my opinion.
$20 Win/Place 4
Race 9: ONDA DI MARE showed customary early speed last out before being shuffled and caught behind a gapping pocket sitter. She was a winner two back in 1:55:1, a try that would be more than good enough against most of these and gets a driver change from Meittinis to Campbell. Nifty Norman trainee is bound to be going forward early; another that is likely to attract attention.
$10 Win/Place 8
$2 Exacta Box 8/1-2-3
Race 12: Coming right back with another mandatory payout on the Jackpot Hi-5, although the carryover this time around is far less than what we saw at Woodbine last weekend. Mercifully this field contains a more manageable number of horses to select from, and IAM BONASERA drops to his lowest level on view for the reliable connections of Dylan Davis and Callahan. His best work was done here many, many years ago but even a number of his recent miles would give him a decent shot; this race won't go in the 1:51 range. MAGIC TRICKS regressed in his last couple at Philly and then was scratched here two weeks ago. The change in scenery might help as will the acquisition of Brett Miller. BRETT MCFAVRELOUS is a consistent type and an obvious player should recent form translate to the mile track. RING WARRIOR was used a bit too hard last out and faltered late as the 9/5 chalk; makes his second start at the reduced level.
$10 Win/Place 1
$0.20 Jackpot Hi-5: 
1 / 2-3-7 / 2-3-7 / 2-3-5-7-9 / All $21.60