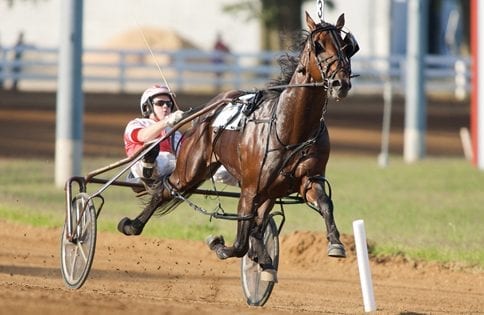 Evaluating Harrisburg Pacing Sires
A look at how the pacing sires fared at the Standardbred Horse Sales Company's yearling sale.
by Joe FitzGerald
Fifty-three percent of the yearlings sold in Harrisburg were by sires standing in Pennsylvania, so it's no surprise that Hanover's Somebeachsomewhere topped the ledger on the pacing side. Sixty of them averaged $74,400, up eight per cent over last year, when a politically induced cloud hung over the proceedings. The son of Mach Three sold 21 fewer for a $123,615 average in Lexington. Fifteen of them brought at least $100,000 (25 per cent), with a pair topping $200,000. Contrast that with last year when six beat $100,000. Thirty-nine, or 65 per cent, of the 60 sold brought at least $50,000, while 52 of them beat $25,000. The sire of Huntsville, Downbytheseaside, Check Six, Pure Country and Darlinonthebeach had a very good sale.
The 14-year-old New York sire, American Ideal, averaged $48,946 for 37 sold. A colt and four fillies, 11 per cent, brought $100,000 or more, while almost a quarter of them topped $50,000. Twenty-six of the 37 beat $25,000. The sire of Funknwaffles, He's Watching and Heston Blue Chip led the NYSS in both the two and three-year-old classes this year. Last year's average jumped 28 per cent from 2014 and it's up another 31 per cent this week.
Seventeen-year-old Mach Three sold 10 yearlings this year, the same number as 2015 when his average increased by 38 per cent. While he averaged a healthy $44,900 this week, it represents a 14 per cent drop from last year. Mach Three sold 47 in Harrisburg in 2014 so his presence has been reduced. Last year 70 per cent topped $25,000; this year it was 90 per cent. Consistency is the trademark of the leading 2016 pacing sire in the Ontario program.
The eight-year-old New York sire Roll With Joe saw his average increase 20 per cent from last year to $39,887 for 21 sold. The sire of Racing Hill, who occupies the number two slot on the all horse earning's list, experienced a similar sale pattern to 2015. One topped $100,000; five beat $50,000; and 66 per cent sold for at least $25,000. Joe's 2017 stud fee will increase by a third to $7,500.
Art Major, another New Yorker, sold 31 for an average of $38,371, down 6.5 per cent from 2015. He also sold 31 in Lexington, for about the same average. Twelve, or 39 per cent, topped $50,000 this week, but 32 per cent of them failed to exceed $25,000. Seventeen-year-old Art Major saw his fee drop 17 per cent to $10,000 in 2016. The sire of Roaring To Go ranked third in both classes of the NYSS.
Bettor's Delight, who is second on the all pacer money list in 2016, presented a large offering of 58 that averaged $36,466. The 18-year-old sire of Betting Line and LA Delight has never sold as well as his offspring race. This crop, like last year's, is Pennsylvania eligible. His average is up 16 per cent over last year when it was down 27 per cent from 2014 when he was still enrolled in the Ontario program. Again, there was political trouble last year. Three colts, or five per cent of this year's offering, topped $100,000. That's a little light for a sire of his stature. Ten, or 17 per cent, beat $50,000. That's also a little light. And 57 per cent topped $25,000. He fared much better in Lexington where 29 averaged $55,655. Bettor's Delight's 2017 fee has been increased from $12,000 (Cdn) to $15,000 (Cdn).
Shadow Play outdid his provincial rival Sportswriter by $244 in their respective averages, as he came in at $36,458 for 24 sold. At Lexington, it was Sportswriter who developed an average that was $378 better. This is a huge improvement of 50 per cent over last year when five of 13 failed to top $15,000. The 11-year-old sire of world champion Lady Shadow sold a pair for at least $100,000. A quarter of them beat $50,000 and more than 62 per cent brought at least $25,000. Shadow Play only sold five in Lexington but he showed a 35 per cent increase in his average over 2015. There were some dead years after his initial success, but he seems to be back in favor with the buyers. Sporty lover Casie Coleman bought four Shadow Plays in Pennsylvania.
Sportswriter, the nine-year-old sire of Sports Column, averaged $36,214 for 28 sold. That's down 24 per cent from what his small nine-horse offering averaged last year, and down 34 per cent from what he sold nine for in Lexington last month. In Harrisburg 10, or 36 per cent, topped $50,000, while 69 per cent of them beat $25,000. Unlike Shadow Play, there were no six figure sales. Coleman bought five of them.
Ten-year-old Well Said has been afforded every opportunity to live up to his on track performance during his second career but with four crops racing it simply hasn't happened, and that fact is reflected in the numbers. Fifty-eight per cent of the 52 sold in Harrisburg failed to top $25,000. His average of $31,183 was up 6.5 per cent over 2015 when he sold 61 here. He's a high-volume sire, but that isn't always a good thing. A pair topped $100,000 and 21 per cent beat $50,000. His best son, Meadowlands Pace winner Control The Moment, will stand in Ontario for $6,000 this year. Well Said's fee was cut in half to $7,500 in 2016.
Western Ideal saw 23 average a disappointing $28,304, down almost 15 per cent from last year, when he was off 10 per cent from 2014. Eleven of his 12 fillies failed to top $25,000. Only three, or 13 per cent, beat $50,000. More than 56 per cent failed to exceed $25,000. The 21-year-old sire of Rocknroll Hanover and Artspeak stood for $7,500 in Pennsylvania in 2016.
Rock N Roll Heaven is in the same boat: despite a few successful fillies, like Sassa Hanover and Divine Caroline, it just hasn't happened for him. This is a New York crop but he now resides in New Jersey. Twenty-seven averaged $27,444. Forty-four per cent of them failed to top $25,000; one beat $100,000; while five exceeded $50,000. This is up more than 36 per cent from last year when 38 averaged a disappointing $17,447 in Harrisburg. He'll have another New York crop next year before switching to New Jersey eligibility. It's hard to see how that will help.
Seven-year-old world champion A Rocknroll Dance got a chilly reception for his first crop in Harrisburg. Twenty-five averaged $22,120. One topped $50,000; nine beat $25,000; and 67 per cent of them failed to crack $25,000.
Betterthancheddar is another first crop sire who failed to elicit a warm embrace from buyers. Nine from his only New York crop averaged $19,722. Seventy-eight per cent of them failed to top $25,000. Contrast that with his excellent $50,875 average for eight sold in Lexington. Three-quarters of them topped $50,000. Go figure? The son of Bettor's Delight stands in Ontario for $3,500 (Cdn).
Twenty-one-year old Artiscape saw seven average $17,286. Eighty-six per cent failed to beat $25,000. He stands in New York for $4,000.
So Surreal, the first son of SBSW to arrive at the yearling sales, is a head scratcher. The five-year-old saw 11 average an underwhelming $12,091, and that's with a $42,000 outlier thrown into the mix. Needless to say, the other 10 failed to top $25,000. As is the case with Betterthancheddar, we have an inconsistent situation, as three colts and a filly by the half