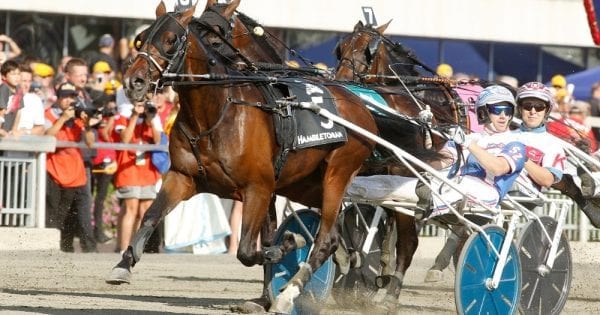 Marion Marauder to stand in Ontario
The Trotting Triple Crown winner will stand at Tara Hills Stud beginning in 2017.
by Dave Briggs
Trotting Triple Crown winner Marion Marauder has been retired to stud and will stand in Ontario at Tara Hills Stud in Port Perry for 2017.
The connections of the son of Muscle Hill out of Spellbound Hanover announced the news to Harness Racing Update during Tuesday's Standardbred Horse Sales Company's yearling sale session in Harrisburg, PA.
"We're really excited," said Tara Hills owner David Heffering. "To me, it's history. I get a horse that's a Triple Crown winner, but also a family that has a lot of lineage to it."
Jean Wellwood of Stratford, ON, the widow of the late Canadian and U.S. Hall of Famer Bill Wellwood, owns Marion Marauder with her grandson, Devin Keeling of Cambridge, ON. Keeling is the son of Marion Marauder's training duo of Mike Keeling and Paula Wellwood, Bill and Jean's daughter.
"I was at Tara Hills last week to see the facility," Jean said, "and, as I said to David (Heffering), 'I'm a Canadian and my husband worked hard for the Ontario program many years ago and we supported it well with a lot of fillies and colts that we had, and I'm really glad that Marion Marauder is coming (to your farm).'"
"He's a Muscle Hill. He'll cross with a lot of mares (in Ontario)," Heffering said. "We'll sit down and start working on the crosses with Bruce Brinkerhoff."
Marion Marauder retires with career earnings of $1,766,518, a mark of 1:51.3 taken in the first heat of the Hambletonian. The trotter had a lifetime record of 11-8-3 in 28 starts, but was 10-3-0 in 15 starts in 2016, good for seasonal earnings of $1,484,532. He was driven throughout his career by Scott Zeron. Other than the $1 million Hambletonian, Marion Marauder's takes victories include: the $500,000 Yonkers Trot, $431,000 Kentucky Futurity, $209,040 Goodtimes and the $153,250 Stanley Dancer.
The colt is currently in Maryland for fertility testing and to learn how to be a stallion. Should there be no problems with his fertility, the plan is to syndicate the trotter. Heffering said Marion Marauder's stud fee likely would be $10,000 (Cdn).
Preferred Equine Marketing's David Reid orchestrated the stallion deal on behalf of the family.
"It's a privilege to not only be associated with the Wellwood family — Mike and Devin and Paula and Mrs. Wellwood — but also to be association with a Triple Crown winner," Reid said. "For a horse like that to go back home to Canada and stand at Tara Hills I think is great for Canada and great for the sport. I believe he is going to be well supported by the Americans. I think it's a win-win and I look forward to working with Tara Hills and syndicating the horse."
The connections said they started thinking of Marion Marauder's stallion potential after he won the Hambletonian in August.
"The game changed at that point," Keeling said. "I called Dave (Reid) and said, 'If anybody comes to us, we'll send them to you because that's how it's supposed to be.'"
"We just wanted to race our horse," Paula said. "It's our family horse."
"No external pressures," Keeling added. "The only pressure we put on ourselves. Our plan all along was to race him as our own horse until the Breeders Crown. Some people didn't like that. They thought they would be able to buy into the horse earlier, but we had decided that after his two-year-old year, that this is how we were going to operate. This is our horse and we were going to race him to the very end — win, lose or die. It was the best decision we ever made."
Heffering said he hopes Marion Marauder can one day fill the big shoes of Kadabra, another Tara Hills stallion.
"(Marion Marauder) has a mark of 1:51.3 and I look at stallion barn and I think about a lot of similarities. Kadabra was 1:53.1," Heffering said. "Kadabra has been around for a long time and you fear that the horses aren't always going to last forever, and it scares you wondering how long they are going to be with you."
Keeling said he thinks the move will "give Ontario a boost." Paula said the decision is proof stability has returned to Ontario's standardbred industry. She said her father would approve of Marion Marauder standing in Ontario "and that we did it right. I have no qualms about saying that because, when he could, he stood them in Ontario. That is true. Balanced Image, Dexter Nukes, Dream Of Glory. He was involved in all of those."
Keeling said Marion Marauder was pursued strongly by several U.S. farms, but "at the end of the day, we had a responsibility if we could make it work in Ontario."
Meanwhile, Jean — who asked Paula by phone to purchase Marion Marauder from the 2014 Lexington Selected Yearling Sale after looking through the catalog at home — is already trying to find his replacement and hoping she has some more karma on her side.
Tuesday, Jean called Paula from home and asked her to buy hip 242, a Chapter Seven filly out of I'll Bring Desert from the family of the Wellwood's star Laddie. The price was $70,000.
"She had to sign it 'PC Wellwood – agent.' Well, it's agent for me. She's mine," Jean said, laughing. "I thought she was a nice, nice filly on video, and, of course, I like that family. I went back again on pedigree. Maybe I'm crazy, but if she turns out, she's got the bloodlines to breed to Marauder.