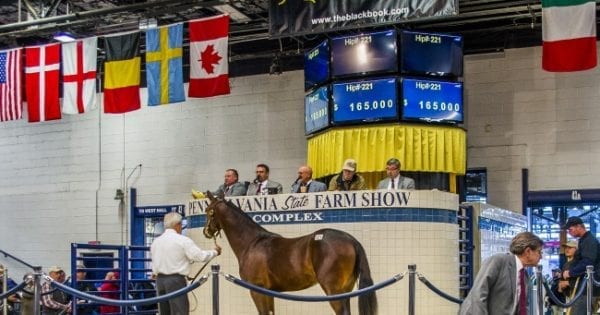 Owner Ken Jacobs usually prefers not to be in the limelight, but he led all buyers at Tuesday's Standardbred Horse Sales Company yearling sale in Harrisburg, PA and purchased the session topper for $165,000. The second session was up 38 per cent over 2015.
by Dave Briggs
Mid-way through Tuesday's second session of the Standardbred Horse Sales Company's yearling sale in Harrisburg, PA, Ken Jacobs of Baldwinsville, NY was in unchartered waters as the man holding the ticket to the $165,000 session topper.
"I don't usually spend a lot," Jacobs said. "I spent $30,000 for Kenneth J, $30,000 for Heston Blue Chip. That's where I usually am, but I can't sneak in, people watch me now. It's a little more difficult. They didn't know who I was before."
Jacobs paid $165,000 for hip 221, an American Ideal colt out of Sight To See named Casual Cool, one of six yearlings he bought Tuesday, spending $540,000 total to lead all buyers in gross purchases during a second session that continued Monday's gangbusters trend.
On Tuesday, 309 yearlings sold and produced a gross of $12,166,000, an average of $39,372 that was up 38 per cent over the 2015 second-session average of $28,599 in which 392 yearlings grossed $11,211,000. Monday's opening session was up 41 per cent in average.
Through two days at the Pennsylvania State Farm Complex, the cumulative average of $53,322 is up 35 per cent over the 2015 two-day average of $39,388. Though, 171 fewer horses sold this year through two days compared to 2015.
"Overall, yes, we're happy," said sale president and CEO Pete Spears at the end of Tuesday's eight-and-a-half-hour marathon session. "We think the sale continued very strong after a fantastic sale yesterday. There was still a great deal of enthusiasm. We had 21 $100,000 horses. I still have many people coming up to me and saying they haven't been able to buy yet, they've been shut out. We're very optimistic that (Wednesday) will be strong as well."
Jacobs, who also paid $90,000 at the 2015 Lexington Selected Yearling Sale for Walner, the top two-year-old trotting colt in North America, said he fully expected a trotter to top Tuesday's Harrisburg session after he bought Casual Cool. While a few were close, including a $150,000 Kadabra filly that sold 10 yearlings before the end of the session, Jacobs still ended up with the session topper.
He said he liked "just about everything" about the pacing colt, "his conformation, his family. Unfortunately, the video was very good, so everyone else liked him," Jacobs said, laughing. "I tried to destroy the video, but they wouldn't let me."
Casual Cool was bred and sold by Fair Winds Farm Inc. of Cream Ridge, NJ.
Jacobs also purchased Chapter Seven—Beyond Blue colt Purple Iron for $100,000, Chapter Seven—Blue Diamonds filly Seven Karats for $75,000, American Ideal—Day Blue Chip filly Prospect Blue Chip for $55,000, Chapter Seven—Musclelini filly Comesevencomelevn for $50,000 and Chapter Seven—Up Front Hotsey colt Petrovic Blue Chip for $95,000.
Walner is also sired by Chapter Seven and Jacobs admitted he bought four Chapter Seven yearlings Tuesday partly to try to replicate that success.
"Chapter Seven is (Walner's sire). I don't know if I can get another one, but we'll try," Jacobs said.
Montreal's Serge Godin, the man who operates the Determination Stable, bought that grey Kadabra filly out of Upfront Ob's Janet from Hanover Shoe Farms' consignment. The filly is named Uvie Hanover and she was the top trotter sold Tuesday.
"She is a high caliber filly," said Luc Blais, who will train the filly for Determination, the stable that through two days leads all buyers with eight yearlings purchased for $1,080,000 total. "Her conformation was very good. I liked everything about her. She looks like a very strong filly. She is beautiful, beautiful. That's why we like her."
"She was a favorite from the day they came in," said Hanover Shoe Farms publicity man Murray Brown. "At one point, at the beginning, I thought she was maybe a $60,000 or $70,000 filly. Then, I thought if someone I knew would let me in for a piece I'd beg to get in, but everybody who saw her loved her. She was a cheerful foal, great gait. I liked everything about her from Day One."
Through two days, Hanover Shoe Farms leads all consignors in gross with $8,871,000 earned for 154 yearlings sold, an average of $57,604.
"There were some spots maybe a hair disappointing, but overall it was a great, great day," Brown said of Hanover's second-day results in which the farm sold 85 yearlings for $3,013,000 total, an average of $35,447.
Preferred Equine Marketing was second among all consignors on day two with $1,627,000 grossed from 51 yearlings, an average of $31,901. Preferred ranks third overall in gross through two days with $2,186,000 grossed. Concord Stud Farm, agent, is the second leading consignor through two days with $2,433,000 grossed for 29 yearlings and leads all consignors in average through two days with $83,897.
Tuesday's session failed to produce a $200,000+ yearling as in past years, but19 yearlings sold for at least $100,000.
"To be honest, if we sold any for $200,000 today they were misplaced because we wanted those kinds of horses the first day," Spears said. "The bottom line is right now we're very, very happy. We have momentum going into (Wednesday) and a lot of people still need to buy."
Muscle Hill-sired yearlings continue to top the trotting averages, with 20 horses selling for an average of $156,150. Chapter Seven is next with 14 horses averaging $70,000 followed by Cantab Hall with 33 horses averaging $69,697.
Somebeachsomewhere-sired yearlings lead the pacing averages, with 58 horses selling for an average of $76,241. American Ideal was second, with 26 horses going for an average of $59,615.
The yearling portion of the Standardbred Horse Sales Company auction concludes today with a 400-yearling session that begins at 10 a.m. The two-day mixed sale begins Thursday.
– with files from Ken Weingartner / Harness Racing Communications