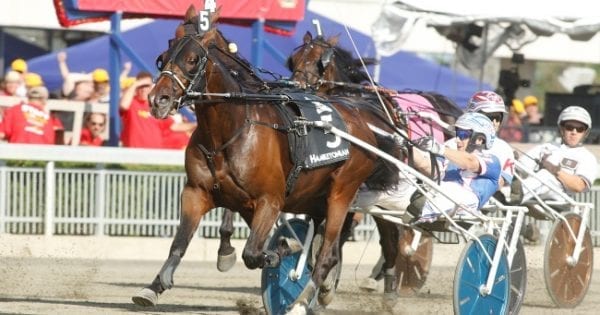 ICYMI – Marion Marauder tested sick after Breeders Crown
by Dave Briggs
Trainer Mike Keeling told Harness Racing Update Tuesday morning (Nov. 1) that Trotting Triple Crown winner Marion Marauder tested sick after fading to last in Saturday's (Oct. 29) $500,000 Breeders Crown final for three-year-old trotting colts at the Meadowlands won by Bar Hopping.
Keeling, who trains Marion Marauder (Muscle Hill—Spellbound Hanover) with his wife, Paula Wellwood, said driver Scott Zeron told him them after the race that, "'At the half, I had no horse. He was just loose-lining and he's never done that before.' He just didn't perform well.
"We brought him off the track and physically, you couldn't see anything. He just didn't seem himself and he was slow recovering and he's always really quick to recover."
Keeling said the next morning their New Jersey vet pulled some blood and discovered Marion Marauder "had a quite elevated white count and his liver and kidney function were out of normal range and he said that points toward a viral infection. The vet said, 'These are the ones that haunt you because they don't manifest themselves until they're racing.' You don't know until they have to perform at 100 per cent and they can't because they have a viral infection. He said, 'Physically, you won't see it and they won't have a temperature and they won't look different to you. Just their body isn't capable to function at 100 per cent.'"
The loss put a damper on a terrific year in which Marion Marauder won the Hambletonian, Yonkers Trot and the Kentucky Futurity, among other stakes, posted a record of 10-3-0 in 15 starts, set a mark of 1:51.3 and earned $1,484,532 for Wellwood's mother, Jean Wellwood, and Paula and Keeling's son, Devin Keeling.
"It was a bitter pill to swallow (Breeders Crown) night, but we weren't long getting over it," Mike said. "As long as he was fine and he was still happy and himself, that was all that mattered. He still trotted in :53. That tells you how tough it is at that level. They have to be at or near 100 per cent every start. It's just crazy competitive."
Mike said Marion Marauder's season is over and no decision has been made, yet, about the colt's future.
"The Breeders Crown was always his last race of the year and that's why we raced through it. Most people said, 'You should just end the season after the Triple Crown.' We said, 'No, we've stuck to his schedule.' Other than throwing in the Kentucky Futurity, we had a plan for him and the plan was to race him through the Breeders Crown before we made any decisions about anything. We did. It just didn't work out the way I had dreamed it in my head… He's now on a well-deserved holiday.
"In hindsight, we got lucky that it didn't happen in August (in the Hambletonian). This could happen to anybody. Horses get sick. They're not machines. I was just kind of shocked in the moment, thinking, 'Wow, we're getting the trip we want and he's not keeping up. That's not Marauder.' It was obvious to the world that something was not right, but it wasn't soundness or anything. It was just purely a sickness issue."