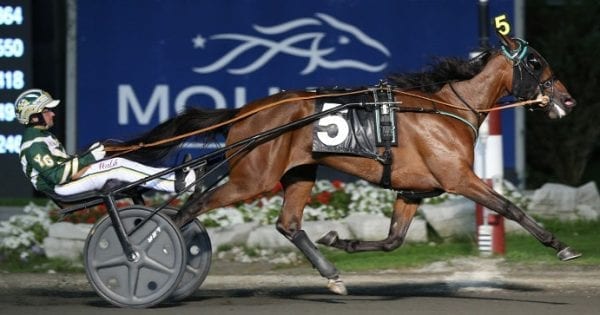 Will it all come down to the Breeders Crown?
A further analysis of each division-by-division race.
by Bob Marks
It all comes down to the Breeders Crown, or so says that marvelous slogan that has indeed endured the test of time.
In most cases it does, but let's examine the recently concluded 12 races and see exactly what did come down.
A thing to remember, too, is that, in some divisions, there is life after the Breeders Crown particularly at Hoosier, Dover, and the upcoming final four in Canada.
In the open mare's division, Hannelore Hanover defeated Bee A Magician, virtually re-enforcing her claim to the aged mare title. It was Hannelore Hanover's 16th win in 19 starts. It was the first loss of the year in just five starts for Bee A Magician, who sat out much of the summer with a tendon injury.
In the open pace for horses and geldings, Always B Miki edged his chief rival Wiggle It Jiggleit but he'll most likely have to do it again in the upcoming TVG Free-For-All at the Meadowlands on Nov. 12 to solidify his hold on the divisional championship.
There are four other Breeders Crown winners that likely locked up their division title. They include:
• Lady Shadow in the open mare pacers thanks to her open-length Crown tally.
• Ariana G in the two-year-old filly trotters' division. Her Crown win maintained her dominance of this division and solidified her Championship aspirations with her ninth seasonal victory.
• Walner in the two-year-old trotting colts' group. He solidified his stranglehold on divisional honors with a decisive Crown victory. This race won't be close.
• Broadway Donna in the three-year old filly trotters' category. Her overhaul of front-stepping All The Time will likely clinch divisional honors, though it could be more of a plurality than an actual landslide given her rival's season-long body of work.
However, there are six other divisions likely still up for grabs or unlikely to go to the Crown winner:
• Huntsville likely locked up the two-year-old pacing colt title when he defeated chief rival Downbytheseaside, but divisional honors might just flip if Downbytheseaside wins the rematch in Canada.
• In the open trot, Flanagan Memory was along in time to best Resolve, though it probably won't be enough to overtake the latter for the divisional championship.
• The two-year-old filly pace featured one of the closest Crown finishes of the night, but Someomensomewhere's win might not be enough for her to overtake division-leading Idyllic Beach. A win by Someomensomewhere in the Kindergarten could put her over the top. This race will be interesting.
• Bar Hopping won the Breeders Crown for three-year-old trotting colts and won the Canadian Trotting Classic in September, but he's unlikely to dethrone Triple Crown-winning Marion Marauder for the division title.
• Call Me Queen Be won the Breeders Crown and threw a monkey wrench into the aspirations of divisional leaders Pure Country and Darlinonthebeach. Sometimes late impressions are the best impression and Queen Be does have decisions over both rivals, in the PASS final, the Jugette world record heat and now the Breeders Crown. This race could be very interesting.
• Racing Hill dominated the Breeders Crown for sophomore pacing colts, but it won't be enough to overtake divisional leader Betting Line. Still, it could dent Racing Hill's margin of victory somewhat.
It all comes down to The Breeders Crown is a great slogan, but, often, there is life thereafter.