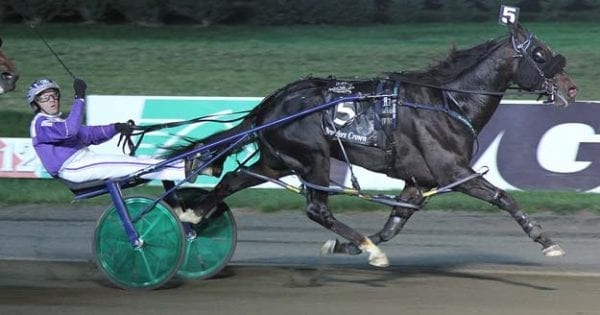 Racing Hill finally gets lucky
by Bill Finley
At some point, Tony Alagna had to be thinking that he was never going to catch a break with his colt Racing Hill. He lost the Meadowlands Pace by a nose to Control The Moment and he and driver Brett Miller insist that what kept them from winning was Miller's inability to pull the earplugs out. He got a brutal trip in the Little Brown Jug elims and Alagna was so discouraged he scratched him from the Jug final. In the elims for the Breeders Crown, he was sick and finished a lackluster fourth.
You might say he was overdue for some good fortune, and at last it happened.
In Saturday's Breeders Crown Final for three-year-old male pacers, things could not have gone better for the son of Roll With Joe who is out of the American Ideal mare Chasing Ideals. His first break actually came a week earlier when the division's leader, Betting Line, had to be withdrawn from the elims after suffering a spider bite. With Betting Line out and with Control The Moment having been retired earlier in the year, the division was far from deep entering the Crown final.
Sill, there were some tough horses in the field, including elim winners Western Fame and Check Six and race favorite Lyons Snyder from the Jimmy Takter barn. But two, Check Six (Yannick Gingras) and Lyons Snyder (Brian Sears), virtually lost all chance when they hooked up in a brutal battle for the front. Check Six had the lead and Sears tried to brush past him on the backstretch, but Gingras was intent on holding his position. That led to fractions of :26.3, :53 and 1:20.2, too fast for them to overcome.
As they were going toe-to-toe, Miller had Racing Hill spotted perfectly in fourth, swept by the two leaders near the top of the stretch and then held off 60-1 shot Manhattan Beach to win by three-quarters of a length.
"There's no doubt the fractions, with the way they raced, made us a winner," Miller said. "At the same time he still won in 48 flat and went a heck of a mile. He felt like his old self tonight. I knew he could race from off the pace, but when you race from off the pace at this track you better hope they go fast fractions, and they did."
Alagna said he knew Racing Hill was in big trouble when he shipped to the Meadowlands a week earlier for the elims.
"Last week when he shipped up here, he literally, when he walked off the truck that Friday night, was ringing wet," Alagna said. "He's never been like that. When he got off the truck I said 'he just left his race on the truck.' Saturday, he was all dull as a horse could be. I had to chase him warming him up and I've never had to do that before. He just hasn't had the best of goes lately, but tonight I told Brett that you've got your horse back, he's ready to rock."
Racing Hill is a homebred owned by U.K. native Tom Hill, who won his first Breeders Crown race. Hill was not in attendance but was represented by sons William and Richard. Tom is somewhat of an oddity as he resides in a country where harness racing is virtually invisible, but loves the sport and, according to his sons, has no interest in thoroughbred racing.
"My father been into sport into sport since the early '60s," William Hill said. "My grandfather loved it, too, so he was born and bred into racing. (Standardbred) racing is very small in England but very big over here. He used to race in England, but not anymore. Everything we have now is in the U.S. or Canada. It's an expensive hobby but my father loves it and I am sure he is over the moon right now."
Hill estimated that his father has 80 to 90 horses in training.
The family was disappointed they didn't walk away with two Crown wins. In the three-year-old filly trot, their Caprice Hill had a brutal trip and could not find room in the stretch. With Tim Tetrick driving, she finished fifth.
"Caprice didn't get the trip she should have had," said William Hill. "Terrible drive. We should have had two Breeders Crown wins."
As for Check Six and Lyons Snyder, Check Six somehow held on for third. Lyons Snyder was last in the field of 10.