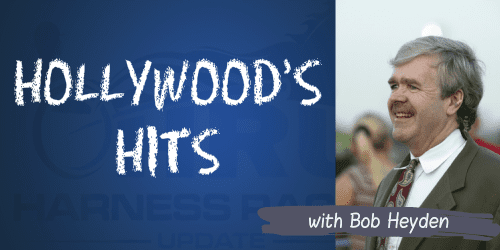 Hollywood's Hits: Breaking down the Crown
With Breeders Crown eliminations on tap tonight (Oct. 21) and Saturday (Oct. 22) at the Meadowlands, here are some notes of interest:
• Total horses in the elims 147 (29 on Friday and 118 Saturday (every horse in every race).
• Eleven millionaire horses are entered.
• Pacing stallion Somebeachsomewhere leads the way with 25 offspring entered. Trotting stallion Muscle Hill has 21 offspring racing.
• John Campbell is listed on five in the elims, four of them females: L A Delight, Rock Me Baby Cameron Hill and Celebrity Eventsy, as well as trotting colt Blenheim. As Campbell closes in on $300 million lifetime, it should be noted that he eclipsed the $100 million plateau in the Breeders Crown with trotting female Armbro Keepsake in 1991. He also eclipsed the $250 million career milestone with trotting female Snow White in the Breeders Crown at the Meadowlands in 2007.
• Five trainer/drivers are participating in the elims: Pat Lachance, Charlie Norris, Ake Svanstedt, Jeff Gregory and Trond Smedshammer.
• Eight female trainers have horses in the elims: Casie Coleman, Paula Wellwood, Linda Toscano, Tracy Brainard, Nancy Johansson, Annette Lorentzon, JoAnn Looney and Julie Miller.
• Three maidens will appear in Crown eliminations: Voxy 0-3; Another Chapter 0-9 and Ebury Street 0-6.
• In town trying for some Crown glory are the following drivers: Doug McNair, Randy Waples, Chris Christoforou, Jr., Sylvain Filion, James MacDonald, Dave Palone and George Dennis.
• Jimmy Takter's 16 entrants employ six different drivers.
• No Breeders Crown winner from 2015 had ever won a Breeders Crown before. This year, Pure Country, Boston Red Rocks, and Divine Caroline are all on the elimination card and will be looking for Crown repeats.
• Notable broodmares with offspring racing in Crown elims includes: Windylane Hanover, Tug River Princess, Flawless Bluestone, Cabrini Hanover, C R Kay Suzie, My Little Dragon, Darlins Delight, Idyllic, Rum Boogie, Yellow Diamond, Spellbound Hanover, Silver Springs and Broadway Schooner.
• Western Hanover (11) and Artsplace (nine) have sired the most broodmares with progeny in this year's Crown elims.
• Driver Scott Zeron looks to become the first driver ever to win a Breeders Crown after winning a Triple Crown (which he did with trotter Marion Marauder).
• When Marion Marauder goes to the gate, Zeron will become the second driver in the 21st century to drive a Triple Crown winner at the Meadowlands after winning the Triple Crown. David Miller first accomplished the feat when he drove Pacing Triple Crown winner No Pan Intended to victory in the 2003 Breeders Crown at the Meadowlands.