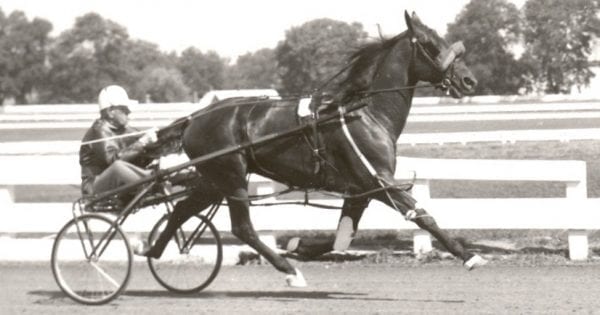 From Star Pointer to Always B Miki
The progression of pacing speed
When Always B Miki thrilled the Kentucky Futurity Day crowd at Lexington with his 1:46 win last weekend, he became only the second first pacer in over a century to set the absolute standardbred speed record in a race.
Other pacers had set speed records in time trials and some records had been equaled in races, but for the first time in 50 years a pacer became the fastest horse ever by virtue of a race, not a time trial. The only previous horse to accomplish this was Bret Hanover in 1966.
Miki's thrilling achievement wasn't the only momentous achievement on that perfect day in the Bluegrass as Marion Marauder, a horse with a nose for the finish line, wrapped up the Triple Crown for trotters.
The path from the first 2:00 mile to 1:46 took 119 years and covers some of the most famous harness horses ever to wear hobbles — and a few that didn't wear hobbles.
One of the favorite topics on the hot stove circuit in the late 1800s was whether a gaited horse was capable of covering a mile in two minutes time. Could a horse possibly pull a sulky at a speed of 30 miles per hour? (A century ago, the "hot stove circuit" was a popular term for when horsemen would gather in chilly weather to debate the merits of horses and drivers.)
The horse that answered this question affirmatively was a rugged, fast, and unsound steed named Star Pointer. On Aug. 27, 1897, he ventured onto the now long-forgotten track at Readville, MA (suburban Boston) for the fin-de-siècle version of Mission Impossible: he was going to attempt to loop the mile track in less than two minutes time.
He paced into the history books with a 1:59-1/4 miracle to finally answer the question if a gaited horse could cover a mile in less than two minutes.
Star Pointer gave brief popularity to the old Tennessee Hal pacing line, but soon a wonder horse from the Hoosier State would soar to national prominence.
Dan Patch was foaled the year before Star Pointer paced the first 2:00 and Dan would take pacing speed into new territory, but not without considerable controversy and criticism.
Dan Patch didn't race until he was a four-year-old in 1900 and proved to be a marvel, losing only twice in 56 heats. His best winning time was 2:03-3/4. That was fast enough in 1902 that he simply paced himself out of competition and embarked on a career as an exhibition horse.
Dan Patch toured the countryside and performed at county and state fairs simply to demonstrate his speed. His time trials were unlike those that later became so popular in the 20th century. Dan paced behind a thoroughbred whose sulky was equipped with a canvas windscreen to allow Dan Patch to trail close and never take any air.
Many horsemen decried the method, but Dan Patch paced a mile in 1:55-1/4 in this fashion before the method was outlawed. That didn't bother owner Marion Savage as he continued to exhibit Dan with a thoroughbred and windshield and Dan paced a mile in 1:55 after the method was declared illegal. That didn't bother Savage and he advertised Dan Patch as the "1:55 Pacer." That record was, however, never officially recognized.
Criticism of Dan Patch grew so loud that Savage took the bait offered by those who questioned how fast Dan could pace "in the open." Dan answered the question by pacing in 1:58 at Memphis. That 1:58 mile is perhaps the best and fairest basis on which to compare Dan Patch's speed to subsequent time trials.
When Dan Patch retired, he was heralded as the "greatest public entertainer of all light harness horses."
Harness historian John Hervey, who was familiar with every step of Dan Patch's career, called him "among the greatest of all time." But certainly not the greatest.
Dan Patch's 1:58 mile in the open lasted a decade until it was shattered by a beautiful and blazingly-fast free-legged chestnut pacer named Directum I. He looped the New York State Fair in 1916 in 1:56-3/4. (He had previously tied Dan Patch's time mark of 1:58 in a race at Columbus, OH.)
Directum I was billed as "the pacer with running-horse speed" and in 1916 he paced an official half-mile in :55-3/4, which was drag-racing speed in the World War I era.
In 1938, Billy Direct, foaled in Tennessee, was entered in a free-for-all pace at Lexington. When the small field reached the starting line, the starter yelled "Go!" and then also rang the recall bell.
Several horses paced into the first turn and raced on while others pulled up after hearing the recall bell. Confusion reigned.
Billy Direct was one of those horses that pulled up, and trainer/driver Vic Fleming asked the judges for permission to time trial his horse since he'd lost the chance to race for money.
Fleming brought Billy Direct back to the track later and the stocky horse paced a 1:55 mile, establishing a new speed standard.
(Controversy surrounded that record, however, as many people claimed that Billy Direct was "hopped" with a stimulant before the time trial. Others deny that. We will certainly never know. That isn't the only thing we'll never know about Billy Direct as I was once told that a prominent horseman said that Billy Direct raced as a two-year-old in 1936 when he was actually older. The Billy Direct saga is indeed intriguing.)
It wasn't until 1955 that a pacer could match Billy's Direct's speed and that came when the incredibly-fast Adios Harry equaled the mark at Vernon Downs. Harry's mile came at night in a race over a track smaller than one-mile. In that era, harness racing was truly wild about Harry.
Four years later, Adios Butler, another son of Adios, took standardbred speed into new territory with a 1:54.3 time trial at Lexington.
Bret Hanover completed the Adios Triumvirate of Champions when he won in 1:54 at night in the summer of 1966 over the Vernon Downs track. But his trainer Frank Ervin felt Bret had more in the gas tank and came back later in 1966 to lower the bar to 1:53.3 at Lexington.
In 1970, a blood bay sophomore colt named Steady Star startled standardbred aficionados when he stopped the timer at 1:54 in a Lexington time trial. He was certainly not the best three-year-old of that season. That honor belonged to Most Happy Fella and Columbia George, but Steady Star had gone a full second faster than Most Happy Fella's time trial and two seconds faster than Columbia George raced.
That mile spawned a plan to bring Steady Star back to The Red Mile the following fall to see if he could do better. Indeed he did. With driver Joe O'Brien hunching down behind the horse's hind quarters to lessen wind resistance down the backstretch, Steady Star paced in an astonishing 1:52.
I was with a group of horsemen who went to the backstretch afterwards to measure Steady Star's stride and I believe that it was 22 feet and eight inches.
That mark stood inviolate until the majestic Niatross, he with the sweeping stride and speed to spare, stunned the harness racing world with a 1:49.1 time trial at Lexington in 1980. The numbers on the timer were improbable, but accurate.
It seemed certain then that this record was inviolable and would have a long stay as the ultimate in standardbred speed. But in 1988, a sophomore pacer that was ineligible to the Jug shipped to Lexington and stunned a small group of onlookers with a 1:48.2 time trial.
His name was Matt's Scooter and he had a flying, picturesque gait that perhaps derived from the numerous trotting titans in his pedigree.
Five years later, that 1:48.2 mark was matched in a race by Staying Together, a gelding trained by Bob McIntosh, one of our greatest contemporary horsemen. In June of 1993, the gelding humbled a group of free-for-allers at the Big M, winning for driver Bill O'Donnell in 1:48.2 in a pacesetting performance.
Two months later, Cambest, the horse that finished third behind Staying Together in that 1:48.2 mile, ventured to the Illinois State Fair, long considered by horsemen as the fastest piece of dirt in the sport. In a time trial there — also with Bill O'Donnell driving — Cambest whacked out an eye-popping 1:46.1 mile.
Onlookers were stunned. The applause was long and loud.
But there was a fly in the ointment. The electric timer did not function. USTA rules stipulate that a time trial performance is invalid if not electronically timed. No exceptions (then or now).
Many people thought that the USTA would invalidate the performance. A brief controversy ensued, but the USTA approved the time based on hand timing of the mile from a videotape.
Cambest's mile stood as the pinnacle of standardbred speed until Always B Miki crossed the wire last weekend at Lexington.
He gave all the stars of the future a new target.