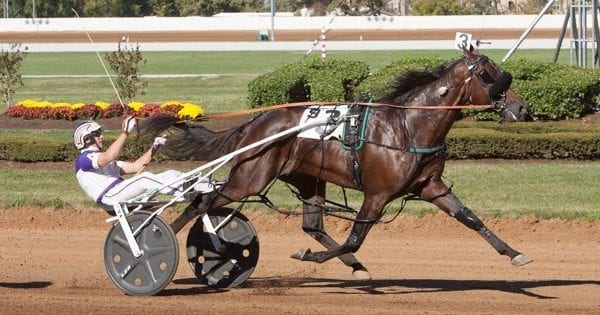 Always B Miki sits atop the world with the fastest mile in harness racing history
by Dave Briggs
Truth is, Always B Miki's connections were nervous Sunday before the pacer recorded the fastest mile in harness racing history with an epic 1:46 performance at Red Mile. Team Miki didn't doubt the five-year-old's phenomenal ability, or his two surgically repaired legs. The group was worried about the shadows stretching long across the crimson clay in the late afternoon autumn sun.
"He didn't warm up well," said trainer Jimmy Takter. "He was scared of shadows. I was so nervous before (the race) and I never get nervous like that, but I was."
Part-owner Bob Boni remembered Always B Miki had been scared of shadows when was younger, before the pacer was trained by Takter.
"Jimmy said, 'I'll put a shadow roll on him and I'm going to ask David (Miller) to score him down well up the backside,'" Boni said. "I was watching this race with another level of anticipation that I didn't have before then and, lo and behold,everything worked out great. That's just a little extra something. He hasn't raced in the daytime."
The mile came in a field of five contesting the $138,000 Allerage Farms open pace. Always B Miki sat third in the early going as Shamballa and Scott Zeron led the field to the quarter in :26.1. Always B Miki took command after that and rolled through fractions of :52.2 and 1:19.4, the latter bringing a roar from the crowd.
"To hear the crowd when they announced 1:19.2, the crowd behind him cheering – that they wanted to see something like that — you can't bottle that, you can't repeat it, you duplicate it, you can't tell somebody what it is, you have to be there. It's just phenomenal," Boni said. "There's no better place in racing to win a big race than (Red Mile)."
Always B Miki came home in :26.1 to defeat Shamballa by one-and-a-quarter lengths and erase the previous race record of 1:46.4 shared by four horses — Somebeachsomewhere, He's Watching, Warrawee Needy and Holborn Hanover — and the 1:46.1 time-trial mark set in 1993 by Cambest.
"He felt good the whole way," Miller said. "I really thought maybe the three-quarters was a little too slow, but, he's an incredible horse and does incredible things and I couldn't be happier with him.
Boni — who shares ownership of Always B Miki with Bluewood Stable (William Jones, Jillian Luff, Mitchel Skolnick, Bluestone Farms and Kitty Hawk Stable (Boni and Stuart Hankin)), Roll The Dice Stable (Joseph Hurley) and Christina Takter — said Always B Miki, "had legitimate, quality horses out there on his back and, at the wire, he was pacing away. He fought them off through the stretch, but then when they get deep stretch that's when he always separates himself. He just keeps going."
Afterward, Boni stood beside Always B Miki's stall admiring the equine specimen.
"He looks great, acts great. It's just phenomenal. The job that Jimmy has done, I just can't say enough about the effort," Boni said.
Takter, who was crying a little in the winner's circle, could not say enough about Always B Miki.
"I get very attached to my horses," Takter said. "He's just a wonderful horse. He's the greatest horse I've ever been around in my life, and I've been around the best horses in the world, like Moni Maker and those horses. This horse is my number one horse that I've ever been around.
"He's a big horse, but you're not going to see everything inside. He has probably the best lungs ever, the biggest heart ever and the smartest horse ever. He never pulls. It's mechanical."
All this after having both his left and right hind long (P-1) pasterns surgically repaired with plates and screws by Dr. Patty Hogan in 2014 and 2015, respectively.
"He deserved this," Boni said of the world record. "With what he's been through, and tough luck here and there, he's never really had an opportunity to do this… and he got it today and it was great."
The victory pushed the Indiana-bred son of Always A Virgin out of Artstopper over $1 million on the year and was his 27th victory in 50 career starts. Always B Miki, who will stand at stud at Diamond Creek Farms in Pennsylvania beginning in 2017, has earned $2,296,368 lifetime.
"It's a wonderful creature, that one," Takter said, adding that he can only imagine how much faster Always B Miki might have gone on a warmer day.
"It was a great day, but if it would have been Thursday or Friday it would have been 1:45.2. It was so much faster, especially on Thursday. It was an extremely fast track here," Takter said.