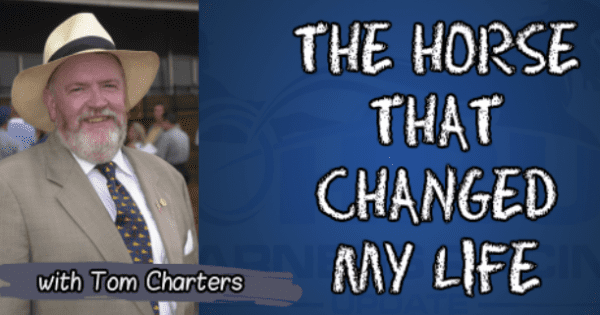 The Horse That Changed My Life: Tom Charters
by Dave Briggs
Long before he became president and CEO of the Hambletonian Society, Tom Charters was the caretaker for Delvin Miller's great pacing mare Delmonica Hanover.
"Obviously, she was a great. But, I just kind of hung onto her tail," Charters said.
Instead, the horse that changed Charters' life was a simple pacing mare named Barbara Hudson owned and bred by the Hackett family of London, OH. When Barbara Hudson came along in the mid-1960s, Charters was a teenager and close friends with Rick Hackett.
"Now he's Dr. Rick Hackett from Cornell," Charters said. "We were born a few days apart. He was a friend and he was taking care of Barbara Hudson, the family horse, for his father. I remember he was bathing her and I thought this was the coolest thing I had ever seen, a job where you really got to lay hands on horses. The next summer, I went to work for the Hacketts.
"(Barbara Hudson) was just the family horse. She was by Guy Hudson, who was a three-quarter brother in blood to Greyhound, but she was a pacer, a chestnut pacer. I don't even have a picture of her, but she is the one (Rick Hackett) was taking care of. Later, I saw Bret (Hanover) and his Jug. And even Bret at Scioto Downs. When I saw Bret (Hanover) win his Jug I knew I wanted to get involved with good horses, great horses. Then Delmonica Hanover was the luck of the draw because nobody wanted to take care of her. But I always point out to people that I took care of Delmonica the two years she didn't win any big races."
Charters did, however, tour Europe with Delmonica Hanover, though not the year she won the Prix d'Amerique.
"She won some races at some small tracks in Germany and she raced in the Elitlopp and she raced in the Lotteria. She won a heat in Berlin. Then the non-German horses had to take a 30-metre handicap," Charters said. "But, if I had to pick the one horse, (Barbara Hudson) is it. I think eventually she ended up in claimers and there was great angst in the family because Barbara probably sent a lot of (Hackett) kids to school. All the horses were by the family stud, Guy Hudson."