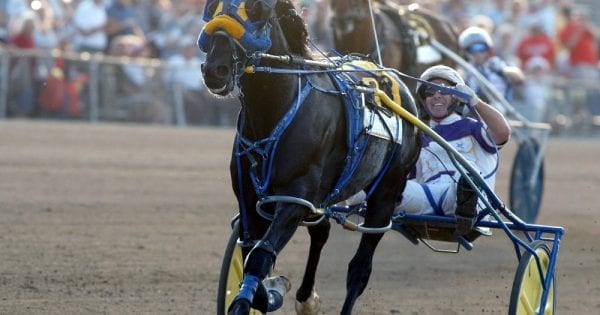 Hollywood's Hits: Bettor's Delight / Western Hanover combos top Jug recap
This year's Little Brown Jug and Jugette winners were both sired by Bettor's Delight and out of Western Hanover mares.
Jug winner Betting Line is out of Heather's Western and Jugette winner L A Delight is out of West Of L A.
It's an impressive feat considering Bettor's Delight hand only one offspring in each race.
David Miller – elder statesman
David Miller, for the first time while winning the Jug, was the oldest driver in the race and, at age 51, is the seventh driver 50 or older to win the Jug. He joins Ron Piece (53 in 2009), Mike Lachance (50 in 2001), Billy Haughton (50 in 1974), Joe O'Brien (55 in 1973), Frank Ervin (61 in 1965) and Clint Hodgins (52 in 1959).
Miller's Jug debut was with Ruff Hewn in 1992. He was second and then third at 40-1.
Miller is now the eighth driver to win the Little Brown Jug after having gone into the Hall Of Fame. He joins Pierce, Lachance, John Campbell, Herve Filion, Stanley Dancer, Billy Haughton and Joe O'Brien on that list.
Miller's Jug history now reads 30 times on the board from 52 tries.
Third times a charm
Trainer Casie Coleman won the Jug for the third time in five editions and did it with three different drivers. Scott Zeron won the 2012 Jug with Michaels Power, Brian Sears drove Vegas Vacation to victory in 2013 and Betting Line this year was David Miller.
Coleman is the third trainer to win the Jug three times in a five-year span (2012, 2013 and 2016).
Brett Pelling did it last in 1996, 1998 and 2000. John Simpson, Sr. did it in style driving and training his trio in 1956, 1957 and 1960.
Coleman is not the first female to win the Jug. That honor goes to Caroline Lyon, who had Nicks Fantasy in 1995. Coleman is the second woman to post a 1:49 mile at Delaware, ON. On Sept. 19, 1999, Linda Toscano's Jet Laag won with driver Luc Ouellette beating older pacers in what was then a track and world record time.
But Betting Line's 1:49 in the final is the fastest Jug heat ever. Miller also owns the fastest mile ever recorded at the track — the 1:48.1 mark set by Pet Rock in 2013.

Her lucky Nichol?
Mac Nichol, one of the owners of Betting Line, was aboard the Coleman Express when the train first left the station in 2005 and American Ideal became history's first sub-1:48 sophomore.
Great in a crowd
In 1982, John Campbell won the first Jug that had as many as 25 entrants when he drove Merger to victory. In 1995, Campbell won the first Jug that had 30 entrants when he piloted Nicks Fantasy.
Cam Fella's revenge?
Cam Fella was a supplemental winner to the Cane and Messenger in 1982, but supplements were not allowed to the Jug then for either winner. No matter, he sired four Jug winners, His son Cam's Card Shark sired three Jug winners and his grandson Bettors Delight has now sired two Jug winners.
First time in 25 years?
Betting Line is on the fast track to do something not done in a quarter century — win the North America Cup, Little Brown Jug and be named Horse Of The Year. Precious Bunny was the last to do this in 1991.
Betting Line is the fifth horse in the last 25 years to win both the NA Cup and the Jug. The others are: Precious Bunny (1991), Bettor's Delight (2001), Tell All (1997) and Well Said (2009).
Betting Line's 1:47.2 mark was the fastest entering the Jug and his 1:49 Jug win is the fastest ever leaving Delaware, OH.
The pacer has now won 13 in a row. Muscle Hill won all 12 in 2009 and his final 20. Donato Hanover had 19 career wins — all consecutively. Somebeachsomewhere won his first 10 and his last 10 career. Rock N Roll Heaven won his last 10 in 2010.
All were name Horse of the Year.
Jug quiz
Q. Who was the last horse prior to Bettors Delight to win the Little Brown Jug and then sire two Jug winners?
A. Niatross, the 1980 winner, sired Jug winners from his first two crops — Nihilator in 1985 and Barberry Spur in 1986. Prior to Niatross, progeny of 1965 Jug winner Bret Hanover won the Jug back to back — Strike Out in 1972 and Melvins Woe in 1973.
Lone homebred
Western Fame, who won his heat in 1:50.1, was the only homebred in either Jug heat. It was also 10 years to the first time Mark MacDonald and Jimmy Takter won the Jug of 2006 with Mr Feelgood.
Takter vs. Burke
Who would have guessed that coming into this year's Jug that trainer Jimmy Takter would have had more Jug starters than Ron Burke? Takter led that category 20-19.