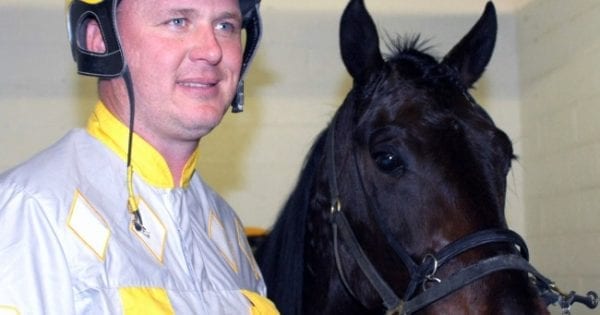 Checking the Trainer Trends
A look at how some of the sport's top trainers are fairing compared to a year ago.
by Joe Fitzgerald
Holding Steady
Perennial top grossing trainer Ron Burke is on pace for another stellar year. As of Aug. 15, he was only $132,590 short of his total earnings on that date in 2015. Keep in mind that we're talking about close to $12 million. Last year, Mission Brief was sixth on the money list at this point, but she was his only entry in the top 20. Right now Southwind Frank, Check Six, Hannelore Hanover, All Bets Off and JK Will Power are all in the top 20. Burke was the leading trainer at the Meadowlands. He is on top at The Meadows, second at both Pocono Downs and Harrah's Philadelphia and fifth at Yonkers. He's a busy boy.
Jeff Bamond keeps a very low profile; the fact that he's made more than three quarters of his starts at quiet Yonkers Raceway is responsible for much of that. The indefatigable Krispy Apple is still getting it done, with more than $137,000 banked already, but Anndrovette and Venus Delight have fallen short of expectations. The former has one win in 12 starts. And PH Supercam isn't what he was. Still, number five Bamond has only dropped one spot from a year ago.
Julie Miller was seventh on the money list on Aug. 15, 2015 and she was seventh on that date this year — color her consistent. Milligan's School, Sutton, Allerage Star, Southwind Hope and freshmen Devious Man, Big Man Ev and Money MacIntosh are a few of her charges.
Trending Up
Tony Alagna, on the strength of Adios and Hempt winner Racing Hill and OSS stalwart Caprice Hill, has gone from eighth at this point last year to fourth. The former, who is raising the profile of his daddy, Roll With Joe, is surely benefitting from Tony's experience campaigning Captaintreacherous. Alagna has taken advantage of numerous opportunities in the Ontario program in recent years, and he's the number nine trainer at Mohawk.
Richard Moreau, the top trainer on the WEG circuit and Canada's answer to Ron Burke, has gotten even better. He was ninth at mid-August of last year, but has moved up to sixth in 2016. He finished the 2015 season at number 13. Golden Son, Evenin Of Pleasure, Silverinyourpocket and PL Kahluaa are a few of his winners.
Ake Svanstedt was 19th this time last year, a half-season removed from money tree Sebastian K's retirement, but he's currently in ninth. Dexter Cup and EBC winner, Dante, the crack Lucky Chucky filly, Non Stick, and of course, Cutler and Cashman winner Resolve, are a few of the reasons for his rise.
Linda Toscano, who is having a very good year in the NYSS, has moved up from 15th in mid-August 2015 to eighth this year. Soft Idea, Robin J, Planet Rock and World Apart are a few of her better fillies.
Dylan Davis continues to amaze. The trainer of speedball Mel Mara and NJSS star and Tompkins Geers winner Every Way Out (Howard Taylor) has gone from 40th one year ago to 15 right now. He's acquired the Midas touch.
Casie Coleman had 25 per cent fewer starts in 2015 — when she finished the year in 23rd place — than she had the previous year when she ended up in fourth. Last year, in mid-May, she was at 44. Right now, the trainer of Betting Line is at 25. She's the number five trainer at Mohawk.
Anette Lorentzen was off the top 50 last August, but she's at number 30 right now. The Credit Winner filly Earn Your Wings and the Dejarmbro freshman filly Madera AS are both performing well for her. Lorentzen's charges have already earned $940,293 this year.
Rick Zeron is another who was off the board a year ago, but is now at number 37, with almost $857,000. U.S. Pacing Championship winner Shamballa was good for almost $300,000 of that.
Trending Down
Jimmy Takter is $970,000 short of his mid-August 2015 haul. And since his earnings are only 37 per cent of Ron Burke's haul that shortfall is substantial. Hambletonian winner Pinkman had won eight of nine for $1.1 million to this point last year. The winner of one race in Europe and none in North America has only earned $76,000 this time around. And Wild Honey had banked almost $400,000 by mid-August of 2015, but she's now across the sea. The Bank is also gone. Not that the cupboard is bare: Takter has the top sophomore pacing filly Pure Country, older beast Always B Miki and recovering Oaks winner, All The Time. As a matter of fact, he swept the three $55,000 splits of the Hickory Smoke on Aug. 16, the day after these stats were tallied. So, he's once again a sure bet for second on the money list. However, Burke may prevent Takter from getting that fifth Trainer of the Year award in 2016.
Gilbert Garcia-Herrera, who was sixth at the close of 2015, was fifth one year ago, but is now in 10th, despite being the leading trainer at Harrah's Philadelphia.
Brian Brown has no Lost For Words this year, but he is doing very well in the Ohio SS with the likes of Type A Grey and Bye Bye Felicia. Still, he's dropped from 12th a year ago to 21st today. Brown is the number two trainer at Scioto Downs.
Virgil Morgan Jr., the leading trainer at Scioto Downs, was in sixth a year ago and finished 2015 in 10th, but he's currently at number 21.
Tony O'Sullivan, the number 11 trainer a year ago, has fallen to 22. The Kiwi expat, who had Muscle Baby Doll raking in OSS cash in 2014 and 2015, has Calvin K and Happy Trio, to name two, this year.