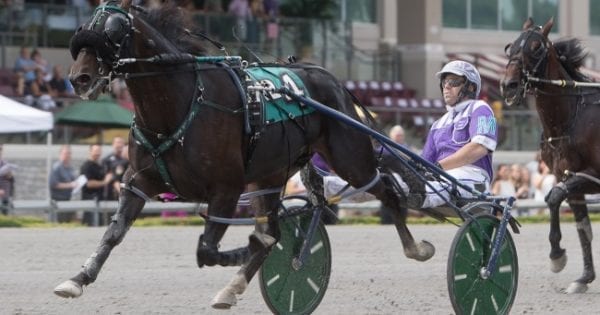 Racing Hill stunning in Adios
Despite brutal early fractions, favorite Racing Hill still pulled away in the stretch to deliver an astonishing Adios victory for driver Brett Miller and trainer Tony Alagna.
by Dave Briggs (winner's circle quotes by Jeff Zidek and additional copy by Evan Pattack)
Driver Brett Miller said he "wanted to throw up" when he saw :52.1 half-mile split flash up on the teletimer, but somehow Racing Hill not only survived brutal early fractions, the pacer pulled away in the stretch Saturday (July 30) afternoon at The Meadows to win the 50th edition of the Delvin Miller Adios.
"I said, 'There's no way this horse can keep going' and he did," Miller said. "Thank God this horse is just razor sharp. I don't know if I've ever seen a horse go :52.1 and then start pulling away around the top of the stretch. He was just amazing today."
The 1:48.4 victory over a "sloppy" track rated one second slow, was not only an astonishing performance, it was also a career best for the homebred son of Roll With Joe out of Chasing Ideals owned by Tom Hill of Great Britain and trained by Tony Alagna.
"When I pulled his earplugs in the last turn, he took back off," Miller said. "That was just amazing. Tony Alagna has done some kind of job with this horse. Horses don't do that. That was incredible."
Alagna said Racing Hill, "took my breath away and I have a lot of faith in this horse. He even amazed me today."
Racing Hill, the 2-5 favorite, defeated 3-1 second choice Check Six by two-and-a-quarter lengths. It was Check Six and Yannick Gingras that tested Miller right from the start, looping in front from the five hole and parking Racing Hill (post four) off the wings.
"From the get-go, the race wasn't going the way I wanted it to," Miller said. "I was hoping, maybe, Lyons Snyder fired out of there. I was hoping for a few other people to leave up against the two Burke horses that I thought would be leaving and when they didn't, I kind of started shooting for the three-hole and it really wasn't there. To be honest with you, when we came around the first turn, I said to myself, 'We're in trouble.'"
Alagna said he didn't expect a nine-horse field featuring five horses trained by Ron Burke would make it easy on Racing Hill — "I knew they were going to make him earn it" — but he said Miller gave him confidence.
"You never want to see your horse stung at :25.2 and… when it flashed up :52.1 of course I was concerned, but I'm a big believer in watching a driver's body language in the bike and you could tell by the way Brett was sitting in the bike that he felt like he had plenty left and the horse responded," Alagna said.
"As strong as he looked still going up the backside into the last turn, I was watching to see when (Miller) took his plugs out. I knew he hadn't taken his earplugs out and this horse always hits another gear when you do take the plugs out of his ears and he just exploded. It was a huge, huge mile."
The mile was particularly impressive considering the rain that battered the Washington, PA area earlier in the day.
"We had some really, really nasty rain," Alagna said. "Then it would stop and they would go to get out on it and then it would come again. For that track to hold up to that like it did today, the track crew did a heck of a job out there. They put on a heck of a show."
It was the first Adios victory for Miller, Alagna and Hill.
Fernando Hanover, starting from post eight, finished third, three-and-a-quarter lengths back. Manhattan Beach was fourth and More Dragon fifth, meaning Burke horses grabbed every check except for the winning one.
Asked whether he found that frustrating or satisfying, Burke said, "Definitely satisfying. My horses raced well. Racing Hill was unbelievable."
Racing Hill, the winner of $500,000 Hempt Memorial, was second in both the $780,000 Pepsi North America Cup (won by Betting Line) and the $732,050 Meadowlands Pace (won by Control The Moment). Neither the Cup of Pace winner came to The Meadows to contest the Adios.
"I think those are three really nice horses and I don't think they get as much credit as they deserve," Alagna said. "I'm sure there are people that didn't have as much faith in (Racing Hill) as I did. I think he made some people believers today about just what kind of horse he is."
Racing Hill now sports a record of 4-4-1 in nine starts in 2016 good for earnings of $836,802. Lifetime, the pacer is 9-4-3 in 19 starts with earnings of $970,028.
Alagna said Racing Hill will now skip the Cane Pace at the Meadowlands next Saturday to take a break and prepare for the second half of his schedule.
"He's had a tough schedule. We're going to shoot for the Battle of Brandywine at Pocono and that gives him a nice three-week break," Alagna said.
"It gives him a chance to freshen up. He has raced some hard starts, but he is very fresh. He cooled out great. He actually cooled out better today than he did last week, because last week it was so hot out there at The Meadows."