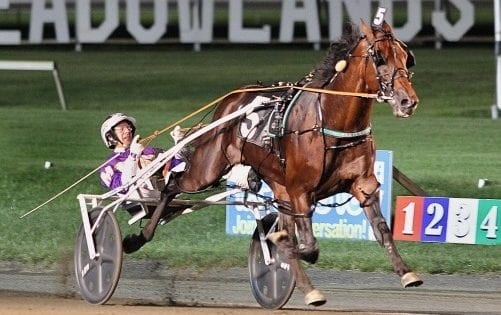 "Miki" wears the mantle of greatness
After winning the Haughton, trainer Jimmy Takter said Always B Miki "could be the greatest horse that ever lived."
by Bill Finley
Hyperbole? Perhaps. But you have no choice but to listen when a trainer of Jimmy Takter's stature makes such a bold statement. Minutes after Always B Miki won Saturday night's $471,800 William Haughton Memorial at the Meadowlands with complete authority, Takter couldn't contain his enthusiasm.
"I think this could be the greatest horse that ever lived," he said.
The connections of Somebeachsomewhere, Niatross, Nevele Pride, Bret Hanover and others might not agree, but this much is certain: Always B Miki is the best pacer in the sport today, hands down.
The Haughton was Round Three of harness racing's version of Ali-Frazier-Foreman and it included three of the biggest stars the older pacing ranks have seen in a long time. The other two were 2015 Horse of the Year Wiggle It Jiggleit and the talented Indiana-bred Freaky Feet Pete. Although Always B Miki had already defeated the other two in the Ben Franklin at Pocono, there didn't seem to be any reason why one or the other couldn't turn the tables on him.
Leaving from post 10 in the mile-and-an-eighth race, Montrell Teague was aggressive off the gate and put Wiggle It Jiggleit on the lead. Trace Tetrick was quick to follow and settled into second. The quarter went in :25.3.
Knowing that he was driving the best horse, David Miller took no chances. From fifth, he made a brush down the backstretch and swept to the lead. He assumed command and waited for what he figured would be challenges to come from Freaky Feat and Wiggle It Jiggleit. It never happened.
"I just didn't want to get caught up in some :25 and :52 type thing trying to make the front," Miller said. "I was really kind of searching for some cover. Leaving out of there, I was thinking of following behind (Scott) Zeron (the driver of Shamballa) because I figured he could take me where I had to go. As soon as Montrell crossed over he started grabbing up and as soon as I got to him he turned me loose."
At 39-1, Shamballa finished second, three-quarters of a length behind Always B Miki.
"(Shamballa) kept grinding away at Miki," Zeron said. "When I got that close to Miki I thought I had a real shot. He made it exciting."
Always B Miki paid $2.80 and covered the mile-and-an-eighth in 2:01.1. Wiggle It Jiggleit finished third. For the only second time in his 36-race career, Freaky Feet Pete finished off the board. He was fourth.
Takter said he wasn't sure where Always B Miki would race next and noted that he's not the kind of horse who can race week after week. But when he lines up the starting gate can anyone beat him?
"This horse is one of a kind," Takter said. "I've had quite a few nice pacers, but this horse, you don't do what he's doing. I'm always a big statement guy, but I think this could be the greatest horse who ever lived. I really think so. He didn't have an easy trip today. He won by a length and a half, maybe, but he's a lazy horse. He's not a grabby horse. But if somebody challenges him, he's got another gear."
Primary owner Mitchell Skolnick would not rule out racing the now five-year-old next year, but said he and his partners are leaning toward retiring him to stud at the end of the year.