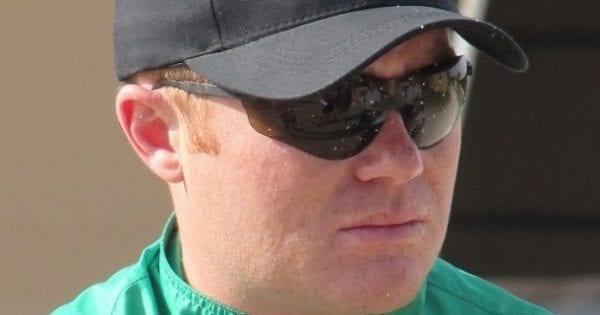 Through July 6, which drivers are trending up, which are down and which are consistent compared to the same time in 2015?
by Joe Fitzgerald
We took a look at some of the drivers that were trending one way or the other several weeks ago, comparing their stats in mid-May of this year with those of the same date in 2015. Time to revisit that topic and see how things have changed since May and also how various drivers are doing compared with last year through July 6. There's no room to mention everyone, so there will be drivers near the top of the earnings list who aren't included, in many cases because they haven't engaged in a dramatic performance shift.
Trending Up
Since mid-May, 34-year-old Tim Tetrick has moved up one spot to the top of the earnings list. A year ago, he was at number three. He was able to leave the gate fast this year, which hasn't been the case in the recent past when he had to play catch up for one reason or another. As of July 6, he was 90 wins and almost $389,000 ahead of the same date in 2015. His UDRS is 0.329; a year ago it was 0.300. Tetrick is the leading driver at Harrah's Philadelphia and number two at The Meadowlands. Rockeyed Optimist, Boston Red Rocks, Maestro Blue Chip and Mach It So are a few of his money makers.
Yannick Gingras, who turns 37 in a few weeks, has clawed his way from number seven in mid-May to number three today. He's actually two spots ahead of a year ago, with 15 fewer wins, but $24,000 more in earnings. Gingras is number three at Harrah's and number eight on the driver's list at The Meadowlands, winning at a 14 per cent rate. And he's number 11 at Pocono Downs. Southwind Frank, Hannelore Hanover, Check Six, Rockin Ron, All The Time and JK Will Power are a few of his big guns. Gingras moved to the top of the list in mid-August of 2015. He's got the prohibitive Hambletonian favorite and a win in the classic would send him right to the top of this year's list. But overall, the Burke Barn is softer than usual on the top aged tier, thanks in part to Miki, Pete and Wiggle. All Bets Off and Rockin Ron have been successful, but the Big Three are putting a damper on their game of late. Hannelore Hanover doesn't have that problem. Burke had no starter in the Lynch and the sophomore pacing colts aren't as good as they seemed to be a month ago. But he and Takter both have lots of promising freshmen, so Yannick will be a tough out again this year.
The 2015 dash champ, 37-year-old Aaron Merriman, is on top of that list by a mile, but he's banking more dollars this year. He's fourth now, after being 10th a year ago this time. In May he was third. His UDRS is up from last year. He's winning more than a quarter of his starts at Northfield and he's second to Dave Palone at The Meadows, with a very good UDRS of .328 and more than $2 million in earnings at the PA track.
Matt Kakaley, who was fourth on the money list in May, is now fifth. He was in 12th place a year ago. The 28-year-old is second to George Nap at Pocono and number eight at Yonkers. He gets around. His UDRS has risen from 0.208 a year ago to 0.252 today. I Said Diamonds and All Bets Off are two of his better regular drives. Kakaley finished 2015 at number 13. The fact that the Burke barn was off 108 wins and $3.4 million from 2014 had a lot to do with that. He was eighth the two previous years.
After a slow start Brett Miller, 42, has jumped from number 23 in May to number nine. He was 11th this time last year. He's fifth at Harrah's, seventh at The Meadowlands and ninth at Pocono Downs. Star pacers Pure Country and Racing Hill are two of Miller's best, in addition to a slew of good young ones in the Takter Barn.
Hall of Famer David Miller, the 2015 Driver of the Year, took the winter and early spring off, but he's made up for lost time. He's risen from number 21 in May to number six. One year ago, he was at number nine. His win total is down by 24 since then, but his earnings are up by $42,000. Taking a page from the Jim Morrill, Jr. playbook hasn't hurt him at all. And his UDRS is up to 0.303 from 0.267 a year ago. Miller occupies the four slot at Harrah's and is number 10 at The Meadowlands. He won the NA Cup with Betting Line and is also driving Always B Miki, Darlinonthebeach, Katie's Rocker and Broadway Donna. He's finished the year in the top five on the money list the past four years.
Jordan Stratton, 29, the number five driver at Yonkers, has gone from number 32 a year ago to number 13. He's banked $900,000 more at this point in 2016 than he had a year ago, thanks in no small measure to his success with Bit Of A Legend N, Texican N and others in the Levy series. He was at number nine back in May when that money was fresh.
Chris Page, the number three driver at Scioto Downs, where he drives for top trainers like Ron Burke and Brian Brown, has gone from number 25 last July to number 16. He's also been driving for those trainers in the energized Ohio Sire Stakes races at Northfield. The 32-year-old Buckeye has 56 more wins and $443,000 more in earnings than he had one year ago. His UDRS has risen from 0.232 to 0.267.
Jody Jamieson, 39, has moved up 11 spots from where he was a year ago this time; he's gone from 38 to 27. He has 38 more wins and his earnings are up by $270,000. And his UDRS has increased from 0.244 to 0.284. His drive, win and money totals have fallen the last four years as he slid from number seven in 2012, to number 11, to number 16, to number 31 last year.
Joe Bongiorno, who wasn't on the top 50 earnings list a year ago or at the close of 2015, is now number 12. As of July 6, he had 238 wins, earnings of $1.6 million and a UDRS of 0.292. Ron Burke has been keeping him busy. He's number three at The Meadowlands, number five at Northfield and number 13 at Harrah's.
Holding Steady
Jason Bartlett, the top driver at Yonkers Raceway, was number one a year ago this time, but is number two right now. He doesn't embrace a nomadic lifestyle like many of the top drivers; 35-year-old Bartlett pretty much stays at Yonkers where he wins more than 24 per cent of the time. The overnight purses are so high at Yonkers that staying put serves him well. His UDRS has risen from 0.348 a year ago to a stellar 0.378.
Twenty-seven-year-old Scott Zeron has carved out a spot on the top tier. He obviously made the right career move when he relocated to the States in November, 2013. A paragon of consistency, he was at number 13 one year ago and is currently at number 12. He finished up 2015 number 12 and was 13 in May. His UDRS is up a bit from last year. Scott is the leading driver at The Meadowlands and number nine at Yonkers Raceway.
Like Scott Zeron, Mark MacDonald, 37, who moved South four-and-a-half years ago, is reaping the rewards. He went from number 22 a year ago to number 17, with 22 more wins and $286,000 more in earnings. He's number six at Yonkers and is ahead of all the WEG based drivers on the money list. Mac's UDRS is up to 0.228 from 0.186 a year ago. He finished up 2015 at number 24; That number is sure to rise in 2016 with the help of the lucrative NYSS program.
Trending Down
Presumptive Hall of Famer Brian Sears, 48, is at number seven, down from fourth in May, when all that Yonkers money still dominated the stats board. His UDRS is up but he's short $826,000 from a year ago this month. Bee A Magician being on the shelf since the end of May has much to do with that. Perhaps Control The Moment will fill that space for him. Sears is another consistent performer: he finished up in sixth last year, in fifth in 2014, and in third and sixth the two previous years. He has three stakes drives at The Meadowlands, five drives at Harrah's and none at The Meadows. Obviously Sears doesn't get around the circuit as much as he used to.
It's been a tough slog for the ubiquitous Corey Callahan, who got a late start. Last July, he was number two on the money list, and he was number eight in May. He's currently at number 10, 134 wins and $1.3 million short of his totals one year ago. He has 249 fewer starts than he did at this point in July, 2015. Corey, who is number four at The Meadowlands, winning at a 12 per cent clip, has seen his UDRS drop from 0.333 to 0.272. Still, he is behind a select group of nine drivers and ahead of a zillion others. It's telling that his fastest drive Mel Mara would be a star most years, but he has to battle ABM, Wiggle and Pete in 2016. He's number four at The Meadowlands. Corey finished at number five last year and was sixth the two previous years. Chances are he'll be right there by December.